Samsung Galaxy Note series
Series of Android phablets in the Samsung Galaxy series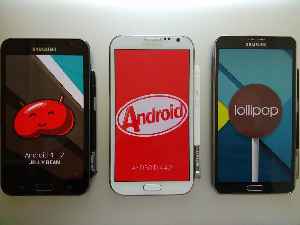 The Samsung Galaxy Note series is a series of high-end Android phablets and tablets developed and marketed by Samsung Electronics. The line is primarily oriented towards pen computing; all Galaxy Note models ship with a stylus pen and incorporate a pressure-sensitive Wacom digitizer. All Galaxy Note models also include software features that are oriented towards the stylus and the devices' large screens, such as note-taking and digital scrapbooking apps, and split-screen multitasking. The line serves as Samsung's flagship smartphone model, positioned above the Samsung Galaxy S series.


You Might Like
Samsung's Galaxy S20 is receiving Note 20 features with new One UI update
The Galaxy S20 series (pictured) released earlier this year. | Photo by Brennan King / The Verge The latest version of Samsung's One UI software, which was announced alongside the Galaxy Note 20..
The Verge - Published
Nreal's augmented reality glasses are shipping this month in Korea
Nreal The Nreal Light mixed reality glasses are shipping in Korea alongside Samsung's newly announced Galaxy Note 20. LG Uplus will sell the glasses as a standalone device for 699,000KRW (around..
The Verge - Published
Samsung will let you reserve a Galaxy Z Fold 2 today ahead of official preorders
Image: Samsung Samsung has opened its online reservation system for the new Galaxy Z Fold 2 foldable announced earlier today at its Unpacked event. For those unfamiliar with this approach, Samsung..
The Verge - Published
Samsung and Microsoft will let you run Galaxy Note 20 apps on your Windows 10 PC
Illustration by Alex Castro / The Verge Samsung and Microsoft announced at last year's Galaxy Unpacked that they would be forming a closer partnership to help Android and Windows work better..
The Verge - Published
Samsung announces Galaxy Note 20 and Note 20 Ultra 
Photo by Becca Farsace / The Verge But the regular Note 20 isn't as powerful as it could be
The Verge - Published
Samsung Galaxy Note 20 Ultra has pretty much every feature leaked in new AT&T video
Image: Samsung Russia Samsung's Unpacked event tomorrow will be the official showcase for the heavily rumored and much-leaked Galaxy Note 20. For those who wanted yet another look at the phone in..
The Verge - Published
The smaller Galaxy Note 20 might have a plastic back and flat screen
All of Samsung's S20 phones have 120Hz refresh rate displays, so it'd be an odd move for Samsung to make one of the Notes with the standard 60Hz. The Note 20 Ultra is expected...
WorldNews - Published
Samsung Galaxy Note 10 Lite review: Lite on pocket, but not on performance
Like many, I was smitten by the Samsung Galaxy Note 10+. A huge screen, beautiful design, and the magical stylus. Who would not like to buy the Galaxy Note 10+? But there was one major problem with the..
WorldNews - Published
Samsung Galaxy Note 10 Lite appears to leak in full
Samsung's Galaxy Note line looks like it is finally getting a cheaper model. Thanks to leaks from WinFuture, we've got a decent look at what is supposedly the Galaxy Note 10 Lite. The renders show..
WorldNews - Published
Microsoft has made its unified Office Mobile app for Android, iOS
Microsoft initially launched its unified Office Mobile application for Samsung Galaxy Note 10 users earlier this year. Now, the company has made the app available on both Android and iOS via the Play..
WorldNews - Published
Pixel 4's face unlock works with eyes closed sparking security concern
Google Pixel 4's face unlock feature works even when registered users have their eyes closed. By comparison, Apple's Face ID requires eyes to be open and directed towards the iPhone, while Samsung..
WorldNews - Published
Samsung Galaxy Note 10 and Note 10+ first look: Modest upgrades come at high price
Samsung' Galaxy Note 10 and Note 10+ are pricey new phones with large screens, souped up S Pen stylus and a bigger battery. Are they worth the price?
USATODAY.com - Published
Samsung Galaxy Note 10 Specifications Could Reportedly Include Better Water Resistance, Lower-End Display
New details have emerged on the Samsung Galaxy Note 10 ahead of its scheduled August 7 launch date, and while some of these details hint at some improved...
WorldNews - Published