Jon Snow (character)
Character in A Song of Ice and Fire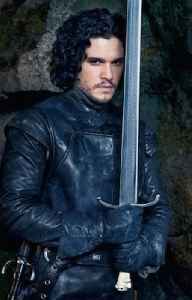 Jon Snow is a fictional character in the A Song of Ice and Fire series of fantasy novels by American author George R. R. Martin, and its television adaptation Game of Thrones, in which he is portrayed by English actor Kit Harington. He is a prominent point of view character in the novels, and has been called one of the author's "finest creations" and most popular characters by The New York Times. Jon is a main character in the TV series, and his storyline in the 2015 season 5 finale generated a strong reaction among viewers. Speculation about the character's parentage has also been a popular topic of discussion among fans of both the books and the TV series.


Could you pass the "Game of Thrones" test?
"So who do you think Jon Snow's real mother is?" was the question that "Game of Thrones" author George R.R. Martin asked David Benioff and Dan Weiss before agreeing to allow them to make the HBO..
CBS News - Published
'Game of Thrones': Kit Harington almost lost a testicle to 'dragon'
Kit Harington nearly lost a testicle while filming a scene where his Game of Thrones' character Jon Snow rides a dragon. While his co-star Emilia Clarke is well versed in the work that goes into..
WorldNews - Published
AI predicts who survives 'Game of Thrones'
Students at the Technical University of Munich have developed an application to predict which character has the best chance to survive 'Game of Thrones'. Francesca Lynagh reports.
Credit: Reuters Studio Duration: 01:56Published
'Game of Thrones': Funniest, angriest and most anxious fan reactions to Season 8 premiere
The best fan reaction to the reunions of Jon and Arya, Jaime and Bran, Tyrion and Sansa – not to mention that moment in the crypt where Sam told Jon who his real parents were.
USATODAY.com - Published
Search this site and the web:
You Might Like