Nazi Germany
The German state from 1933 to 1945, under the dictatorship of Adolf Hitler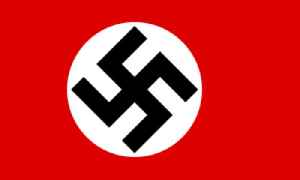 Nazi Germany is the common English name for Germany between 1933 and 1945, when Adolf Hitler and his Nazi Party (NSDAP) controlled the country through a dictatorship. Under Hitler's rule, Germany was transformed into a totalitarian state that controlled nearly all aspects of life via the Gleichschaltung legal process. The official name of the state was Deutsches Reich until 1943 and Großdeutsches Reich from 1943 to 1945. Nazi Germany is also known as the Third Reich, meaning "Third Realm" or "Third Empire", the first two being the Holy Roman Empire (800–1806) and the German Empire (1871–1918). The Nazi regime ended after the Allies defeated Germany in May 1945, ending World War II in Europe.


Today in History April 20
Highlights of this day in history: Nazi Germany's dictator Adolf Hitler born; Gunfire erupts at Columbine High; Cubans in the Mariel boatlift arrive in the U.S.; Ted Williams makes his baseball debut;..
USATODAY.com - Published
Professor on leave after Nazi gas chamber exam question
Middlebury College is investigating after a professor asked students to calculate the lethal dose of a a gas used in Nazi gas chambers
CBS News - Published
Beto O'Rourke Compares Trump's Immigration Rhetoric To Nazi Germany
Democratic presidential candidate Beto O'Rourke compared President Donald Trump's rhetoric on immigration to the nazis. O'Rourke said he would not use similar rhetoric because "pettiness and meanness"..
Credit: Wochit News Duration: 00:49Published
Beto O'Rourke Compares Trump's Rhetoric To Third Reich
Beto O'Rourke compared President Donald Trump's rhetoric on immigration to the Third Reich during a town hall meeting.
Credit: Newsweek Duration: 01:11Published
Pope to open secret WW2 archive for Jewish groups
Some Jewish groups have long alleged that the Vatican turned a blind eye to the Holocaust. Now Pope Francis plans to open the secret archives of his predecessor Pius XII, stating, "the Church is not..
Credit: Reuters Studio Duration: 01:19Published
Remains of hundreds of Jews unearthed in Nazi-era mass grave in Belarus
Soldiers in Belarus have unearthed the bones of hundreds of people shot during World War Two from a mass grave discovered at the site of a ghetto where Jews lived under the Nazis.
Credit: euronews (in English) Duration: 00:24Published
Polish MP calls for new push for WW2 reparations from Germany
Poland should follow Greece in stepping up pressure on Germany to pay billions of euros in damages for Nazi occupation during World War Two, a lawmaker in charge of Warsaw's reparations campaign said..
Reuters - Published
Greek Parliament Seeks WWII Reparations From Germany
The Greek parliament voted Wednesday to launch a diplomatic campaign to press Germany to cough up billions of euros in damages for the Nazi occupation of the country in World War II, an issue Berlin..
WorldNews - Published
Also reported by •Reuters
Search this site and the web:
You Might Like