National Transportation Safety Board
United States government investigative agency for civil transportation accidents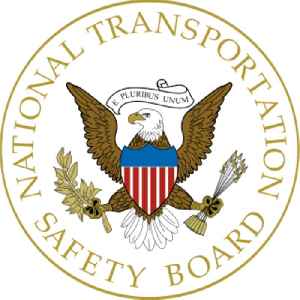 The National Transportation Safety Board (NTSB) is an independent U.S. government investigative agency responsible for civil transportation accident investigation. In this role, the NTSB investigates and reports on aviation accidents and incidents, certain types of highway crashes, ship and marine accidents, pipeline incidents, and railroad accidents. When requested, the NTSB will assist the military and foreign governments with accident investigation. The NTSB is also in charge of investigating cases of hazardous materials releases that occur during transportation. The agency is based in Washington, D.C. As of December 2014, it has four regional offices located in Anchorage, Alaska; Denver, Colorado; Ashburn, Virginia; and Seattle, Washington. The agency also operates a national training center at its Ashburn facility.


Tesla stock drops after a report that Autopilot was engaged during a deadly crash in Florida
The National Transportation Safety Board said Tesla's Autopilot system was active when a driver was killed in during a 2018 crash in Florida.
USATODAY.com - Published
Autopilot was in use before Tesla hit semitrailer: NTSB
Tesla Model 3 involved in a fatal crash with a semitrailer in Florida on March 1 was operating on the company's semi-autonomous Autopilot system
CBS News - Published
Death toll from Alaska tour planes crash rises to six
Searchers found the bodies of the last two Alaska seaplane crash victims on Tuesday evening, after a hunt through the debris and frigid waters following a mid-air collision that left a total of six..
Credit: Reuters Studio Duration: 01:12Published
NTSB to probe fatal Alaska mid-air crash
Federal investigators are due in Alaska on Tuesday to try to find out why two sightseeing planes collided in mid-air over open water during daylight hours, killing at least four tourists. The NTSB's..
Credit: Reuters Studio Duration: 00:48Published
Boeing Jet Skids Off Runway Into River In Florida
A team of 16 investigators from the National Transportation Safety Board is being sent to Jacksonville, Florida. That's where a Boeing 737 jet slid of the runway Friday night into the St Johns River...
Credit: Wochit News Duration: 00:41Published
U.S. NTSB to Investigate Illinois Chemical Spill That Sent 37 to Hospitals
According to Reuters, the NTSB will investigate a chemical spill in a small Illinois village north of Chicago on Thursday that sent 37 people to hospitals and forced nearby residents to shut their..
Credit: Wochit News Duration: 00:33Published
U.S. Authorities Investigate American Airlines Flight At JFK Airport
According to Reuters, the U.S. National Transportation Safety Board said on Wednesday it is investigating an April 10 American Airlines flight at New York's JFK International Airport that struck an..
Credit: Wochit News Duration: 00:32Published
Congressional Committee Holds Hearing After Plane Crash
Boeing won't be at this hearing, but the committee says it plans to hold another one that will include the company.
Credit: Newsy Studio Duration: 01:00Published
How did it happen? NTSB begins probe of midair collision of Alaska floatplanes that killed 6 people
On the same day the death toll from a floatplane collision in Alaska rose to 6, the NTSB launched what's expected to be a week-long investigation.
USATODAY.com - Published
NTSB to investigate collision of floatplanes near Ketchikan, Alaska; at least 4 dead, 2 missing
At least four people died and 10 were injured after two floatplanes crashed in the water near the southeast Alaska town of Ketchikan.
USATODAY.com - Published
NTSB to investigate Alaska deadly plane crash
A team of federal accident investigators is expected to arrive in Alaska Tuesday to try to piece together what caused a deadly midair collision between two sightseeing planes. Four people were killed..
WorldNews - Published
Deadly collision between sightseeing planes in Alaska
The FAA and the National Transportation Safety Board are investigating the fatal incident
CBS News - Published
You Might Like