Naples, Florida
City in Florida, United States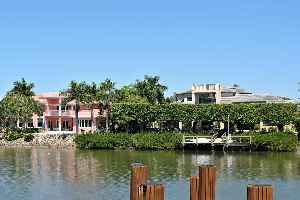 Naples is a city in Collier County, Florida, United States. As of the 2010 Census, the city's population was 19,539. Naples is a principal city of the Naples-Marco Island, Florida Metropolitan Statistical Area, which had a population of about 322,000 as of 2015. Naples is one of the wealthiest cities in the United States, with the sixth-highest per capita income in the country in 2012, and the second-highest proportion of millionaires per capita in the US.


Why Did Florida Gov. Ron DeSantis Have Trouble Voting?

On Monday, Florida Governor Ron DeSantis tried to vote in the 2020 elections. He learned his primary address had been changed without his consent. Investigators found his address had been changed..
Credit: Wochit News Duration: 00:34
Published
You Might Like
Florida man accused of hacking into voter database to change Gov. Ron DeSantis' address
Anthony Steven Guevara of Naples logged onto the Florida Department of State website and changed DeSantis' address to a home in West Palm Beach.
USATODAY.com - Published
Coronavirus: Clashes in Naples over tightening restrictions
Hundreds protested in the southern Italian city, some throwing firecrackers and smoke bombs.
BBC News - Published
Rosa Parks: US civil rights legend's house displayed in Naples
The US civil rights activist briefly lived in the house after her famous bus protest in the 1950s.
BBC News - Published
These are America's best small cities, according to BestCities.org rankings
Reno, Nevada, edged out Naples, Florida; Santa Fe, New Mexico; and Savannah, Georgia in a study rating small American cities.
USATODAY.com - Published
Huge concentration of invasive catfish in swamp prompts feeding frenzy in Naples, Florida
A rare concentration of invasive walking catfish formed in a Florida swamp, providing a feast for alligators, turtles, and vultures.
USATODAY.com - Published
Paradise Coast Wine & Food Experience rewards Florida crowds with small bites, big flavors
1,600 hungry Southwest Floridians wined and dined with small bites by 34 chefs in Naples, Florida, alongside Martha Stewart and the Bella sisters.
USATODAY.com - Published
Collier deputy stops car for speeding, helps deliver baby
Deputy Robert Pounds pulled over a man for going 63 mph in a 45-mph zone on Airport-Pulling Road in Naples. The deputy helped to deliver a baby girl.  
USATODAY.com - Published
Burmese python caught while swimming in Florida bay
A Naples charter captain spotted a Burmese python swimming across Naples Bay earlier this week.
USATODAY.com - Published