Mick Jagger
British songwriter, singer of The Rolling Stones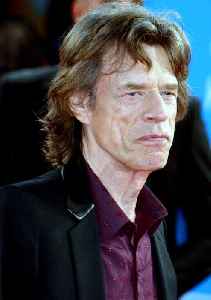 Sir Michael Philip Jagger is an English singer, songwriter, actor and film producer who gained fame as the lead singer and one of the founder members of the Rolling Stones. Jagger's career has spanned over five decades, and he has been described as "one of the most popular and influential frontmen in the history of rock & roll". His distinctive voice and energetic live performances, along with Keith Richards' guitar style have been the trademark of the Rolling Stones throughout the band's career. Jagger gained press notoriety for his admitted drug use and romantic involvements, and was often portrayed as a countercultural figure.


Mick Jagger makes stealthy post-op appearance at girlfriend's Rolling Stones-themed ballet
The recovering rocker made a stealth appearance at the ballet Thursday, slipping backstage to support his partner, Melanie Hamrick, as she presented her new dance based on Rolling Stones songs.
USATODAY.com - Published
Rolling Stones-inspired ballet debuts in New York
Ballet dancer, choreographer and girlfriend of Mick Jagger, Melanie Hamrick, brings her Rolling Stones-inspired ballet to New York. (April 19)
USATODAY.com - Published
Satisfaction for Jagger
Rolling Stones frontman on the mend after undergoing heart surgery
Credit: euronews (in English) Duration: 00:50Published
Rolling Stones tour delayed
The Rolling Stones have postponed a tour of the United States and Canada to give singer Mick Jagger time to receive medical treatment, the veteran rock band said on Saturday. Gavino Garay has more.
Credit: Reuters Studio Duration: 00:52Published
Rolling Stones' tour delayed as Mick Jagger seeks medical treatment
The band announced on Saturday that 75-year-old Jagger was told by doctors "he cannot go on tour at this time."
Credit: euronews (in English) Duration: 00:50Published
Ballet inspired by Mick Jagger's music premieres in Russia
A ballet set to music of The Rolling Stones and choreographed by Mick Jagger's ballerina girlfriend delighted a packed crowd at the famous Mariinsky Theatre in St Petersburg.
Credit: Reuters Studio Duration: 01:02Published
'SNL' To Air Luke Perry-Hosted Episode In 1993 In Memoriam
The Wrap reports NBC is honoring the late Luke Perry by airing the episode of "Saturday Night Live" he hosted back in 1993. The episode featured Mick Jagger as the musical guest, and will air this..
Credit: Wochit News Duration: 00:32Published
75 best photos for Mick Jagger's 75th birthday
USATODAY.com - Published
Mick Jagger Takes a Walk After Heart Procedure
Mick Jagger is back on his feet. The Rolling Stones singer posted a picture of a stroll in the park a week after the 75 year-old rock icon had surgery to replace a heart valve. Dressed in jeans, a dark..
WorldNews - Published
Mick Jagger shares first photo since reported heart surgery
Rolling Stones frontman Mick Jagger seems to be back on his feet following a reported heart surgery.
USATODAY.com - Published
Search this site and the web:
You Might Like