Mick Jagger
English songwriter, singer of The Rolling Stones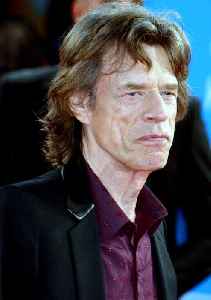 Sir Michael Philip Jagger is an English singer, songwriter, actor, and film producer who has gained worldwide fame as the lead singer and one of the founder members of the Rolling Stones. Jagger's career has spanned over five decades, and he has been described as "one of the most popular and influential frontmen in the history of rock & roll". His distinctive voice and energetic live performances, along with Keith Richards' guitar style, have been the trademark of the Rolling Stones throughout the band's career. Jagger gained press notoriety for his romantic involvements, and was often portrayed as a countercultural figure.


Rolling Stones Are Reissuing 'Goats Head Shoe'

The Rolling Stones are reissuing their classic album 'Goats Head Soup.' Mick Jagger gets that not everyone loves "Goats Head Soup" album. "It's not an album that's revered as much as 'Exile on Main..
Credit: Wochit News Duration: 00:38
Published
You Might Like



Mick Jagger on 'Goats Head Soup,' unreleased Rolling Stones songs: 'Some of them should be left alone forever'

Mick Jagger tells USA TODAY about reissuing "Goats Head Soup," the Rolling Stones' divisive 1973 album, and gives an update on new music.




USATODAY.com - Published





Mengers' the Name...Hollywood's the Game

Who is Sue Mengers? She's only the most hilarious Hollywood super agent you've never heard of. With clients like Barbra Streisand, Mick Jagger and Gene Hackman, Mengers makes the deals that make the..




CBS News - Published





Neil Young sues Donald Trump's campaign over repeated use of songs

After years complaining over Donald Trump using his songs at political rallies, Neil Young has filed a suit seeking damages. Other musicians to object range from Adele and Rhianna to Mick Jagger and..




WorldNews - Published





Mick Jagger and Lorde urge politicians to get permission for campaign songs

Blondie and Lorde are among artists who want politicians to get permission before using their songs.




BBC News - Published





Today in History for July 26th

Highlights of this day in history: President Harry Truman orders desegregation of U.S. Military; Cuba's Fidel Castro attacks Moncada barracks; Argentina's Eva Peron dies; Playwright George Bernard Shaw..




USATODAY.com - Published





Steve Bing: Film producer took his own life, coroner says

Sir Mick Jagger pays tribute to the filmmaker and philanthropist, who died this week aged 55.




BBC News - Published





On This Day: 12 May 1971

Rolling Stone Mick Jagger married actress Bianca Pérez-Mora Macías. (May 12)  




USATODAY.com - Published





Rolling Stones' first new song in eight years, 'Living in a Ghost Town,' has quarantine theme

"Life was so beautiful, then we all got locked down," Mick Jagger sings on the Rolling Stones' surprise new single, released Thursday.




USATODAY.com - Published





Photographer Peter Beard: Tributes paid to 'visionary artist'

Mick Jagger and Nick Rhodes are among those to praise the photographer who has died aged 82.




BBC News - Published





Mick Jagger talks first acting role in 19 years, assures he's 'fine' after heart surgery

Rolling Stones frontman Mick Jagger is back on the big screen for the first time in nearly 20 years in art heist thriller "The Burnt Orange Heresy."




USATODAY.com - Published





Mick Jagger rails against Trump administration over climate change, rolling back of environmental rules

Mick Jagger took aim at the Trump administration on Saturday for its efforts to roll back a number of environmental regulations in the past few years, saying the United States "should be the world..




WorldNews - Published





Nasa names moving rock on Mars after Rolling Stones

Nasa has honoured the Rolling Stones by naming a small Martian rock after the London band. The US space agency decided to call the golf ball-sized rock 'Rolling Stones Rock' after it appeared to move..




WorldNews - Published





Mick Jagger returns to the stage for Rolling Stones tour

Mick Jagger returned to the stage with the Rolling Stones at Chicago's Soldier Field, two months after Jagger underwent heart surgery.




CBS News - Published





Mick Jagger and the Rolling Stones kick off North American tour

Seventy-five-year-old Mick Jagger showed no sign of ill health three months after the tour was postponed because a doctor said he required medical treatment




CBS News - Published





Rolling Stones make triumphant return to the stage in Chicago following Mick Jagger's surgery

The Stones kicked off the "No Filter" tour at Soldier Field in Chicago Friday, the first show after Mick Jagger's reported heart surgery this spring.




USATODAY.com - Published




Mick Jagger in top form as Rolling Stones kick off tour at Soldier Field

Jagger was a whirling dervish on the expansive, no-gimmicks stage, getting in more miles than a marathoner as he took full advantage of an 80-foot-or-so runway leading to a smaller auxiliary stage. The..




WorldNews - Published





ShowBiz Minute: Lagerfeld, Rolling Stones, Bond

Stars put on tribute for late Karl Lagerfeld in Paris; Rolling Stones return to stage, tour after Mick Jagger mends, Prince Charles pays visit to Bond set and meets Daniel Craig. (June 21)  




USATODAY.com - Published





Mick Jagger says he's "feeling good" months after having heart surgery

While recovering, the rocker said he's been preparing with his bandmates for their "No Filter" tour




CBS News - Published