Charles Barkley
American basketball player and analyst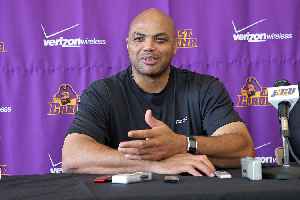 Charles Barkley is an American retired professional basketball player who is currently an analyst on Inside the NBA. Nicknamed Chuck, Sir Charles, Street Beef, and The Round Mound of Rebound, Barkley established himself as one of the National Basketball Association's most dominant power forwards. An All-American power forward at Auburn University, he was drafted as a junior by the Philadelphia 76ers with the 5th pick of the 1984 NBA draft. He was selected to the All-NBA First Team five times, the All-NBA Second Team five times, and once to the All-NBA Third Team. He earned eleven NBA All-Star Game appearances and was named the All-Star MVP in 1991. In 1993 with the Phoenix Suns, he was voted the league's Most Valuable Player, and during the NBA's 50th anniversary, named one of the 50 Greatest Players in NBA History. He competed in the 1992 and 1996 Olympic Games and won two gold medals as a member of the United States' "Dream Team". Barkley is a two-time inductee into the Naismith Memorial Basketball Hall of Fame, being inducted in 2006 for his individual career, and in 2010 as a member of the "Dream Team".


Charles Barkley apologizes for telling reporter: "I would hit you"
"Just FYI Charles Barkley told me tonight "I don't hit women but if I did I would hit you," and then when I objected to that he told me I "couldn't take a joke,'" she wrote
CBS News - Published
TNT analyst Charles Barkley apologizes for 'I would hit you' comment to female reporter
Charles Barkley told a female reporter 'I would hit you' on Tuesday night. On Wednesday, the TNT NBA analyst apologized for the comment.
USATODAY.com - Published
Charles Barkley honors veterans with tribute video for Veterans Classic
Auburn was the featured team in Veterans Classic doubleheader, and former Tigers star Charles Barkley marked occasion with video tribute to veterans.
USATODAY.com - Published
Shaquille O'Neal, Charles Barkley, Kenny Smith debate NBA's China controversy
The "Inside the NBA" crew of Shaquille O'Neal, Charles Barkley, Kenny Smith and Ernie Johnson discussed the NBA-China controversy at a press luncheon.
USATODAY.com - Published
Debate Night: The 'On Politics' Breakdown
John Delaney, Elizabeth Warren, and the fight for the future of the Democratic Party. Plus: A chat with Charles Barkley.
NYTimes.com - Published
Charles Barkley calls Kevin McHale 'best player I ever played against'
Charles Barkley played against some of the greatest players in NBA history but said that none were tougher than Kevin McHale.
USATODAY.com - Published
Charles Barkley: Zion Williamson isn't fat but 'can't play at that weight'
Basketball Hall of Famer Charles Barkley added his opinion to a group of pundits who've addressed rookie Zion Williamson's weight.
USATODAY.com - Published
Charles Barkley doubles down on Marchand-Draymond Green comparison: You want to punch them in face
NBA Hall of Famer and TNT analyst Charles Barkley is a huge NHL fan who compared Bruins pest Brad Marchand to the Warriors' Draymond Green.
USATODAY.com - Published
Charles Barkley: Kevin Durant doesn't have 'the mental makeup to play in New York'
During a teleconference Tuesday, Charles Barkley was asked what his advice would be for the Warriors' Kevin Durant during free agency.
USATODAY.com - Published
You Might Like