Impressionism
19th-century art movement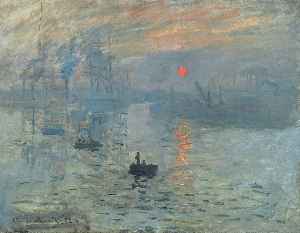 Impressionism is a 19th-century art movement characterized by relatively small, thin, yet visible brush strokes, open composition, emphasis on accurate depiction of light in its changing qualities, ordinary subject matter, inclusion of movement as a crucial element of human perception and experience, and unusual visual angles. Impressionism originated with a group of Paris-based artists whose independent exhibitions brought them to prominence during the 1870s and 1880s.


Monet 'Haystacks' painting sells for record $110.7 million at auction
One of the few paintings in Claude Monet's celebrated "Haystacks" series that still remains in private hands sold at auction on Tuesday for $110.7 million, setting a record for an Impressionist work.
Reuters - Published
Also reported by •USATODAY.com
Record price paid for Claude Monet painting at auction
A Claude Monet painting from his celebrated "Meules" (Haystacks) series fetched $110.7 million in New York on Tuesday in an auction record for the French Impressionist master.
France 24 - Published
Monet Sells For $110.7 Million
FILE PHOTO: The painting by Claude Monet, part of the Haystacks "Les Meules" series is displayed at Sotheby's during a press preview of their upcoming impressionist and modern art sale in New York,..
Credit: Wochit News Duration: 00:42Published
Monet Painting Sells For $110.7 Million
A painting from Claude Monet's "Haystacks" series has sold for $110.7 million, making it the most expensive Impressionist artwork ever to be bought at auction, according to Sotheby's in New York. It..
Credit: Wochit News Duration: 00:30Published
Koons' "Rabbit" and Monet's "Meules" up for bid
Sculptor Jeff Koons' iconic "Rabbit" could snare $70 million when it goes up for bid at Christie's Wednesday, while a Monet canvas in his grainstacks series could fetch $55 million at Sotheby's on..
Credit: Reuters Studio Duration: 01:26Published
Jeff Koons's 'Rabbit' leads Christie's spring auction
Top lots in the Post-War and Contemporary Art category are all expected to sell for between $50-$70 million, and include a steel sculpture in the shape of a rabbit. Rough Cut (no reporter narration).
Credit: Reuters Studio Duration: 02:06Published
Sotheby's to auction a work from Monet's celebrated grainstacks series
Claude Monet's "Meules" painted in 1890 leads the Impressionist & Modern Art auction with a presale estimate in excess of $55 million. Rough Cut (no reporter narration).
Credit: Reuters Studio Duration: 02:13Published
Search this site and the web:
You Might Like