Richard Shelby
Republican U.S. Senator from Alabama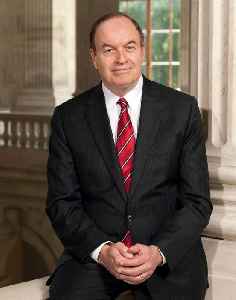 Richard Craig Shelby is an American politician serving as the senior United States Senator from Alabama. First elected to the U.S. Senate in 1986, he is the Chairman of the Senate Appropriations Committee, succeeding Thad Cochran. He previously served as Chairman of the U.S. Senate Committee on Banking, Housing, and Urban Affairs and Senate Committee on Rules and Administration. He is the longest serving U.S. Senator from Alabama, surpassing John Sparkman who held the previous record.


You Might Like
Let's not 'short change' funding for coronavirus response: U.S. Senate appropriations chair
The head of the U.S. Senate Appropriations Committee, Republican Senator Richard Shelby, said on Wednesday Congress should provide the Trump administration with the funds it needs to combat..
Reuters - Published
Republicans criticize Schiff over 'head on a pike' comments.
"I'm not intimidated," said Senator Richard Shelby, Republican of Alabama. "That was probably a little bit overboard."
NYTimes.com - Published
Open: This is "Face the Nation," December 30
This week on "Face the Nation," moderator Margaret Brennan interviews Sen. Jon Tester, Sen. Richard Shelby, and ONE Organization President Gayle Smith. Plus, our annual year-end panel of historians..
CBS News - Published
Shelby says Congress loses in a shutdown and "we kind of look silly"
Sen. Richard Shelby, R-Alabama, is the chairman of the Senate Appropriations Committee and joins Margaret Brennan to discuss how to end the government shutdown.
CBS News - Published
Search this site and the web: