Kyphosis
Human disease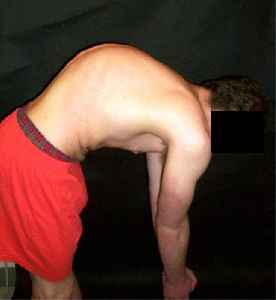 Kyphosis is an abnormally excessive convex curvature of the spine as it occurs in the thoracic and sacral regions. Kyphosis can be called roundback or Kelso's hunchback. It can result from degenerative disc disease; developmental abnormalities, most commonly Scheuermann's disease; osteoporosis with compression fractures of the vertebra; multiple myeloma; or trauma. A normal thoracic spine extends from the 1st to the 12th vertebra and should have a slight kyphotic angle, ranging from 20° to 45°. When the "roundness" of the upper spine increases past 45° it is called kyphosis or "hyperkyphosis". Scheuermann's kyphosis is the most classic form of hyperkyphosis and is the result of wedged vertebrae that develop during adolescence. The cause is not currently known and the condition appears to be multifactorial and is seen more frequently in males than females.


Notre Dame fire: Disney pledges $5M to help rebuild the 'Hunchback's home
Disney, the studio behind the 1996 animated version of "The Hunchback of Notre Dame" is chipping in to help rebuild the famed Paris cathedral.
USATODAY.com - Published
Notre-Dame fire: Booksellers urge Hunchback publishers to donate
Publishers of Victor Hugo's iconic Hunchback novel are asked to contribute to the restoration fund.
BBC News - Published
Search this site and the web:
You Might Like