South Asia
Southern region of Asia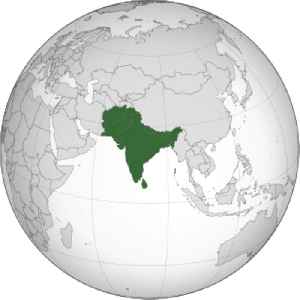 South Asia or Southern Asia, is a term used to represent the southern region of the Asian continent, which comprises the sub-Himalayan SAARC countries and, for some authorities, adjoining countries to the west and east. Topographically, it is dominated by the Indian Plate, which rises above sea level as Nepal and northern parts of India situated south of the Himalayas and the Hindu Kush. South Asia is bounded on the south by the Indian Ocean and on land by West Asia, Central Asia, East Asia, and Southeast Asia.


Has Indian nationalism heightened under Modi?
In this week's edition of the show we ask South Asian historian Audrey Truschke about the state of nationalism in India, the need to rewrite the history books and if there's any room left for..
France 24 - Published
South Asia must rise above political differences to fight toxic air and climate change
What Africa did yesterday, can South Asia do tomorrow? Will South Asian countries be able to rise above their political differences and come together to fight the likes of toxic air and climate change?..
WorldNews - Published
Where Is Tulsi Gabbard?
Rep. Tulsi Gabbard is running for president. She has has visited early caucus and primary states like Iowa and New Hampshire. Friday, Gabbard's campaign announced a pair of town halls in Nevada. But..
Credit: Wochit News Duration: 00:42Published
Tension Remains High Between India & Pakistan With Continued Shelling
According to a report by CNN, tensions remain high on the border between India and Pakistan, after the two nuclear-powered South Asian adversaries came closer to conflict than at any point in the past..
Credit: Wochit News Duration: 00:38Published
South Asia is a nuclear flashpoint, expert tells Euronews
South Asia is a nuclear flashpoint, expert tells Euronews
Credit: euronews (in English) Duration: 01:07Published
Commercial Flights Interrupted By India-Pakistan Dispute
According to a report by Reuters, on Wednesday, several airlines, including Emirates and Qatar Airways, suspended flights to Pakistan, after the South Asian nation closed its air space following..
Credit: Wochit News Duration: 00:45Published
Tensions peak after India's first attack over Kashmir unrest
Pakistan says it reserves the right to respond to Indian air raids on its territory early on Tuesday morning and has called a meeting of its top nuclear command authority, as tensions peak between the..
Credit: Al Jazeera STUDIO Duration: 02:47Published
India's marathon election begins as Modi seeks second term
India's gargantuan election, the biggest in history, kicked off on Thursday with Prime Minister Narendra Modi seeking a second term from the South Asian behemoth's 900 million voters.
France 24 - Published
Search this site and the web:
You Might Like