North Yorkshire
County of England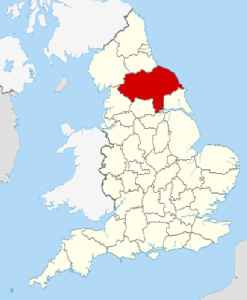 North Yorkshire is a non-metropolitan county and the largest ceremonial county in England by area. It is located primarily in the region of Yorkshire and the Humber, but partly in the region of North East England. The ONS estimated that the population of North Yorkshire was 602,300 in mid-2016; this figure excludes the unitary districts of York, Middlesbrough, Stockton and Redcar & Cleveland.


Photographer captures family portraits during lockdown

A photographer has snapped more than 100 local families standing by their front doors to document the coronavirus lockdown. Kathie Tiffany, 38, started out with her own family of four, then took..
Credit: PA - Press Association STUDIO Duration: 01:43
Published
Sausage reunited with owners with the help of bacon

Credit : Doug Dinwiddie A terrified sausage dog who spent three days lost on farmland was reunited with his emotional owners after they tried to entice him from his hiding place by cooking bacon...
Credit: PA - Press Association STUDIO Duration: 01:00
Published
Golf courses reopen following the easing of lockdown rules

Scarthingwell Golf Club, North Yorkshire, and Llanymynech Golf Club, Oswestry, reopen following relaxing of lockdown restrictions. As of May 13 rules allow a small number of non-essential businesses to..
Credit: PA - Press Association STUDIO Duration: 01:31
Published
You Might Like



Coronavirus: Lockdown flypast marks Armed Forces Day

The Red Arrows leave a smoke trail of red, white and blue over North Yorkshire.




BBC News - Published




Coronavirus: Shielding boy, five, hand-rears bird during lockdown

Dylan Simpson from North Yorkshire cared for the starling before releasing it into the wild.




BBC News - Published





Coronavirus: Teacher training planned for first day back in North Yorkshire

Teachers have had plenty of time to complete training ahead of schools reopening, say critics.




BBC News - Published





Coronavirus: Bikers fined for 200-mile fish and chips trip

The two bikers travelled from Rochdale in Greater Manchester to Whitby in North Yorkshire.




BBC News - Published





Coronavirus: North Yorkshire day-trippers 'ignore' rules

Police say there is a "turning of the tide" as some people are choosing to no longer stay at home.




BBC News - Published





Coronavirus: North Yorkshire Police begin road checkpoints

Road stops are being introduced in North Yorkshire to check if drivers' journeys are necessary.




BBC News - Published





Coronavirus: Lottery-winning farmer gives away potatoes to self-isolating families

Susan Herd offered her entire crop to residents in the North Yorkshire town of Boroughbridge




Independent - Published





Coronavirus: Lottery winner gives away free potatoes

Susan Herdman hand-picked the potatoes and gave them free of a charge to people in North Yorkshire.




BBC News - Published





Drax power station to cease burning coal in March 2021

The power company says the closure of its coal units will cost 230 jobs at the North Yorkshire site.




BBC News - Published





Plan for blanket 20mph speed limit across North Yorkshire would be 'unrealistic', inquiry finds

Scheme would damage area's economy and be too tough to police, report says - but campaigners condemn 'appalling' verdict




Independent - Published





Man jailed for killing grandfather in attack filmed by 'spy cam glasses,' in legal first

James Arthur Collinson was caught on camera punching John Glenn pub in North Yorkshire




Independent - Published





Brockadale Nature Reserve 'blighted' by fly-tipped tyres

About 200 tyres were fly-tipped in the grounds of Brockadale Nature Reserve in North Yorkshire.




BBC News - Published





Couple sentenced over North Yorkshire waste tip air risk

Burning waste at the tip caused "significant risk to air quality", the Environment Agency says.




BBC News - Published





UK weather: Motorists rescued from flooded roads as heavy rain brings travel disruption

More than 100 flood warnings issued across country from Cornwall to North Yorkshire




Independent - Published





Singer Ellie Goulding marries art dealer Caspar Jopling

The singer married Jopling, her longtime boyfriend on Saturday in North Yorkshire, England




CBS News - Published





North Yorkshire flooding causes wedding drama for couple

Family and friends pull together to make sure the reception goes ahead.




BBC News - Published





Yorkshire Dales: What caused the flash flooding?

BBC climate correspondent Paul Hudson explains Tuesday's flash flooding in North Yorkshire.




BBC News - Published





'Racing' driver jailed over Busby Stoop road crash deaths

Two teenagers were killed in the crash in North Yorkshire in 2018.




BBC News - Published





North Yorkshire Police number-plate sold for £243,000

The AJ1 plate was used by North Yorkshire's chief constables for a more than a century.




BBC News - Published





North Yorkshire chippy to open restaurant in China

Scotts Fish and Chips near York welcomes coachloads of Chinese tourists every week.




BBC News - Published