Malawi
Country in Africa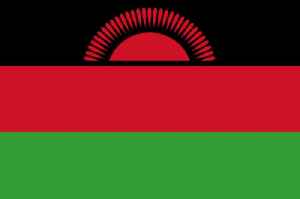 Malawi, officially the Republic of Malawi, is a landlocked country in southeast Africa that was formerly known as Nyasaland. It is bordered by Zambia to the northwest, Tanzania to the northeast, and Mozambique on the east, south and west. Malawi is over 118,000 km2 (45,560 sq mi) with an estimated population of 18,091,575. Lake Malawi takes up about a third of Malawi's area. Its capital is Lilongwe, which is also Malawi's largest city; the second largest is Blantyre, the third is Mzuzu and the fourth largest is its old capital Zomba. The name Malawi comes from the Maravi, an old name of the Nyanja people that inhabit the area. The country is also nicknamed "The Warm Heart of Africa" because of the friendliness of the people.


More than 150 killed as cyclone slams into southern Africa
Cyclone Idai has affected more than 1.5 million people in mainly poor, rural areas of Malawi, Mozambique and Zimbabwe
CBS News - Published
Zimbabwe death toll rises to 64 after Cyclone Idai pounds country
HARARE (Reuters) - Cyclone Idai has killed at least 64 people in eastern Zimbabwe and destroyed homes, bridges and roads, making rescue efforts difficult, a government minister said on Sunday. The..
Firstpost - Published
Cyclone Idai wreaks havoc across Southeast Africa
A devastating cyclone has slammed South Eastern Africa claiming lives in Mozambique, Zimbabwe, and Malawi. Red Cross confirmed to Euronews that they expect the death toll to categorically rise in..
Credit: euronews (in English) Duration: 00:54Published
At Least 215 Dead in Southern Africa Following Cyclone Idai
The cyclone made landfall Thursday in central Mozambique before moving into Zimbabwe and Malawi.
Credit: Newsy Studio Duration: 01:12Published
Cyclone Idai Claims The Lives Of At least 157 In Zimbabwe And Mozambique
Reuters reports that a dealy cyclone has claimed the lives of at least 157 people in Zimbabwe and Mozambique. Cyclone Ida tore across Southern Africa last week causing vast areas of land to be flooded,..
Credit: Wochit News Duration: 00:39Published
Cyclone Idai death toll at 215, Beira city '90 percent destroyed'
At least 126 people were killed in Mozambique and Malawi, while Zimbabwe counts 89 deaths.
Credit: Al Jazeera STUDIO Duration: 05:09Published
More than 80,000 displaced in Malawi flooding
The flooding has left many villages under water and, although some of the floods have receded, more rain is expected in the coming days.
Credit: Al Jazeera STUDIO Duration: 02:24Published
Malawi floods kill 30, displace 6,000
Survivors have no choice but to go to evacuation centres and wait for help.
Credit: Al Jazeera STUDIO Duration: 02:21Published
Chiwetel Ejiofor premieres directorial debut at Berlin Film Festival
British actor's directorial debut tells the true story of a young boy from a famine-stricken village in Malawi who builds a wind turbine that enables farmers to irrigate their land. Rough cut (no..
Credit: Reuters Studio Duration: 01:22Published
Cyclone Idai: Zimbabwe school hit by landslide
Two pupils are among 31 people killed as Cyclone Idai hits Zimbabwe after Mozambique and Malawi.
BBC News - Published
Cyclone Idai batters Zimbabwe, at least 31 people dead
HARARE (Reuters) - At least 31 people have died in eastern Zimbabwe while dozens were missing as homes and bridges were swept away by a tropical storm, state television reported on Saturday. Cyclone..
Firstpost - Published
Mozambique flooding: More than 100 people dead after rain and deadly cyclone hits major cities
More than 100 people have died in Mozambique and Malawi after weeks of floods in the region, worsened by a deadly tropical cyclone which made landfall in central Mozambique on Thursday night. Heavy..
WorldNews - Published
Cyclone Idai, worst storm to threaten Mozambique in years, to make landfall
JOHANNESBURG (Reuters) - A powerful hurricane threatening to rip through Mozambique's second largest port with winds of over 190 kilometres per hour is expected to make landfall late on Thursday, South..
Firstpost - Published
Malawi flooding death toll rises to 56, braced for Cyclone Idai
BLANTYRE (Reuters) - The number of people killed in floods in southern Malawi has risen to 56, an official said on Wednesday, with the country now also on alert for an approaching tropical cyclone...
Firstpost - Published
Ex-president Banda pulls out of Malawi presidential race
Malawi's scandal-hit ex-president Joyce Banda has withdrawn her presidential bid and endorsed opposition frontrunner Lazarus Chakwera, the two candidates' parties announced on Thursday.
Reuters - Published
Death toll from Malawi flooding rises to 28, almost 227,000 people affected
The number of people killed in heavy rains and flooding in southern Malawi has risen to 28, an official said on Sunday, while the estimated number of people affected has roughly doubled.
Reuters - Published
You Might Like