Madeira
Autonomous Region of Portugal in the archipelago of Madeira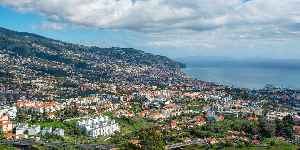 Madeira, officially the Autonomous Region of Madeira, is one of the two autonomous regions of Portugal. It is an archipelago situated in the north Atlantic Ocean, in a region known as Macaronesia, just under 400 kilometres (250 mi) to the north of the Canary Islands and 700 kilometres (430 mi) west of Morocco. Madeira is geographically located in the African Tectonic Plate, even though the archipielago is culturally, economically and politically European. Its total population was estimated in 2016 at 289,000. The capital of Madeira is Funchal, which is located on the main island's south coast.


You Might Like
Cristiano Ronaldo's secret training sessions during coronavirus lockdown slammed by Lazio chief
The Portuguese attacker was spotted training at a stadium in Madeira (Picture: Getty) Cristiano Ronaldo has been criticised after he was pictured training at a football stadium in Madeira during the..
WorldNews - Published
Cristiano trains at the stadium while in quarantine
According to 'dnoticias.pt', Cristiano Ronaldo left his home to train at the Madeira stadium. The Juventus player, who is in Funchal, is said to have gone to the stadium to train while the..
WorldNews - Published
Madeira to limit passengers allowed to disembark on islands to 100 per week
Madeira, an autonomous region of Portugal, said it would limit the number of people allowed to enter its islands to 100 per week from Tuesday onwards, with freed up hotel space used to quarantine..
Reuters - Published
Holidaymakers isolated at Portuguese hotel after guest tests positive for coronavirus
Holidaymakers at a hotel on the Portuguese island of Madeira were in isolation after a Dutch guest tested positive for the coronavirus, the regional government said on Tuesday.
Reuters - Published
Earthquake of magnitude 5.2 strikes Madeira Islands in Portugal, no injuries: EMSC
An earthquake of magnitude 5.2 struck the Madeira Islands, an autonomous region of Portugal and popular holiday spot, on Saturday evening, the European Mediterranean Seismological Centre (EMSC) said.
Reuters - Published
Portugal PM woos small parties, opposition islanders to guarantee first budget surplus
Prime Minister Antonio Costa will unveil Portugal's first draft budget with a surplus on Monday, seeing off pressure to loosen the purse strings by negotiating support from an animal rights party and..
Reuters - Published
Jet 2 Manchester to Madeira flight diverted due to 'unwell' pilot
Flight LS765, bound for Madeira, was diverted to Porto, Portugal, airline Jet 2 said.
BBC News - Published