Guy Verhofstadt
Former Prime Minister of Belgium, Member of the European Parliament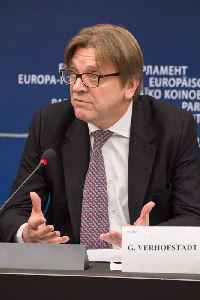 Guy Maurice Marie Louise Verhofstadt is a Belgian politician who was the Leader of the Alliance of Liberals and Democrats for Europe from 2009 to 2019, and has been a Member of the European Parliament (MEP) from Belgium since 2009. He was the 47th Prime Minister of Belgium from 1999 to 2008, Deputy Prime Minister of Belgium from 1985 to 1992 and Minister of Budget from 1985 to 1992. He was a Member of the Chamber of Representatives from 1985 to 2009.


You Might Like
London mayor urges EU to offer 'associate citizenship'
London Mayor Sadiq Khan planned to use a trip yesterday to Brussels to implore EU negotiators to be open to continued free movement for Britons through "associate citizenship." With the backing of..
WorldNews - Published
UK will not automatically deport EU nationals after Brexit: Verhofstadt
Britain will not automatically deport European Union citizens who have not applied for the right to remain in the country after Brexit, European Parliament Brexit coordinator Guy Verhofstadt said on..
Reuters - Published
Brexit: Government denies U-turn on giving EU citizens physical proof of right to remain in UK, despite 'new Windrush' fears
Questions raised about EU chief Guy Verhofstadt - after his claim of a partial climbdown is quickly rebuffed
Independent - Published
UK will rejoin EU as younger voters realise Brexit is mistake, says Verhofstadt
'Britain is taking a sabbatical,' says Labour MEP​
Independent - Published
European Parliament could block Brexit deal over Boris Johnson's treatment of EU citizens, Guy Verhofstadt says
Problems with Home Office settlement scheme have raised concerns
Independent - Published
No hat trick? Similarity to EU flag 'coincidence', insists Queen's dresser
The Queen's wardrobe is often interpreted as relaying coded messages from a monarch constitutionally bound to remain mute on political issues of the day. So when she wore a bold blue hat with yellow..
WorldNews - Published
Brexiteers are the real traitors, EU's Guy Verhofstadt says
The European Parliament's Brexit chief has branded Brexiteers "the real traitors", in a significant escalation of rhetoric from Brussels.
Independent - Published
EU's Verhofstadt says initial reaction to UK proposals 'not positive'
European lawmaker Guy Verhofstadt said his initial reaction to Brexit proposals set out by British Prime Minister Boris Johnson were not positive, and thought they were possibly designed to shift blame..
Reuters - Published
EU concerned over Boris Johnson's 'problematic' Brexit plan
Ireland says proposals don't meet needs of a backstop while Verhofstadt suggests European Parliament would never accept plan
Independent - Published
Boris Johnson and Brexiteers can never again call the EU undemocratic, says Guy Verhofstadt
European Parlaiment Brexit coordinator says court decision to restore parliament is 'big relief'
Independent - Published
Liberal Democrat policy to revoke Article 50 is 'natural stance' for stopping Brexit, Guy Verhofstadt says
The European parliament's Brexit coordinator is attending the annual conference of Jo Swinson's party
Independent - Published
Brexit: Guy Verhofstadt savages 'irresponsible' Boris Johnson as MEPs vow to veto his plan to ditch backstop
Parliament's Brexit steering group says backstop is not up for renegotiation
Independent - Published
EU's Guy Verhofstadt attacks Boris Johnson for 'false promises, pseudo-patriotism, and foreigner bashing' over Brexit
European Parliament Brexit chief says likely next prime minister is 'a man who continues to dissemble, exaggerate, and disinform the public about Brexit'
Independent - Published