Vermont
State in the northeastern United States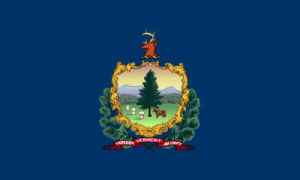 Vermont is a northeastern state in the New England region of the United States. It borders the states of Massachusetts to the south, New Hampshire to the east, and New York to the west, and the Canadian province of Quebec to the north. Vermont is the only state in New England that does not border the Atlantic Ocean. Vermont is the second-least-populated U.S. state and the sixth-smallest by area of the 50 U.S. states. The state capital is Montpelier, the least-populous state capital in the United States. The most-populous city, Burlington, is the least-populous city to be the most-populous city in a state.


Barrett: 'open question' if president can pardon himself

U.S. Democratic Senator Patrick Leahy of Vermont questioned Supreme Court nominee Amy Coney Barrett about President Donald Trump's claim he had the right to pardon himself.
Credit: Reuters Studio Duration: 01:24
Published
Leahy criticizes timing of Barrett's confirmation process

Appearing virtually for the confirmation hearing of President Donald Trump's Supreme Court nominee, Senator Patrick Leahy, a Democrat from Vermont, on Monday criticized the confirmation process of Amy..
Credit: Reuters Studio Duration: 01:52
Published
How Does Ben & Jerry's Make A Million Pints Of Ice Cream A Day?

Ben & Jerry's is the best-selling single ice cream brand in the world. It's gained a cult following thanks to classic flavors like Half Baked and Cherry Garcia. The company is on a mission to use ice..
Credit: Wochit News Duration: 00:27
Published
You Might Like



COVID-19 cases soar in all but 8 U.S. states

As fall approaches, coronavirus cases are soaring in the U.S. in all but eight states. Hawaii, California, Arizona, Idaho, Wyoming, North Dakota, Georgia, and Vermont are the exception to the rise in..




CBS News - Published





Bernie Sanders Resuming In-Person Campaigning to Back Biden

WILMINGTON, Del. — Bernie Sanders is returning to in-person campaigning for the first time since the start of the coronavirus pandemic in March, heading to the battleground states of New Hampshire..




WorldNews - Published





The Virus Sent Droves to a Small Town. Suddenly, It's Not So Small.

The population boomed in Winhall, Vt., as people tried to get away from Covid-19 hot spots. Bear complaints are up. Plumbers are booked until Christmas. And the dump is "sheer pandemonium."




NYTimes.com - Published





Bernie Sanders rips Trump over comments about election integrity

2020 Elections Bernie Sanders rips Trump over comments about election integrity "Trump's strategy to delegitimize this election and to stay in office if he loses is not complicated," the Vermont..




WorldNews - Published





Drone video shows bird's-eye view of gorgeous fall leaves

These fall leaves in Vermont will make you want to put on a sweater and sprinkle pumpkin spice everywhere.




USATODAY.com - Published





Rep. Ocasio-Cortez seconds Sanders nomination

Congresswoman Alexandria Ocasio-Cortez emphasized progressive causes as she seconded the presidential nomination of Vermont Senator Bernie Sanders during the Democratic National Convention Tuesday..




USATODAY.com - Published





Alexandria Ocasio-Cortez nominates Bernie Sanders at Democratic National Convention

U.S. Rep. Alexandria Ocasio-Cortez nominated Bernie Sanders on Tuesday in a convention speech that honored him for organizing "a historic grassroots campaign to reclaim our democracy." The New York..




WorldNews - Published





The role of progressive in the 2020 election

Parts of the Democratic party have shifted to the left in recent years. Vermont Senator Bernie Sanders is arguably one of the biggest driving forces behind that shift. His former presidential campaign..




CBS News - Published





Appeals Court Blocks Immigrant Wealth Test in the Northeast

The federal court ruled that the Trump administration's so-called public charge rule for green card applicants could not go into effect in New York, Connecticut and Vermont.




NYTimes.com - Published





Farmer returns prosthetic leg lost by skydiver

A Vermont skydiver who lost his prosthetic leg during a jump has it back, thanks to a farmer who kept an eye out for it and spotted it in a soybean field. (July 29)  




USATODAY.com - Published





Bernie Sanders introduces bill to provide 'Masks for all'

(CNN)Vermont Sen. Bernie Sanders will introduce a bill on Tuesday that would provide high quality, reusable masks to every American. Sanders is unveiling the legislation, which has dozens of Democratic..




WorldNews - Published





Coronavirus updates: California, Texas, Chicago update school reopening plans; no recent deaths in Vermont

The U.S. reported more than 71,000 new COVID-19 cases Friday, down from an all-time high of 77,000 the day before.




USATODAY.com - Published





Traveling Shakespeare visits Vermont backyards

Theater buffs missing live performances can request a Shakespearean recital given by members of the Vermont Shakespeare Festival, who offer sonnets and monologues for free after COVID-19 cut short..




USATODAY.com - Published





VT tattoo artist covers hateful skin art for free

A Vermont tattoo artist is offering a free service to people who want to remove hateful skin art by erasing or covering up offensive images. (June 25)  




USATODAY.com - Published





Joe Biden wins Hawaii presidential primary delayed by virus

Honolulu: Joe Biden won the Democratic Party of Hawaii's party-run presidential primary on Saturday, which was delayed by more than a month because of the coronavirus. Biden defeated Vermont Sen...




WorldNews - Published





Today in History for April 26th

Highlights of this day in history: The Chernobyl nuclear accident; John Wilkes Booth, President Lincoln's assassin, killed; Guernica bombed in the Spanish Civil War; Vermont enacts same-sex civil..




USATODAY.com - Published





Trump: Some states to begin lifting coronavirus restrictions in coming days

U.S. President Donald Trump said on Saturday that Texas and Vermont will allow certain businesses to reopen on Monday while still observing coronavirus-related precautions and Montana will begin..




Reuters - Published




The Democratic Establishment Suddenly Loves Bernie Sanders

When he was winning primaries, many in the Democratic Party were wary of the Vermont senator. Now, he's a friend, chess-playing companion and "American original."




NYTimes.com - Published





Sanders Suggests Former Press Secretary Is 'Irresponsible' for Not Endorsing Biden

Bernie Sanders said it is "irresponsible" for his supporters not to support Democratic presidential candidate Joe Biden Tuesday, one day after his former press secretary refused to do just that. In..




WorldNews - Published





Elizabeth Warren endorses Joe Biden for president

Warren's backing came a day after former President Barack Obama put his support behind his former running mate and two day after Vermont Sen. Bernie Sanders.




USATODAY.com - Published

Also reported by •NYTimes.com


Bernie Sanders Pitches His Supporters a New Idea: Biden 2020

The Vermont senator's devoted backers might come to embrace Joe Biden's candidacy, but it's going to take more than a joint appearance via live stream.




NYTimes.com - Published




Biden tops Sanders in Wisconsin primary

MADISON, WIS. — Joe Biden emerged victorious Monday in Wisconsin's Democratic presidential primary, a turbulent election far more significant for the struggle about whether it should have been held..




WorldNews - Published





US election 2020: Bernie Sanders endorses ex-rival Joe Biden for president

The left-leaning Vermont senator ended his bid for the Democratic nomination last week.




BBC News - Published

Also reported by •NYTimes.com


America has been spared from Bernie Sanders' terrible ideas

The Democratic Party's brief flirtations with a far-left presidential candidate finally came to an end this past week. On Wednesday, self-described democratic socialist Sen. Bernie Sanders of Vermont..




WorldNews - Published





Goodbye, Bernie Sanders

(CNN)Bernie Sanders made the unthinkable seem possible, briefly -- that a democratic socialist could capture a major US party nomination. But in the the end, Democrats didn't want his "revolution." The..




WorldNews - Published





News Analysis: Sanders' exit won't end his impact on 2020 U.S. presidential race

WASHINGTON, April 8 (Xinhua) -- U.S. Senator Bernie Sanders of Vermont dropped out from the presidential race on Wednesday, paving the way for former U.S. Vice President Joe Biden to become the..




WorldNews - Published





Bernie Sanders suspends his presidential campaign

Bernie Sanders on Wednesday suspended an anti-establishment presidential campaign that changed the course of Democratic politics and energized large groups of new voters, but fell short of amassing a..




WorldNews - Published





Bernie Sanders calls for 'delay' in Tuesday's Wisconsin election

U.S. Sen. Bernie Sanders of Vermont said Wisconsin "should delay Tuesday's vote, extend early voting" and move to vote-by-mail.




USATODAY.com - Published





Analysis: Joe Biden, Nominee-in-Waiting, with a Long Wait

WASHINGTON — In the three weeks since his blowout win in the South Carolina primary, Joe Biden has emerged as the Democratic presidential nominee-in-waiting. But, amid the uncertainty of the..




WorldNews - Published





Jesse Jackson joins Sanders campaign as special adviser

The Rev. Jesse Jackson Sr. has signed on as a special adviser to Sen. Bernie Sanders' presidential campaign, getting the Vermont senator to make several promises to Black voters. READ MORE: Jesse..




WorldNews - Published





Democratic debate stage looks different tonight because of coronavirus pandemic - updates

Live updates as former Vice President Joe Biden and Vermont Sen. Bernie Sanders face off in the first one-on-one presidential debate of 2020.




USATODAY.com - Published





Bernie Sanders wins Northern Mariana Islands caucuses

(CNN)Vermont Sen. Bernie Sanders won the Northern Mariana Islands Democratic caucuses Saturday....




WorldNews - Published





Sen. Sanders vows to stay course in quest to become Democratic presidential nominee

On the heels of disappointing losses during Tuesday's primaries, Vermont Sen. Bernie Sanders weighed in on the way forward for his campaign saying that he looks forward to debating former Vice..




WorldNews - Published





Native Hawaiian princess, beer bandits, flaming hand sanitizer: News from around our 50 states

California gets some much-needed rain, Vermont's maple syrup season officially underway, and more




USATODAY.com - Published





Sanders, Biden focus on Michigan for primaries

Former Vice President Joe Biden and Vermont Sen. Bernie Sanders are looking for a win in Michigan on Tuesday to prove they have the backing of working-class voters in a critical Midwestern battleground..




USATODAY.com - Published





Detroit Free Press poll: Biden holds huge 24-point edge over Sanders in Michigan

The Free Press/EPIC-MRA poll shows the former vice president with a 24-percentage point lead over the Vermont senator following his Super Tuesday wins.




USATODAY.com - Published





Rev. Jesse Jackson endorses Bernie Sanders

Democratic presidential candidate Bernie Sanders campaigned in Michigan on Sunday, the biggest prize among the six states voting Tuesday. The Vermont senator announced the endorsement of civil rights..




USATODAY.com - Published





Bernie Sanders plots new strategy to foil Biden and take charge of 2020 race

Bernie Sanders is giving his presidential campaign a "reset" as he goes head-to-head for the Democratic presidential nomination with Joe Biden, amid signs that the political revolution he hoped to..




WorldNews - Published





Josh Speidel, Vermont player who suffered brain injury in car accident as recruit, scores on Senior Night

A car accident kept Josh Speidel from playing for the Vermont Catamounts, but the team honored his scholarship and he played during Senior Night.




USATODAY.com - Published





Bad night for Elizabeth Warren capped by losing home state of Massachusetts

Warren all but disappeared on a night when the Democratic primary turned into a head-to-head race between Biden and Vermont Sen. Bernie Sanders.




USATODAY.com - Published





Sanders expresses confidence despite Biden surge

Bernie Sanders told supporters with "absolute confidence" Tuesday night that he is going to "win the Democratic nomination." Sanders spoke to supporters in Vermont after rival Joe Biden racked up a..




USATODAY.com - Published





'Hard to put into words': What scoring first career points meant to Vermont's Josh Speidel

Years after a devastating car accident, Josh Speidel's dream of playing in a D-I college basketball game came true on Vermont's Senior Night.




USATODAY.com - Published





Biden Wins Virginia, North Carolina and Alabama on Strength of Black Voters

Joseph R. Biden Jr. had an early advantage across Southern states in his Super Tuesday showdown with Bernie Sanders, who won his home state of Vermont.




NYTimes.com - Published




Biden projected to win three southern states on Super Tuesday; Sanders takes Vermont

Powered by strong support among African Americans, a resurgent Joe Biden was projected to win three large southern states on Tuesday in a fast start to the biggest day of voting in the 2020 Democratic..




Reuters - Published




Biden projected to win Virginia, North Carolina; Sanders takes Vermont on Super Tuesday

Joe Biden was projected to score huge victories in Virginia and North Carolina and front-runner Bernie Sanders was the winner in his home state of Vermont, the first states to close their polls on the..




Reuters - Published