Nauru
Republic in Oceania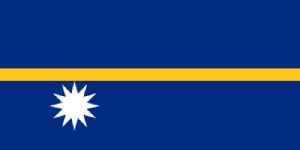 Nauru, officially the Republic of Nauru and formerly known as Pleasant Island, is an island country in Micronesia, a subregion of Oceania, in the Central Pacific. Its nearest neighbour is Banaba Island in Kiribati, 300 kilometres (190 mi) to the east. It further lies northwest of Tuvalu, north of the Solomon Islands, east-northeast of Papua New Guinea, southeast of the Federated States of Micronesia and south of the Marshall Islands. With only a 21-square-kilometre (8.1 sq mi) area, Nauru is the third-smallest country in the world behind Vatican City and Monaco, making it the smallest state in the South Pacific Ocean, the smallest state outside of Europe, the smallest island state, and the smallest republic. Additionally, its population of 11,347 is the world's third smallest, after the Vatican and Tuvalu.


'End this misery': Detained asylum seekers despair at election result
Asylum seekers and refugee advocates say mental health is continuing to deteriorate on Manus Island and Nauru, after a Coalition victory at the election shattered many hopes of policy change.
SBS - Published
Australia reportedly resettled two Rwandans accused of murder as part of secret deal with US
The Australian government has reportedly resettled as humanitarian migrants two Rwandan men who had been charged with murder, on request from the US government.Under the secret deal, reported by US..
WorldNews - Published
Two Australians who gained access to Nauru share the horrors they faced
Photojournalist Mridula Amin and artist Lachie Hinton met refugees on the island in secret. Their work is set to go on display in Sydney this week.
SBS - Published
Obituary: Sprent Dabwido, Nauru's former president
Nauru's ex-president, a former weightlifter, made a confession on TV weeks before dying on Wednesday.
BBC News - Published
Search this site and the web:
You Might Like