HMS Victory
First-rate 1765 ship of the line of the Royal Navy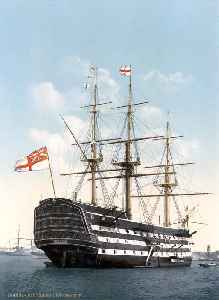 HMS Victory is a 104-gun first-rate ship of the line of the Royal Navy, ordered in 1758, laid down in 1759 and launched in 1765. She is best known for her role as Lord Nelson's flagship at the Battle of Trafalgar on 21 October 1805.


What do drones and GPS owe to a 1744 shipwreck?
When HMS Victory sank, she took with her an early prototype of the gyroscope, crucial to modern technology.
BBC News - Published
Search this site and the web:
You Might Like