Punjab, India
State in Northern India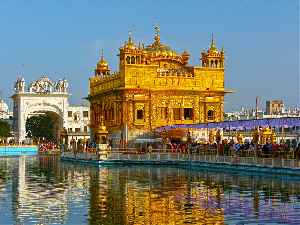 Punjab is a state in northern India. Forming part of the larger Punjab region of the Indian subcontinent, the state is bordered by the Indian states of Jammu and Kashmir to the north, Himachal Pradesh to the east, Haryana to the south and southeast, Rajasthan to the southwest, and the Pakistani province of Punjab to the west. The state covers an area of 50,362 square kilometres, 1.53% of India's total geographical area. It is the 20th-largest Indian state by area. With 27,704,236 inhabitants at the 2011 census, Punjab is the 16th-largest state by population, comprising 22 districts. Punjabi is the most widely spoken and official language of the state. The main ethnic group are the Punjabis, with Sikhs (58%) forming the demographic majority. The state capital is Chandigarh, a Union Territory and also the capital of the neighbouring state of Haryana. The five rivers from which the region took its name were Sutlej, Ravi, Beas, Chenab and Jhelum; Sutlej, Ravi and Beas are part of the Indian Punjab.


Dissident AAP MLA Nazar Singh Manshahia joins Congress in Punjab
Manshahia was part of the group of rebel AAP MLAs who had aligned with Sukhpal Singh Khaira after he was removed unceremoniously from the post of the LoP of Punjab Assembly last year.
DNA - Published
Youth held in Punjab for failed J&K attack
'Hilal May Have Made IEDs For Banihal Strike'
IndiaTimes - Published
Lok Sabha election 2019: BJP fields Sunny Deol from Gurdaspur seat, retains Kirron Kher in Chandigarh
Actor-turned-politician Sunny Deol, who joined BJP Tuesday, has been declared as party's candidate from Gurdaspur Lok Sabha seat in Punjab.
DNA - Published
Two Punjab men executed by Saudi Arabia: Migrated for good life, a debt that remains unpaid
Behind the execution of two Punjabi men in Saudi Arabia lies a pattern that has played with unfailing regularity – jobless youth in state borrowing money or selling land and property to pay to travel..
WorldNews - Published
IMD issues thunderstorm, lightning warning for north, northeast India
The Met department has also issued an amber-coloured warning for parts of Uttar Pradesh, Punjab, Uttarakhand, Punjab and Bihar. An amber colour warning indicates that authorities have to remain alert..
IndiaTimes - Published
Narendra Modi is Prime Minister only for wealthy: Navjot Singh Sidhu
Sidhu, a minister in the Punjab government, launched the attack on PM while addressing an election rally in Dangs, part of the Valsad Lok Sabha seat
DNA - Published
You Might Like