Tiananmen Square
Public square in Beijing, China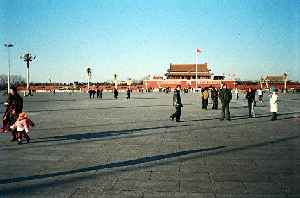 Tiananmen Square or Tian'anmen Square is a city square in the centre of Beijing, China, named after the Tiananmen located to its north, separating it from the Forbidden City. The square contains the Monument to the People's Heroes, the Great Hall of the People, the National Museum of China, and the Mausoleum of Mao Zedong. Mao Zedong proclaimed the founding of the People's Republic of China in the square on October 1, 1949; the anniversary of this event is still observed there. Tiananmen Square is within the top ten largest city squares in the world. It has great cultural significance as it was the site of several important events in Chinese history.


Taiwan 'Tank Man' marks Tiananmen crackdown anniversary
An inflatable installation in Taiwan marks 30 years since China's crackdown on democracy activists.
BBC News - Published
'Bob Hawke decided my fate': Chinese Australians pay tribute to late prime minister
Chinese Australians are paying tribute to the late prime minister Bob Hawke, saying he changed their lives forever after accepting thousands in the wake of the Tiananmen Square massacre.
SBS - Published
Balloon 'Tank Man' commemorates Tiananmen crackdown
Visitors to one of Taipei's most popular tourist sites were surprised on Tuesday by a giant balloon artwork in the shape of "Tank Man" to commemorate a crackdown on student-led pro-democracy protests..
Credit: Reuters Studio Duration: 00:50Published
From the Archives: Hawke weeps as he tells of massacre
Six days after the 1989 massacre at Beijing's Tiananmen Square, Bob Hawke wept along with hundreds of mourners at a memorial service at Parliament House.
The Age - Published
Online encyclopedia Wikipedia blocked in China ahead of Tiananmen anniversary
By Josh Horwitz SHANGHAI (Reuters) - Authorities in China have blocked Wikipedia, the online encyclopedia's owner said on Wednesday. "In April, the Wikimedia Foundation determined that Wikipedia was no..
WorldNews - Published
Also reported by •Reuters
Search this site and the web:
You Might Like