Norwegian language
North Germanic language spoken in Norway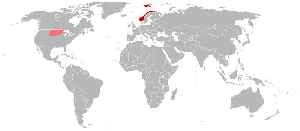 Norwegian is a North Germanic language spoken mainly in Norway, where it is the official language. Along with Swedish and Danish, Norwegian forms a dialect continuum of more or less mutually intelligible local and regional varieties; some Norwegian and Swedish dialects, in particular, are very close. These Scandinavian languages, together with Faroese and Icelandic as well as some extinct languages, constitute the North Germanic languages. Faroese and Icelandic are not mutually intelligible with Norwegian in their spoken form because continental Scandinavian has diverged from them. While the two Germanic languages with the greatest numbers of speakers, English and German, have close similarities with Norwegian, neither is mutually intelligible with it. Norwegian is a descendant of Old Norse, the common language of the Germanic peoples living in Scandinavia during the Viking Era.


Husband of Norwegian woman thought abducted is arrested for her murder: police
The millionaire husband of a Norwegian woman thought to have been abducted and held for cryptocurrency ransom in 2018 was arrested on Tuesday on suspicion of killing her, police said.
Reuters - Published
Norwegian, 71, told to leave India after joining citizenship law protest
A Norwegian woman on holiday in India's southern state of Kerala has been told to leave the country after she joined a protest against Prime Minister Narendra Modi's new citizenship law, authorities..
Reuters - Published
Kremlin reviews pardon request from Norwegian jailed for espionage
The Kremlin said on Wednesday it had received a formal pardon request from Frode Berg, a Norwegian national jailed in Russia for espionage, and that it would review the request in line with normal..
Reuters - Published
Russia's Lavrov says decision on pardoning convicted Norwegian spy will be made soon
Russian Foreign Minister Sergei Lavrov said on Friday that a decision on whether to pardon a convicted Norwegian spy jailed in Russia, Frode Berg, would be made soon.
Reuters - Published
Russia's Lavrov says Norwegian spy could return home at 'any moment'
Russian Foreign Minister Sergei Lavrov said that a Norwegian man jailed for spying could return home at "any moment".
Reuters - Published
Five French teenagers arrested in Spain over alleged gang rape
Five French tourists have been arrested on suspicion of gang-raping a 20-year-old Norwegian woman in the Costa Blanca resort of Benidorm, Spanish police said on Thursday.
Reuters - Published
Boom, underwater WWII bombs detonated
German, Norwegian, Danish, and U.S. Navy sailors from the Baltic Operations cleared three WWII-era underwater mines.
USATODAY.com - Published
CIA Special Unit Takes More Belligerent Stance Toward Iran
U.S. Secretary of State Mike Pompeo was adamant — just hours after it happened — the explosions on two Norwegian and Japanese oil tankers were the responsibility of Iran, Vijay Prashad of the..
WorldNews - Published