Norwegian language
North Germanic language spoken in Norway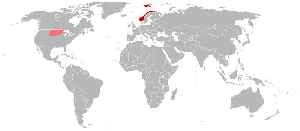 Norwegian is a North Germanic language spoken mainly in Norway, where it is the official language. Along with Swedish and Danish, Norwegian forms a dialect continuum of more or less mutually intelligible local and regional varieties, and some Norwegian and Swedish dialects, in particular, are very close. These Scandinavian languages, together with Faroese and Icelandic as well as some extinct languages, constitute the North Germanic languages. Faroese and Icelandic are hardly mutually intelligible with Norwegian in their spoken form because continental Scandinavian has diverged from them. While the two Germanic languages with the greatest numbers of speakers, English and German, have close similarities with Norwegian, neither is mutually intelligible with it. Norwegian is a descendant of Old Norse, the common language of the Germanic peoples living in Scandinavia during the Viking Era.


Russian court jails Norwegian for 14 years for espionage
A Russian court convicted a Norwegian man on Tuesday of gathering espionage about nuclear submarines and jailed him for 14 years, a verdict that could strain relations between Moscow and its..
Reuters - Published
Also reported by •WorldNews
Search this site and the web:
You Might Like