Western Conference (NHL)
One of two conferences in the National Hockey League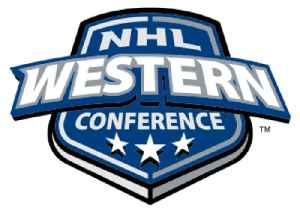 The Western Conference is one of two conferences in the National Hockey League (NHL) used to divide teams. Its counterpart is the Eastern Conference. Previously known as the Clarence Campbell Conference, it was created in 1974 when the NHL realigned its teams into two conferences and four divisions. Because the new conferences and divisions had little to do with North American geography, geographical references were removed. The conferences and divisions were re-aligned in 1981 to better reflect the geographical locations of the teams, but the existing names were retained with the Campbell Conference becoming the conference for the NHL's westernmost teams.


Fleury gets 15th playoff shutout, Vegas beats Sharks 5-0
Max Pacioretty had two goals and two assists, Marc-Andre Fleury earned his 15th playoff shutout and the Vegas Golden Knights defeated the San Jose Sharks 5-0 for a 3-1 lead in their best-of-seven..
USATODAY.com - Published
Connor scores in OT as Jets beat Blues 2-1 to even series
Kyle Connor scored 6:02 into overtime and the Winnipeg Jets beat the St. Louis Blues 2-1 to tie their best-of-seven Western Conference playoff series at two games apiece
USATODAY.com - Published
Predators beat Stars 2-1 in OT, even series 1-1
Craig Smith scored five minutes into overtime to give the Nashville Predators a 2-1 victory over the Dallas Stars, tying the first-round Western Conference series at 1-1
USATODAY.com - Published
Sundqvist scores twice, Blues edge Jets 4-3 to take 2-0 lead
Oskar Sundqvist scored twice to lead the St. Louis Blues to a 4-3 victory over the Winnipeg Jets in Game 2 of their Western Conference opening-round playoff series
USATODAY.com - Published
Bozak's late goal lifts Blues over Jets 2-1 in Game 1
Tyler Bozak scored with 2:05 left in the third period to give the St. Louis Blues a 2-1 victory over the Winnipeg Jets in Game 1 of their Western Conference opening-round playoff series
USATODAY.com - Published
Heiskanen scores 2, Stars beat Predators for 1-0 series lead
Rookie Miro Heiskanen scored two goals in his first postseason game, and the Dallas Stars beat the Nashville Predators 3-2 in Game 1 of their first-round Western Conference series
USATODAY.com - Published
You Might Like