Columbus Day
Federal holiday in the Americas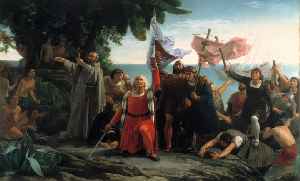 Columbus Day is a national holiday in many countries of the Americas and elsewhere which officially celebrates the anniversary of Christopher Columbus's arrival in the Americas on October 12, 1492. Christopher Columbus was an Italian explorer who set sail across the Atlantic Ocean in search of a faster route to the Far East only to land at the New World. His first voyage to the New World on the Spanish ships Santa María, Niña, and La Pinta took approximately three months. Columbus and his crew's arrival to the New World initiated the Columbian Exchange which introduced the transfer of plants, animals, culture, human populations, and technology between the new world and the old.


'To me it will always be Columbus Day.' Trump dismisses criticism of Christopher Columbus
Donald Trump weighed into the ongoing controversy over Columbus Day on Wednesday, slamming some who have eschewed the holiday's namesake.
USATODAY.com - Published
Christopher Columbus statue vandalized in San Francisco
A statue of Christopher Columbus was vandalized in San Francisco on Sunday, a day before Columbus Day. The statue was covered with red paint and graffiti, with the words "Destroy all monuments of..
CBS News - Published
Some states forgo Columbus Day for Indigenous Peoples' Day
A dozen states and more than 100 cities throughout the U.S. are celebrating Indigenous Peoples' Day rather than Columbus Day this year
CBS News - Published
Also reported by •USATODAY.com
The truth about Columbus Day, explained: Why is a historical figure celebrated as a mythical ...
There are many good reasons as to why Columbus Day is such a controversial holiday. Like Andrew Jackson, Christopher Columbus is a historical figure who is celebrated as a mythical hero in the U.S. in..
WorldNews - Published
Gordon Sondland, Syria talks, Columbus Day: 5 things you need to know Monday
Gordon Sondland meets a subpoena deadline, Syria talks begin, Columbus Day and more things to start your Monday.
USATODAY.com - Published
Calendar: Week of October 14
From Columbus Day (also celebrated as Indigenous Peoples Day) to the Great ShakeOut Earthquake Drill, "Sunday Morning" takes a look at some notable events of the week ahead
CBS News - Published
Native American museum director: Columbus was far from the first to discover America
Scores of cities and a growing number of states are renaming Columbus Day to honor the history and cultures of America's indigenous peoples.
USATODAY.com - Published
Columbus Day: Celebrating cultural heritage, or the colonization of Native Americans?
A growing number of cities, states and universities are replacing Columbus Day with Indigenous Peoples Day, also known as Native Americans Day.
USATODAY.com - Published
Columbus Day and Indigenous Peoples Day: What's open and closed on Monday?
Columbus Day, and in some states and cities Indigenous Peoples Day, is October 14 in 2019. Here's what's open and closed on the holiday.
USATODAY.com - Published
Casper is having a huge Columbus Day sale on their best-selling mattresses
Now's the time to get a new, cozy mattress from Casper to snuggle on this fall.
USATODAY.com - Published
You Might Like