Big Ten Conference
American collegiate athletics conference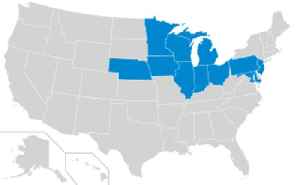 The Big Ten Conference is the oldest Division I collegiate athletic conference in the United States, based in suburban Chicago, Illinois. Despite its name, the conference consists of 14 members. They compete in the NCAA Division I; its football teams compete in the Football Bowl Subdivision (FBS), formerly known as Division I-A, the highest level of NCAA competition in that sport. The conference includes the flagship public university in each of 11 states stretching from New Jersey to Nebraska, as well as two additional public land grant schools and a private university.


Big Ten has 8 teams in NCAA, 11 leagues with multiple teams
Big Ten sending record 8 teams to NCAA Tournament, among 11 different leagues with multiple teams
USATODAY.com - Published
McQuaid, Winston lead Michigan State over Michigan 65-60
McQuaid scores career-high 27 points as No. 6 Michigan State beats No. 10 Michigan 65-60 in Big Ten final
USATODAY.com - Published
Michigan State completes sweep of rival Michigan to win Big Ten tournament
Michigan State scored the final 10 points to capture the Big Ten tournament title, upending rival Michigan 65-60.
USATODAY.com - Published
Michigan State batters Wisconsin, reaches Big Ten tournament final
Cassius Winston and the Spartans blitzed No. 19 Wisconsin early and never trailed en route to a 67-55 victory in the Big Ten tournament semifinals.
USATODAY.com - Published
Winston, Goins lead No. 6 Michigan State into Big Ten final
Cassius Winston, Kenny Goins lead the way as No. 6 Michigan State beats No. 19 Wisconsin 67-55 in Big Ten semis
USATODAY.com - Published
Simpson directs No. 10 Michigan to 74-53 win over Iowa
Simpson gets 11 assists as No. 10 Michigan cruised by Iowa 74-53 in Big Ten tourney
USATODAY.com - Published
You Might Like