Big Ten Conference
American collegiate athletics conference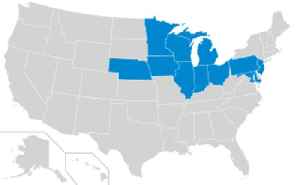 The Big Ten Conference is the oldest Division I collegiate athletic conference in the United States. It is based in Rosemont, Illinois. For over eight decades this conference consisted of ten universities, and presently has 14 member and two affiliate institutions. They compete in the NCAA Division I; its football teams compete in the Football Bowl Subdivision (FBS), formerly known as Division I-A, the highest level of NCAA competition in that sport. The conference includes the flagship public university in each of 11 states stretching from New Jersey to Nebraska, as well as two additional public land-grant schools and a private university.


U.S. plans cheap, fast COVID-19 antigen tests

There are plans to sharply increase production of diagnostic tests, adding a hundred million a month by the end of the year. But experts warn some faster tests are less accurate than the lab ones...
Credit: Reuters - Politics Duration: 02:20
Published
Big Ten to start its college football season next month

The Big Ten Conference on Wednesday said it would launch its college football season the weekend of Oct. 23-24 after adopting "significant medical protocols" amid the novel coronavirus pandemic...
Credit: Reuters Studio Duration: 01:32
Published
College football players at a crossroads as U.S. charts path in COVID-19 era

'It's disappointing,' University of Michigan defensive back, Hunter Reynolds, says of the Big 10's decision to sack the upcoming college football season. The Big 12 is among those definitely moving..
Credit: Reuters - Sports Duration: 01:05
Published
Mixed messages leave college players at a crossroads

With just weeks remaining before the traditional kickoff to the college season, the split among the sport's biggest powers have left many college athletes at a crossroads. Freddie Joyner has more.
Credit: Reuters - Politics Duration: 01:56
Published
You Might Like



Clemson keeps No. 1 spot in Amway Coaches Poll as Big Ten teams rejoin after announcing start

Clemson kept its lead in the Amway Coaches Poll, but there was significant reshuffling after Big Ten teams rejoing after announcing its start.




USATODAY.com - Published





Big Ten releases eight-game 2020 football schedule: Key games, rivalries

The Big Ten announced the eight-game 2020 football schedule for its 14 members Saturday morning. Here are the key games and highlights.




USATODAY.com - Published





Trump says he offered to help Big Ten with coronavirus testing

The Big Ten reversed its decision not to have a fall college football season on Wednesday.




CBS News - Published





Eye Opener: Trump clashes with CDC head on COVID-19 vaccine timeline

President Trump and CDC Director Dr. Robert Redfield are at odds on a coronavirus vaccine timeline, the latter estimating it would not be widely available to the public until months into 2021. Also,..




CBS News - Published





Around Big Ten, students say football boosts morale, but some question players' access to tests

Some students say the Big Ten's decision to delay the start of football season until October will result in stronger safety protocols.




USATODAY.com - Published





Coronavirus updates: Robert Redfield touts masks again, this time on Twitter; NCAA basketball sets Nov. 25 start date; 196K US deaths

Donald Trump blames 'blue states' for U.S. coronavirus death toll. Big Ten football, NCAA college basketball to return this fall. Latest COVID news.




USATODAY.com - Published




Decision by Big Ten to play football this fall might be catalyst for Pac-12 doing the same

With the Big Ten's decision to play football starting in October, the Pac-12 is the only Power 5 conference not scheduled to play this calendar year.




USATODAY.com - Published





Coaches say rapid COVID testing key to Big Ten return

Coaches and others say rapid coronavirus testing is what makes them feel confident Big Ten fall football can go ahead without putting players and the public at risk. (Sept. 16)  




USATODAY.com - Published





Big Ten changes course, will play fall football

The Big Ten is going to give fall football a shot after all. Weeks after the conference said it would push college football to spring due to the pandemic, they changed course. The plan includes daily..




USATODAY.com - Published

Also reported by •CBS News


Big Ten college football will happen this year after all

Conference presidents initially canceled fall season but have decided to forge ahead with strict medical protocols.




CBS News - Published





Winners and losers from the Big Ten decision start its football season this fall

The Big Ten announced it will start its college football season Oct. 24. Assessing the winners and losers from the conference's decision to play.




USATODAY.com - Published





Bowing to pressure, Big Ten will begin eight-game football season in October

Big Ten presidents agreed to a plan Wednesday to move forward with an eight-game season starting Oct. 24 after postponing fall schedule in August.




USATODAY.com - Published





Nebraska Prez Caught On Hot Mic Saying Big Ten FB Returning 👀

Okay, EVERYBODY REMAIN CALM ... but U. of Nebraska president Ted Carter may have just spilled the beans on the return of the Big Ten football season ... saying an announcement is coming Tuesday..




TMZ.com - Published





COVID-19 outbreaks delay football openers as Big Ten, Pac-12 conferences reconsider starting seasons

The college football season, limited by the COVID-19 pandemic, could see a late comeback. Two major conferences that decided not to play this fall are now rethinking that move. But one smaller school..




CBS News - Published





Big Ten members confident presidents, chancellors will approve plan to play football in 2020

A plan for Big Ten fall football is expected to feature an Oct. 17 starting date, allowing the league to compete for the College Football Playoff.




USATODAY.com - Published





Ohio AG thinks OSU should sue if Big Ten doesn't start in fall

Dave Yost, a Republican, told CBS News in an interview that Ohio State has the legal basis to sue the Big Ten over a breach of contract.




CBS News - Published





Ohio AG Dave Yost thinks Ohio State can sue Big Ten over football cancellation

Big Ten presidents and chancellors voted 11-3 to not immediately play football due to the coronavirus pandemic.




USATODAY.com - Published





GOP state pols call on Big Ten commissioner to allow football season

Republicans from Iowa, Michigan, Minnesota, Ohio, Pennsylvania and Wisconsin are calling on commissioner Kevin Warren to reconsider his decision to postpone the season.




CBS News - Published





Penn State clarifies doctor's claim of one-third of Big Ten athletes with myocarditis

Comments from Penn State's director of athletic medicine suggesting a high rate of myocarditis among athletes were inaccurate, the university said.




USATODAY.com - Published





The Biden campaign enlists two former players to blame the Trump administration for the lack of Big Ten football.




NYTimes.com - Published





Penn State doctor says 30-35% of Big Ten athletes positive for COVID-19 had myocarditis symptoms

Penn State doctor said roughly one-third of Big Ten athletes who contracted COVID-19 showed symptoms of myocarditis, an inflammation of the heart.




USATODAY.com - Published





On the 1-yard line? How and when Big Ten football could realistically return

If the White House can sway the Big Ten to aggressively pursue a season that begins this fall, how and when can the conference get back on the field?




USATODAY.com - Published





President Trump, Big Ten commissioner Kevin Warren talk about starting college football season in fall

President Donald Trump is offering his assistance to the Big Ten as the conference attempts to make plans for starting its college football season.




USATODAY.com - Published





Big Ten dysfunction shows no sign of waning as options for 2020-21 season considered

The Big Ten's handling of its postponed football season as drawn criticism from some quarters, questions and confusion from others.




USATODAY.com - Published





Nebraska football players file lawsuit seeking reversal of Big Ten decision to cancel fall season

Eight Nebraska college football players are suing the Big Ten, seeking to overturn the conference's decision to cancel the fall season.




USATODAY.com - Published





Urban Meyer 'heartbroken' for players, coaches after cancellation of Big Ten fall football

Former Ohio State coach Urban Meyer says he is 'heartbroken' for the players, coaches and parents who will be without Big Ten football in the fall.




USATODAY.com - Published





Seeking answers from Big Ten on decision to cancel fall sports, parents protest at headquarters

Ohio State Buckeyes parent Randy Wade led a group of Big Ten parents in a protest Friday morning outside the conference's headquarters.




USATODAY.com - Published





Big Ten will not revisit decision to postpone fall sports

In an open letter, the commissioner outlined the reasons for the postponement, which was announced just six days after the football schedule was released.




CBS News - Published





Same data. Same research. But different conclusions on safety of college football

The Big Ten and Pac-12 see greater risk in playing football this fall than the ACC, Big 12, SEC, even though experts are looking at same information.




USATODAY.com - Published





Spring college football becomes focus for some conferences, but could it work?

With fall college football canceled in the Big Ten and Pac-12, a push to play in the spring has lead to alternatives solutions




USATODAY.com - Published





Ohio State won't pursue fall football, athletic director says

Earlier Wednesday, in a conference call with reporters, OSU coach Ryan Day floated the idea about possibly playing other Big Ten schools.




USATODAY.com - Published





Big 12 announces plans to go ahead with 2020 football season

The Big 12 on Wednesday announced plans to go ahead with fall sports, including football. The Big Ten and Pac-12 announced one day earlier they were postponing their seasons due to the coronavirus..




CBS News - Published





Ohio State Football Is Canceled. Will Trump Take the Hit?

The Big Ten Conference's decision to cancel its football season reverberated across Ohio, where the Buckeyes' football program looms large. Some voters blamed President Trump's handling of the..




NYTimes.com - Published





Reaction to Big 10 fall football being cancelled

Football officials are reacting to decisions to the Big Ten and Pac-12 conferences to not play this fall out of concerns about COVID-19.(Aug. 12)  




USATODAY.com - Published





Can the College Football Playoff go forward without Big Ten and Pac-12?

By opting to step back from this season, the Big Ten and Pac-12 have raised doubts over whether this season can end with the College Football Playoff.




USATODAY.com - Published





College football updates: Focus shifts to SEC, ACC and Big 12 after Big Ten, Pac-12 moves

After the Big Ten and Pac-12 announced they would not be playing college football this fall, the focus shifts to the SEC, ACC and the Big 12.




USATODAY.com - Published





Eye Opener: Kamala Harris named Biden's running mate

California Senator Kamala Harris has been named presumptive Democratic nominee Joe Biden's 2020 running mate. Also, the Big Ten college athletic conference announced it will be cancelling fall sports..




CBS News - Published





Players and coaches we'll miss without Big Ten and Pac-12 football this fall

With the Big Ten and Pac-12 opting out of a fall college football season, here's a look at players and coaches from those conference we'll miss most.




USATODAY.com - Published





College Football Considering 2 Seasons in 2021, Spring and Fall

With the Pac 12 and the Big Ten shut down for 2020 -- sources tell TMZ Sports there are serious discussions about having 2 football seasons in 2021, 3 months apart. The proposed plan, according to our..




TMZ.com - Published





Trump pushes college football amid cancellations

President Donald Trump is urging college football to continue its fall tradition on a day when the Big Ten and Pac-12, announced teams won't play this fall due to the coronavirus pandemic. (Aug...




USATODAY.com - Published





Top US college sports leagues halt autumn season

The Big Ten and Pac-12 conferences say the decision was taken because of coronavirus fears.




BBC News - Published





Florida governor: Let's play college football

Florida's governor says Florida State University and other schools should play football this fall. He spoke just hours before the Big Ten and Pac-12 pulled the plug on their seasons because of..




USATODAY.com - Published





Pac-12 announces it will not play college football this fall

Following in the footsteps of the Big Ten, the Pac-12 became the second Power Five conference to announce it would not play football this fall.




USATODAY.com - Published




Now that Big Ten won't play football in fall, will other Power Five conferences follow?

The fallout of the Big Ten deciding to end college football in the fall will likely have a residual impact on the rest of the sport.




USATODAY.com - Published





Big Ten postpones college football season

The Big 10 is the first of the Power Five conferences to postpone its season.




CBS News - Published





Updates on college football season: What will the Big Ten, SEC and Power Five leagues do?

There's uncertainty about the future of the college football season with the Big Ten possibly shutting down. Where things stand on key issues.




USATODAY.com - Published





Big Ten coaches push to delay decision on football in fall illustrates league's lack of unity

The push by college football coaches in the Big Ten to delay cancellation of the season illustrated the lack of cohesion among the league's leaders.




USATODAY.com - Published





Coronavirus live updates: Russia says it has a vaccine for COVID-19; Big Ten, other football conferences grapple with halting fall season

Russia officially registers a vaccine. Mississippi lawmakers return to work after outbreak. Virus updates.




USATODAY.com - Published





Michael Flynn case, Big Ten's decision, TikTok lawsuit: 5 things to know Tuesday

An appeals court will rehear the Michael Flynn case, the presidents of the Big Ten universities will meet again and more news to start your Tuesday.




USATODAY.com - Published





Power Five conferences consider cancelling 2020 football season

A Big Ten spokesperson denied reports that the conference had voted to cancel the 2020 football season.




CBS News - Published