Serengeti
Geographical region in Africa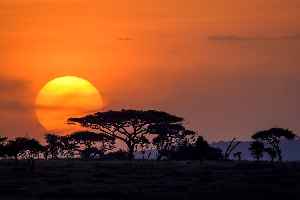 The Serengeti ecosystem is a geographical region in Africa, spanning northern Tanzania. The protected area within the region includes approximately 30,000 km2 (12,000 sq mi) of land, including the Serengeti National Park and several game reserves. The Serengeti hosts the second largest terrestrial mammal migration in the world, which helps secure it as one of the Seven Natural Wonders of Africa, and as one of the ten natural travel wonders of the world.


You Might Like
AP Top Stories September 14 P
Here's the latest for Saturday, September 14th: White House: bin Laden son killed in US operation; Yemen rebels claim drone attacks on Saudi oil sites; Clashes during a pro-Beijing rally in Hong Kong;..
USATODAY.com - Published
Black rhino dies on way to release in wild
Zambezi, a 17-year-old male, was being flown to the Serengeti from a nature reserve in Kent.
BBC News - Published
Search this site and the web: