Jackie Stallone
American astrologer and media personality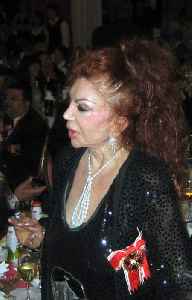 Jacqueline Frances Stallone was an American astrologer, dancer and Gorgeous Ladies of Wrestling's promoter. She was the mother of actor Sylvester Stallone, singer Frank Stallone, and actress Toni D'Alto.


Jackie Stallone passes away aged 98

The larger than life celebrity astrologer and women's wrestling promoter was a proud mother to actors Sylvester Stallone, Toni D'Alto and singer Frank.
Credit: Cover Video STUDIO Duration: 00:48
Published
You Might Like
Jackie Stallone, Celebrity Astrologer and Sylvester's Mother, Dies at 98
After running away with the circus, she promoted women's wrestling and fitness before seeing signs of the future in a most unusual spot. (Hint: it's not the palm.)
NYTimes.com - Published
Also reported by •USATODAY.com
Jackie Stallone, mother to actor Sylvester, dies at 98
"She was a very eccentric and flamboyant person," writes her son Frank in tribute to the 98-year-old.
BBC News - Published
Sylvester Stallone's Mother, Jackie Stallone, Dead at 98
Jackie Stallone, the famed celeb astrologer and Sly's mother, has died ... TMZ has learned. Jackie recently passed away ... according to sources with direct knowledge. The exact circumstances..
TMZ.com - Published
Search this site and the web: