Ohio River
River in the midwestern United States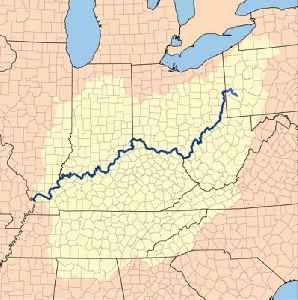 The Ohio River is a 981-mile (1,579 km) long river in the United States. It is located in the midwestern United States, flowing southwesterly from western Pennsylvania south of Lake Erie to its mouth on the Mississippi River at the southern tip of Illinois. It is the third largest river by discharge volume in the United States and the largest tributary by volume of the north-south flowing Mississippi River that divides the eastern from western United States. The river flows through or along the border of six states, and its drainage basin includes parts of 15 states. Through its largest tributary, the Tennessee River, the basin includes several states of the southeastern U.S. It is the source of drinking water for three million people.


NCAA men's tournament primer: Everything you need to know to prepare for March Madness
Atlantic Sun, Big South, Horizon and Patriot are among those starting Tuesday, followed by the Mountain West, Northeast and Ohio Valley on Wednesday.
USATODAY.com - Published
Two winter storm systems to hit Northeast over Thanksgiving
The strong storm that's hitting the Northeast hit on Sunday evening is just a precursor for a worse storm to come over the Thanksgiving holiday. Snow hammered part of the Ohio valley overnight, and now..
CBS News - Published
How will the East Coast storms affect holiday travel?
One and fifty million Americans are in the path of a storm system bringing torrential rain, snow and ice. The storm is taking aim at the Ohio Valley and East Coast. Two more storm systems will move in..
CBS News - Published
Salad products recalled across 22 states due to possible E. coli contamination
Salad products containing meat and poultry are being recalled due to possible E. coli contamination. The products were sold October 14-16 in Alabama, Connecticut, Florida, Georgia, Illinois, Indiana,..
CBS News - Published
How a small aluminum maker won U.S. trade protection
When Donald Trump won the White House, the sprawling aluminum smelter that hugs the Ohio River here was operating at less than half its capacity, and most of its skeleton crew of 270 remaining workers..
Reuters - Published
'A passionate guy': Ex-NASCAR team owner found dead in Ohio River near Louisville
Lonnie Troxell, of a racing team from 2000-2005 that competed in the NASCAR Craftsman Truck Series, was found floating in the Ohio River Tuesday.
USATODAY.com - Published
Isn't It Fall Yet? 90-Degree Heat Scorches Much of the Nation on Oct. 1
Unseasonably hot, humid weather dominated across the South, the Ohio Valley and the Middle Atlantic states on Tuesday, breaking records and closing some schools.
NYTimes.com - Published
Weather radar picks up mysterious shadow across three states 'caused by huge dragonfly swarm'
An enormous mystery cloud has baffled US meteorologists this week who spotted the shape stretching over parts of Indiana, Ohio and Pennsylvania, but saw no rainfall. The National Weather Service..
WorldNews - Published
Run-off from Jim Beam warehouse fire is killing thousands of fish
Kentucky officials are tracking the alcohol run-off from a fire at a Jim Beam warehouse. It has killed thousands of fish and is beginning to flow into the Ohio River.
CBS News - Published