Cy Young Award
Major League Baseball award given annually to the best pitcher in each league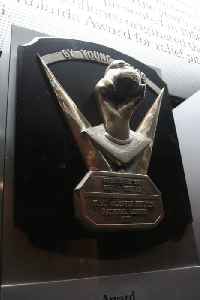 The Cy Young Award is given annually to the best pitchers in Major League Baseball (MLB), one each for the American League (AL) and National League (NL). The award was first introduced in 1956 by Baseball Commissioner Ford Frick in honor of Hall of Fame pitcher Cy Young, who died in 1955. The award was originally given to the single best pitcher in the major leagues, but in 1967, after the retirement of Frick, the award was given to one pitcher in each league.


Mets ace deGrom going on injured list, getting MRI on elbow
Mets ace Jacob deGrom is being put on the injured list and returning to New York for an MRI on his elbow after the NL Cy Young Award winner reported a sore right arm
USATODAY.com - Published
Mets' Jacob deGrom returns to New York for tests after experiencing elbow discomfort
NL Cy Young winner Jacob deGrom will be sent back to New York because of elbow discomfort, as well as fatigue from strep throat, the Mets said.
USATODAY.com - Published
New York Yankees Pitcher CC Sabathia Joins ESPN As Contributor
CC Sabathia is already planning for retirement from baseball before he's even put away his pitcher's mitt. The New York Yankees pitcher and Cy Young Award winner is joining ESPN as a contributor,..
Credit: Wochit News Duration: 00:49Published
Shower accident sidelines Cy Young winner Blake Snell with broken toe
Rays are hopeful that lefty Blake Snell will only miss one start after he dropped a piece of granite on his foot while getting out of the shower.
USATODAY.com - Published
Rays put Cy Young winner Snell on IL with fractured toe
Tampa Bay Rays place ace LHP Blake Snell on 10-day injured list with broken toe
USATODAY.com - Published
Former All-Star Carlos Zambrano says he's launching a comeback
Carlos Zambrano finished fifth in Cy Young voting three times and led the National League with 16 wins in 2006. He hasn't pitched in the majors since 2012.
USATODAY.com - Published
Yasiel Puig gets upper hand on Clayton Kershaw with home run in return to Los Angeles
Ex-Dodgers OF Yasiel Puig gives former teammate Clayton Kershaw a rude awakening in the three-time Cy Young winner's 2019 debut with homer.
USATODAY.com - Published
You Might Like