Todd Phillips
American director, producer, screenwriter, and actor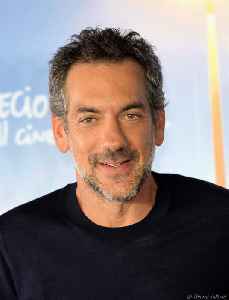 Todd Phillips is an American filmmaker and actor. He is best known for writing and directing the comedy films Road Trip (2000), Old School (2003), Starsky & Hutch (2004), The Hangover Trilogy and Due Date (2010). For his work on the satirical comedy film Borat (2006), Phillips was nominated for the Academy Award for Best Adapted Screenplay.


MOVIE REVIEW: Joker
by Graham Pierrepoint - JOKER IMDb Dir: Todd Phillips Starring Joaquin Phoenix, Robert De Niro, Zazie Beetz, Frances Conroy 2.5 STARS (out of 5) DISCLAIMER: While I am reviewing this movie for the..
One News Page Staff - Published
Robert De Niro weighs in on Joker controversy
Robert De Niro says audiences will understand 'Joker' once they've watched the movie. The 76-year-old actor - who plays late night talk show host Murray Franklin in the upcoming comic book thriller -..
WorldNews - Published
Joaquin Phoenix brings his 'Joker' to Venice
Actor Joaquin Phoenix and director Todd Phillips brought their 'Joker' - a movie about the iconic DC Comics villain - to the Venice Film Festival on Saturday (August 31). Rough cut (no reporter..
Credit: Reuters Studio Duration: 00:58Published
'He is a psychopath': has the 2019 Joker gone too far?
Todd Phillips's take has been mired in controversy, but it's not the first time the character has reflected society Modern Toss on the new Joker "Is it just me or is it getting crazier out..
WorldNews - Published
'Joker' director: Film shouldn't be linked to real-life violence
Writer-director Todd Phillips says it isn't fair to link his film "Joker" to real-world violence. And star Joaquin Phoenix says he felt uncomfortable while making the movie — and is pleased that..
USATODAY.com - Published
Toronto Film Festival: Playing the Joker 'wasn't an easy decision' for Joaquin Phoenix
Joaquin Phoenix is the latest film star to play the facepainted villain but he was a hard sell on signing up for Todd Phillips' dark 'Joker' film.
USATODAY.com - Published
'Joker' takes top prize while Polanski wins for Dreyfus drama at Venice film festival
"Joker" by US director Todd Phillips won best film at the Venice film festival Saturday while France's Ariane Ascaride won best actress and Roman Polanski took the grand jury prize for his film on the..
France 24 - Published
Todd Phillips' "Joker" wins Golden Lion at Venice Film Festival
The film "Joker" by American director Todd Phillip was awarded on Saturday the Golden Lion at the 76th Venice International Film Festival. US director Todd Phillips holds the Golden Lion award for the..
WorldNews - Published
Dark 'Joker' wins top prize at the Venice International Film Festival
Todd Phillips' dark comic book film "Joker," starring Joaquin Phoenix, won the Golden Lion Award at the Venice International Film Festival Saturday.
USATODAY.com - Published
Watch the groovy, gritty new trailer for Joaquin Phoenix's hotly anticipated 'Joker'
Check out the new trailer for Joaquin Phoenix's anticipated "Joker," director Todd Phillips' different spin on the iconic Batman antagonist.
USATODAY.com - Published
Follow Joaquin Phoenix's complete descent into 'Joker' madness in three new, insane photos
Three new photos for Todd Phillips' "Joker" chart the complete course of Joaquin Phoenix's descent into villainous madness.
USATODAY.com - Published
'The Joker': Joaquin Phoenix stuns in first dark teaser trailer at CinemaCon
Director Todd Phillips gave CinemaCon audiences the first look at Joaquin Phoenix in "The Joker." It got dark. The first teaser drops online Wednesday.
USATODAY.com - Published
You Might Like