Rosario Dawson
American actress, producer, singer, comic book writer, and political activist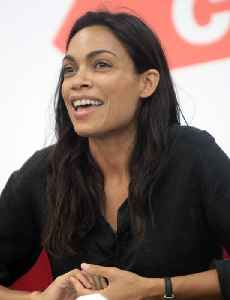 Rosario Isabel Dawson is an American actress, producer, singer, comic book writer, and political activist. She made her feature film debut in the 1995 independent drama Kids. Her subsequent film roles include He Got Game (1998), Josie and the Pussycats (2001), Men in Black II (2002), 25th Hour (2002), Rent (2005), Sin City (2005), Death Proof (2007), Seven Pounds (2008), Percy Jackson & the Olympians: The Lightning Thief (2010), Unstoppable (2010), and Top Five (2014). Dawson has also provided voice-over work for Disney and DC Comics.


Rosario Dawson and Sen. Cory Booker are a couple, actress confirms
Actress Rosario Dawson has confirmed that she and Democratic presidential hopeful Sen. Cory Booker are in a relationship....
WorldNews - Published
Rosario Dawson confirms she's dating Cory Booker
Some fans are excited that "first lady Rosario Dawson" may be a possibility
CBS News - Published
Also reported by •USATODAY.com •NYTimes.com
Sustainable is the new sexy at New York Fashion week
Say farewell to 'fast fashion', the latest buzzword at New York Fashion week is sustainability. Havovi Cooper reports.
Credit: Reuters Studio Duration: 02:55Published
Presidential Hopeful Cory Booker Confirms He Has A 'Boo'
Cory Booker has confirmed that he's in a relationship. And though he hasn't said who he's with, speculation says it may be actress Rosario Dawson. Business Insider reports that during an appearance on..
Credit: Wochit News Duration: 00:46Published
A little love on the campaign trail - Rosario Dawson dating Cory Booker
Actress Rosario Dawson, whose film credits include "Rent" and "Men in Black II," has confirmed reports she is dating U.S. Senator and presidential candidate Cory Booker, calling him "a wonderful human..
Reuters - Published
Rosario Dawson and Sen. Cory Booker are officially dating
After months of rumors, it appears Cory Booker's 'boo' is Rosario Dawson, after all.
USATODAY.com - Published
Search this site and the web:
You Might Like