Manipur
State in North-east India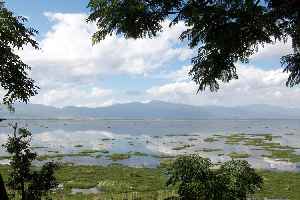 Manipur is a state in northeastern India, with the city of Imphal as its capital. It is bounded by the Indian states of Nagaland to the north; Mizoram and Myanmar to the south; Assam to the west; Myanmar lies to its east. The state covers an area of 22,327 square kilometres (8,621 sq mi) and has a population of almost 3 million, including the Meitei, who are the majority group in the state, the Pangals or the Pangans, Naga tribes, Kuki/Zo tribes and other communities, who speak a variety of Sino-Tibetan languages. Manipur has been at the crossroads of Asian economic and cultural exchange for more than 2,500 years. It has long connected the Indian subcontinent and Central Asia to Southeast Asia, China, Siberia (Russia), Micronesia and Polynesia, enabling migration of people, cultures, and religions.


Manipur govt is stable, to complete full term: Ram Madhav

BJP Leader Ram Madhav on Manipur government's stability said that the government has been winning elections and it will be stable until 2022. Ram Madhav said, "Today, we are felicitating our newly..
Credit: ANI Duration: 01:16
Published
Imphal-Jiribam highway cut off after massive landslide

High-altitude Imphal-Jiribam highway was cut off after massive landslide. Road was washed out near Sinam village, halting traffic completely. Authorities reached the spot to inspect the site and..
Credit: ANI Duration: 01:34
Published
12-year-old cracks HSLC exam in Manipur

Age is just a number for Issac Paulallungmuan, who has scored 72% in Manipur High School Leaving Certificate Exam. He is the first 12 years old child who had appeared and cleared the High School..
Credit: ANI Duration: 01:35
Published
COVID: Imphal apparel manufacturing cum training centre produces low-cost masks

To meet the demand for face masks amid COVID-19 outbreak, apparel manufacturing cum training centre in Manipur has taken an initiative. Besides producing low-costs masks, the factory has decided to..
Credit: ANI Duration: 01:38
Published
Vegetable growers adversely affected due to corona lockdown in Imphal

Amid corona induced lockdown, vegetable growers of Imphal have been hit severely and are reeling under unprecedented anxiety on the unpredictable future of their occupation. The unease of the farmers..
Credit: ANI Duration: 02:15
Published
COVID-19 infected cases rise up in Manipur after returnees tested positive: CM Biren Singh

Manipur Chief Minister N Biren Singh said COVID-19 infected cases have risen up in Manipur after returnees tested positive. "Number of COVID-19 cases is going up as returnees are testing positive in..
Credit: ANI Duration: 01:33
Published
Consecutive lockdown hits flower business hard in Manipur

A local florist in Manipur is living his worst nightmare amid lockdown, with his business on the verge of closure. He had invested Rs 20,000 for marigold seeds this year. Marigolds are in great demand..
Credit: ANI Duration: 01:29
Published
Eid al-Fitr: People of Imphal came out for purchasing, social distancing is still a challenge

People of Imphal, came out in the market to make purchases for Eid al-Fitr amid coronavirus lockdown. However, maintaining social distancing norms is still a challenge for many people. "We are trying..
Credit: ANI Duration: 02:15
Published
Manipur govt sets up quarantine centres for transgenders

Manipur government has set up a dedicated quarantine centre for transgenders in Imphal. For the first time, the Department of Health and Family Welfare has set up two institutional quarantine centres..
Credit: ANI Duration: 01:27
Published
Return of health workers to North-eastern states is problematic: AMRI Hospital CEO

Kolkata's AMRI Hospital CEO Rupak Barua raised concerns on returning of health staffs who belong to North eastern states. "Northeast govt particularly Manipur and Tripura have asked their health..
Credit: ANI Duration: 01:27
Published
You Might Like



Manipur extends lockdown, Maharashtra and Telangana to follow suit




IndiaTimes - Published





No Covid-19 death in Manipur, Mizoram, Nagaland, Sikkim so far: Health ministry




IndiaTimes - Published





NPP MLAs extend support to Biren Singh govt in Manipur, to be back as ministers

Four legislators of the National People's Party (NPP) in Manipur who had resigned as ministers a week ago submitted a letter to Governor Najma Heptulla on Thursday, extending their support to the..




IndiaTimes - Published





Did no wrong, will cooperate with CBI: Ex-Manipur CM Ibobi Singh on graft charges

Former Manipur chief minister Okram Ibobi Singh, who was on Wednesday questioned by the CBI over alleged financial irregularities in the Manipur Development Society (MDS) during his tenure as its..




IndiaTimes - Published





BJP, NPP to work together for Manipur's development: Himanta

National People's Party president and Meghalaya chief minister Conrad Sangma met senior BJP leader and home minister Amit Shah on Wednesday as the saffron party worked to win back the regional party's..




IndiaTimes - Published





BJP-led Manipur govt will complete its term: Ram Madhav

BJP general secretary Ram Madhav asserted that the Biren Singh government in Manipur will complete its term till 2022, as the party intensified patch-up efforts with its regional ally National People's..




IndiaTimes - Published





CBI summons ex-CM amid political tussle in Manipur

The CBI has summoned Congress leader and former Manipur CM O Ibobi Singh for questioning on Wednesday in the Rs 332crore alleged misappropriation of development funds between 2009 and 2017, when he was..




IndiaTimes - Published





Amid political crisis in Manipur, CBI summons ex-CM Ibobi Singh in Rs 332 crore misappropriation case

The CBI has summoned Congress leader and former Manipur chief minister O Ibobi Singh for questioning on Wednesday in the Rs 332-crore alleged misappropriation of development funds between 2009 and..




IndiaTimes - Published





Manipur crisis will be resolved in 2-3 days: Himanta Biswa Sarma




IndiaTimes - Published





BJP clinches lone Rajya Sabha seat in Manipur




IndiaTimes - Published





Peaceful voting for 3 Rajya Sabha seats in northeast, amid changing political equations in Manipur




IndiaTimes - Published





Voting for 19 Rajya Sabha seats across 7 states underway

States, where the elections are to be held, are Andhra Pradesh (4 seats), Gujarat (4 seats), Jharkhand (2 seats), Madhya Pradesh (3 seats), Manipur (1 seat), Meghalaya (1 seat) and Rajasthan (3 seats).




DNA - Published




Congress ex-CM stakes claim to form govt in Manipur




IndiaTimes - Published





Meghalaya CM in Manipur quandary




IndiaTimes - Published





Heavy to very heavy rainfall very likely over east and northeast India during next 5 days: IMD

This will be under the influence and oscillation of a trough that runs from central Pakistan to Manipur at lower tropospheric levels.




DNA - Published





Congress to move no-confidence motion against BJP govt in Manipur: Ibobi Singh

Congress legislative party leader O Ibobi Singh said his party is trying to form a coalition government in Manipur and will soon move a no- confidence motion against the BJP-led government.




IndiaTimes - Published





Political crisis in Manipur: Top developments




IndiaTimes - Published





Congress-led coalition govt to be formed in Manipur soon: Ningombam Meitei




IndiaTimes - Published





BJP govt in Manipur in trouble as 3 MLAs quit to join Congress, NPP withdraws support

TMC's T Robindro Singh and Independent MLA Shahabuddin also withdraw their support to BJP-ruled coalition government.




DNA - Published





Four NPP ministers resign from BJP-led govt in Manipur




IndiaTimes - Published




PM Narendra Modi to interact with heads of 21 States, UTs today

Prime Minister Narendra Modi will interact with the Chief Ministers and heads of 21 States and Union Territories on Tuesday. The meeting with heads of Punjab, Assam, Kerala, Jharkhand, Chhattisgarh,..




IndiaTimes - Published





Manipur reports two new Covid-19 cases, state count at 85

Manipur reported two new Covid-19 cases on Monday, taking the total number of corona patients to 85.




IndiaTimes - Published





Deferred due to coronavirus, elections to 18 RS seats to be held on June 19: EC

Out of these 18 seats, four each are from Andhra Pradesh and Gujarat, three each from Madhya Pradesh and Rajasthan, two from Jharkhand, and one each from Manipur and Meghalaya. The counting of votes..




IndiaTimes - Published





Elections to 18 Rajya Sabha seats on June 19: Election Commission

Out of these 18 seats, four each are from Andhra Pradesh and Gujarat, two from Jharkhand, three each from Madhya Pradesh and Rajasthan and one each from Manipur and Meghalaya. The counting of votes..




IndiaTimes - Published





Delhi, West Bengal not yet distributed May month quota of free foodgrains under PMGAY: Ram Vilas Paswan

Many beneficiaries are still waiting for the May month quota of free foodgrains in states such as Madhya Pradesh, Punjab, Maharashtra, Himachal Pradesh, Gujarat, Kerala and Manipur where up to 80 per..




IndiaTimes - Published





Coronavirus in India LIVE: Manipur sets up dedicated COVID-19 quarantine centers for transgenders

Maharashtra continues to be the epicenter of the coronavirus spread




DNA - Published





3.6-magnitude earthquake hits Manipur's Ukhrul




IndiaTimes - Published





Coronavirus latest updates: World Bank announces $1 billion aid to India

With 3,967 new cases and 100 new deaths reported in the last 24 hours, the COVID-19 tally in India reached 81970. And two states, Goa and Manipur, which were declared COVID-19 free, have reported fresh..




IndiaTimes - Published





Western disturbance likely to cause thunderstorm in Himachal, Haryana, Delhi tomorrow: IMD

"Thunderstorm accompanied with lightning and gusty winds (speed reaching 40-50 kmph) likely at isolated places over Jharkhand, Manipur, Mizoram, Tripura, Rajasthan, Vidarbha, Chhattisgarh and West..




IndiaTimes - Published





Manipur govt to sponsor train fare of those stranded in different parts of India excluding northeastern states

Manipur Chief Minister N Biren Singh said on Thursday that the state will bear the expenses of the train fare of the state's natives stranded in different parts of the country apart from other..




DNA - Published





31 co-passengers of Manipur's 2nd positive case asked to report to corona authorities




IndiaTimes - Published





Covid-19: NE tally rises to 24 with 5 new cases in Assam, Manipur and Arunachal

The number of Covid-19 positive cases in northeast climbed to 24 after five more cases were reported in Assam, Manipur and Arunachal Pradesh on Thursday. 22 of these cases have links with the..




IndiaTimes - Published





16 Covid-19 cases in Assam, NE tally rises to 20

Manipur Chief Minister N. Biren Singh said in a tweet that one more positive case has been detected on Thursday, taking the state's tally to two.




IndiaTimes - Published





After Manipur woman, Mizoram man tests positive for coronavirus




IndiaTimes - Published





Manipur woman tests positive for coronavirus, first case in northeast

A 23-year-old woman in Manipur with recent travel history to the United Kingdom was tested positive for coronavirus on Monday. This is the first case from the northeast region of the country.




IndiaTimes - Published





Mobile internet shut, prohibitory orders imposed in Manipur after clashes




IndiaTimes - Published





Leaders don't believe climate change is real: Manipur activist who turned down PM's honour

Eight-year-old climate activist Licypriya Kangujam, who turned down Prime Minister Narendra Modi's honour of joining the #SheInspiresUs campaign, said that she rejected the offer because nobody paid..




IndiaTimes - Published





Manipur board asks for BJP's symbol, Nehru's negative traits




IndiaTimes - Published





PM Modi greets people of Manipur, Meghalaya and Tripura on Statehood Day




IndiaTimes - Published





Assam Rifles recovers contraband worth Rs 3.75 cr from Indo-Myanmar border

The Moreh Battalion of Assam Rifles on Thursday recovered contraband worth Rs 3.75 crore from an unknown individual near the Indo-Myanmar border in Manipur.




DNA - Published





Manipur law & order situation improved, but not good enough to repeal AFSPA: CM Biren Singh

Manipur chief minister N Biren Singh has said the law and order situation in the state has improved in recent years, but it is still not conducive to repeal the Armed Forces (Special Powers) Act.




IndiaTimes - Published





Four militants arrested in Manipur




IndiaTimes - Published





Inner line permit regime extended to Manipur; President signs order

The inner line permit (ILP) regime was extended to Manipur on Wednesday with President Ram Nath Kovind signing the order in this effect. The decision comes two days after Union Home Minister Amit Shah..




IndiaTimes - Published





Bringing ILP for Manipur, 3 NE states will be out of CAB

Three other states — Nagaland, barring Dimapur where ILP is not applicable; Meghalaya, barring Shillong, and Tripura, barring non-tribal areas not covered by Sixth Schedule of the Constitution —..




IndiaTimes - Published





Keep Manipur out of CAB purview: BJP MP to Centre




IndiaTimes - Published





BJP Manipur MP opposes Citizenship Bill in state




IndiaTimes - Published





CBI recovers banned notes with face value of Rs 26 lakh from ex-CM of Manipur

The CBI carried out searches at nine locations in three cities after filing a case against former Manipur chief minister O Ibobi Singh and others for allegedly misappropriating Rs 332 crore from..




IndiaTimes - Published





SC orders Manipur civil services examination to be conducted afresh




IndiaTimes - Published





Nine locations across three states raided by CBI over misappropriation of govt funds

The raids are being conducted at Mizoram, Manipur, and Haryana.




DNA - Published





Assam, Manipur, Arunachal to be consulted before Naga pact: Govt




IndiaTimes - Published