Ariana Grande
American singer, songwriter, and actress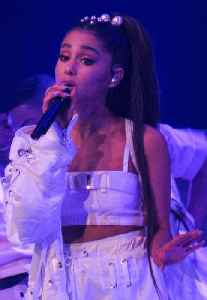 Ariana Grande-Butera is an American singer, songwriter, and actress. She is known for her expansive four-octave vocal range and whistle register. Born in Boca Raton, Florida, Grande began her career at the age of 15 in the 2008 Broadway musical 13. She rose to fame for her role as Cat Valentine in the Nickelodeon television series Victorious (2010–2013) and Sam & Cat (2013–2014). She subsequently signed with Republic Records in 2011 after the label's executives discovered YouTube videos of her covering songs. Her 1950s doo-wop-influenced pop and R&B debut album, Yours Truly (2013), topped the US Billboard 200 chart, while its lead single, "The Way", charted in the top ten of the US Billboard Hot 100.


Ariana Grande sets release date for new album Positions

Ariana Grande will release her new album Positions on the 30th of October, according to her latest Instagram post.
Credit: Cover Video STUDIO Duration: 00:46
Published
Ariana Grande to release new album this month

Ariana Grande has shocked fans by announcing her new album will be released this month
Credit: Cover Video STUDIO Duration: 00:47
Published
Lady Gaga: 'Making female friends in the music business is like watching pigs fly'

The 34 year old singer, recently collaborated with Ariana on the chart topping tune Rain On Me, and Gaga spoke about their friendship in a CBS Sunday morning interview.
Credit: Cover Video STUDIO Duration: 00:44
Published
Manchester Arena bombing inquiry begins

Families of the 22 people murdered in the Manchester Arena terror attack willgather in the city on Monday as the public inquiry into the bombing begins.Sir John Saunders, a retired High Court judge,..
Credit: PA - Press Association STUDIO Duration: 00:49
Published
Ariana Grande makes Instagram history with 200 million followers

Singer Ariana Grande has become the first woman to reach 200 million Instagram followers.
Credit: Cover Video STUDIO Duration: 00:41
Published
Lady Gaga Waist-Length Pink Hair

Lady Gaga and Ariana Grande are set to perform their hit song "Rain on Me" at tonight's 2020 Video Music Awards, so of course, everyone is super-eager to see how they'll do their hair and makeup. While..
Credit: Wochit News Duration: 00:33
Published
Ariana Grande New Ombré Extensions

Celebrities going blonde is something that, at this point, happens on a daily basis. We get it — being cooped up in your house for months will make you want to make a dramatic hair transformation...
Credit: Wochit News Duration: 00:32
Published
You Might Like



Cardi B deletes her Twitter account after 'harassment' from '15-year-old' fans amid Offset reconciliation

She continued: "A whole bunch of 15-year-olds telling me how to live my life like I'm motherf***ing Ariana Grande or...




WorldNews - Published





US election 2020: Do celebrity endorsements help Joe Biden?

Taylor Swift, Ariana Grande and Cardi B all support the Democrat. But will US voters follow suit?




BBC News - Published





Florida extends voter registration after online system crashed for several hours

Florida Governor Ron DeSantis extended online voter registration on Tuesday night after the online system crashed for several hours leading up to the deadline. Several voting rights groups have since..




CBS News - Published





This Tech Start-Up Is Using AI To Combat Counterfeit Merch Online

Stopping the e-commerce sales of knockoff T-shirts and other memorabilia on Amazon, eBay and other major platforms is a game of whack-a-mole, but CounterFind, which was co-founded by former Dallas..




WorldNews - Published





Manchester Arena Inquiry: Force not aware of concert ahead of bombing

Policing for the Ariana Grande show where a bomb went off was left on the night to transport police.




BBC News - Published





Lady Gaga dominates at MTV VMAs, The Weeknd wins top award

NEW YORK — Lady Gaga cleaned house at the 2020 MTV Video Music Awards, while The Weeknd took home the top prize — and both pop stars sent important messages to viewers about the current state of..




WorldNews - Published





VMAs 2020: Must-see photos of Lady Gaga, BTS, Miley Cyrus and more

Keke Palmer hosted the first-ever virtual VMAs, where Lady Gaga and Ariana Grande led the nominations and K-pop stars BTS performed 'Dynamite'.




USATODAY.com - Published





Bomber's brother gets 55 years for Manchester concert attack

LONDON (AP) — The brother of the suicide bomber who set off an explosion at a 2017 Ariana Grande concert in Manchester, England, killing 22 people and injuring hundreds, was sentenced Thursday to a..




WorldNews - Published





Victoria Monet: 'My music is a form of protest'

Victoria Monet, who's penned songs for Ariana Grande, Chris Brown and Brandy, explains writing music for herself versus other musicians. She also says a form of her activism is representation. (Aug...




USATODAY.com - Published





Victoria Monet releases new solo project, 'Jaguar'

Victoria Monet, known for writing hits for huge artists such as Ariana Grande, Chris Brown and Brandy, has released a new solo project called "Jaguar." (Aug. 12)  




USATODAY.com - Published





Ariana Grande shares rare videos of boyfriend Dalton Gomez, jokes what kids may look like

Ariana Grande, known for keeping her relationship with boyfriend Dalton Gomez private, is sharing several photos and videos from their time together.




USATODAY.com - Published





Ariana Grande got scratched on the eye by Lady Gaga and her reaction was very relatable

When Ariana Grande got her face scratched by Lady Gaga, she reacted like any super fan would. Here's what happened.




USATODAY.com - Published





'Absolutely devastating': Salma Hayek, Ariana Grande and more stars send love to Beirut

Celebrities, such as Salma Hayek, Halsey and Ariana Grande, are using their platforms to raise awareness about the tragic explosion in Lebanon.




USATODAY.com - Published





Eurovision: How Ariana Grande's songwriter got involved in Will Ferrell's new movie

Pop songwriter Savan Kotecha and Swedish singer Molly Sanden are among those who helped make the fictional movie about the Eurovision Song Contest.




BBC News - Published





Drake and Ariana Grande's record label drops the term 'urban'

Republic Records, one of the most powerful labels in the US, says the terms is outdated.




BBC News - Published





Lady Gaga, Ariana Grande join forces on upbeat video, song 'Rain On Me' that will make you want to dance

Lady Gaga and Ariana Grande are here to make you dance while stuck at home amid the coronavirus pandemic with an upbeat new song "Rain On Me."




USATODAY.com - Published





Lady Gaga, Ariana team up to rain on everyone

WASHINGTON DC: On the new track the pair take turns with their verses along with a call-and-response exchange during the track. Lady Gaga sets the tone. "I never asked for the rainfall," she sings,..




WorldNews - Published





Ariana Grande, Justin Bieber react to Tekashi 6ix9ine saying they bought No. 1 Billboard spot

Ariana Grande and Justin Bieber are firing back after Tekashi 6ix9ine alleged the pop stars bought their way to the top of the Billboard Hot 100.




USATODAY.com - Published





This weekend: New Ariana Grande and Justin Bieber, Michelle Obama doc, 'SNL' season finale

Out this weekend: Ariana Grande and Justin Bieber's new duet, Michelle Obama's documentary on Netflix and the season finale of "Saturday Night Live."




USATODAY.com - Published





Ariana Grande confirms new relationship in Stuck With U music video

Ariana Grande has confirmed her relationship with Dalton Gomez, in the love-filled music video for her new song with Justin Bieber. The pop star cuddles up to the Los Angeles real estate agent before..




WorldNews - Published





'Got all this time on my hands': Justin Bieber and Ariana Grande's 'Stuck With U' focuses on life in a pandemic

Proceeds from 'Stuck With U' will benefit children of paramedics, firefighters, police officers and health workers.




USATODAY.com - Published





Why 'Tiger King's Carole Baskin didn't make it into Ariana Grande and Justin Bieber duet video

Carole Baskin from "Tiger King" dances with her husband in a clip that Justin Bieber shared of his duet with Ariana Grande. Grande does not approve.




USATODAY.com - Published





Nickelodeon charges ahead with 'virtually produced' Kids' Choice Awards

Winners will be announced in about 30 categories Saturday night. Stars appearing remotely include Dwayne Johnson, Ariana Grande and Ellen DeGeneres.




USATODAY.com - Published





'Jeopardy!' contestant criticized after mistaking Janet Jackson for Ariana Grande

Jeopardy!' contestant Alwin is catching some heat for an incorrect answer he gave on the show, in which he mistook Janet Jackson for Ariana Grande.




USATODAY.com - Published





Beyoncé dedicates 'When You Wish Upon a Star' to health workers in 'Disney Family Singalong'

Beyonce was a surprise guest, joining Ariana Grande, Christina Aguilera and Demi Lovato on remotely produced 'Disney Family Singalong.'




USATODAY.com - Published





Brother of 2017 UK Manchester suicide bomber found guilty of murder

The brother of the bomber who blew himself up at the end of an Ariana Grande concert in the English city of Manchester three years ago was found guilty on Tuesday of murdering the 22 victims.




Reuters - Published





Stars showing support for 2020 presidential candidates, from Kirsten Dunst to Kanye West

Celebrities are endorsing candidates in the 2020 presidential race. Kirsten Dunst, Ariana Grande, Kanye West, John Legend and more stars speak up.




USATODAY.com - Published





Justin Bieber inspired by Ariana Grande's Coachella set for music return

WENN/Instar Justin Bieber was inspired to make his return to music after making an appearance during Ariana Grande's Coachella set. The Baby hitmaker credits taking the stage alongside the pop star..




WorldNews - Published





Manchester bomber's brother just as guilty as he was, UK court hears

The brother of the bomber who blew himself up at an Ariana Grande concert in the English city of Manchester three years ago was equally guilty of murdering the 22 victims, a court was told on Tuesday.




Reuters - Published




Billie Eilish shouts out Ariana Grande at Grammys, but Grande's fans say she was snubbed

Though Billie Eilish gave Ariana Grande a shout out during her Grammys 2020 acceptance speech, fans were upset that Grande got snubbed.




USATODAY.com - Published





Eilish, BTS, Lizzo lead the Grammy fashion pack

Billie Eilish, Lizzo, BTS, Ariana Grande, Lana Del Rey, Dua Lipa and the Jonas Brothers command the red carpet at the Grammys. (Jan. 27)  




USATODAY.com - Published





Best-dressed at the Grammys 2020: Ariana Grande, Lizzo and Lil Nas X turn heads on the red carpet

From Lizzo's angelic Atelier Versace dress to Ariana Grande's giant Giambattista Valli gown, here are the best-dress stars at the 2020 Grammy Awards.




USATODAY.com - Published





Grammy Awards 2020: List of nominees in major categories

Here is a list of nominees in the major categories for the 62nd annual Grammy Awards, which will be handed out on Sunday in Los Angeles:Album of the Year Bon Iver, "i, i"Lana Del Rey, "Norman Fucking..




WorldNews - Published





Eminem 'crossed a line', says Courteeners singer

Chart rival Liam Fray "feels sorry" for the rapper over his Ariana Grande-Manchester bomb lyrics.




BBC News - Published





Ariana Grande sued over hit song '7 Rings,' accused of copyright infringement by Josh Stone

Ariana Grande was sued for copyright infringement by hip-hop artist Josh Stone, who claims that "7 Rings is a forgery."




USATODAY.com - Published





Eminem criticised for lyric about bomb at Ariana Grande gig

"What you said was hurtful to so many people," fans tell the rapper.




BBC News - Published





Ariana Grande says a tearful goodbye to her 'Sweetener' world tour, drops her first live album

Ariana Grande said "Thank U, Next" on the last day of her 'Sweetener' world tour with her first live album, titled "K Bye for Now (Swt Live)."




USATODAY.com - Published





Liam Hemsworth, Ariana Grande and more: Celebs sued by paparazzi over copyright

Liam Hemsworth has been sued for copyright infringement by Splash News and Picture Agency. Here are other celebs who have been sued by paparazzi.




USATODAY.com - Published





Spotify reveals the decade's most-streamed songs, from Drake to Ed Sheeran

Billie Eilish, Ed Sheeran, Drake and Ariana Grande are all in there.




BBC News - Published





'We're with you': Ariana Grande, Ellen Pompeo show support for Gabrielle Union amid 'AGT' exit

Ariana Grande, Ellen Pompeo and Patricia Arquette showed support for Gabrielle Union after the "America's Got Talent" judge exited the show.




USATODAY.com - Published





60 Years of 'The Sound of Music': Optimism Endures

Six decades after "The Sound of Music" debuted on Broadway, it remains a cultural touchstone in community theaters, in books, on streaming services and inspiring an Ariana Grande video.




NYTimes.com - Published





Ariana Grande celebrates first Grammy album of the year nomination with manager Scooter Braun

Big Machine executive Scooter Braun is celebrating Ariana Grande's five Grammys nominations, including her first bid for album of the year.




USATODAY.com - Published





Ariana Grande shares backstage pictures with 'my guy' Bernie Sanders: 'We adore you!'

Sen. Bernie Sanders attended Ariana Grande's Atlanta concert Tuesday night, where the two posed for pictures and shared a hug backstage.




USATODAY.com - Published





Women 'step up' to dominate Grammy nominations

Billie Eilish, Lizzo and Ariana Grande all receive multiple nominations.




BBC News - Published





Ariana Grande tells fans she's 'very sick'

Singer Ariana Grande is telling her fans that she has a bad sinus condition that has made her "very sick" and might force her to cancel upcoming shows on her world tour. Grande, 26, says in videos..




WorldNews - Published





Ariana Grande cancels tour stop because she's 'very sick,' thanks fans for their support

Ariana Grande canceled a show on her Sweetener world tour after warning fans that she was "very sick" and may need to take some time to recover.




USATODAY.com - Published





Ariana Grande celebrates 'Thank U, Next' anniversary: 'My heart feels good'

One year after the release of "Thank U, Next," Ariana Grande takes time to celebrate and reflect on the past year of her life.




USATODAY.com - Published





Manchester bombing public inquiry to be held partly in secret amid questions over security services 'failings'

Announcement comes as killer's brother denies 22 counts of murder over deaths at Ariana Grande concert




Independent - Published





Fans think Miley Cyrus throws shade at Liam Hemsworth in new single Don't Call Me Angel

The song also features Ariana Grande and Lana Del Rey (Picture: YouTube) Fans seem to think Miley Cyrus is seemingly throwing shade at ex-husband Liam Hemsworth in her new single, Don't Call Me..




WorldNews - Published





Ariana Grande has been accused of stealing outfit designs from drag queens, Asian designers, and black culture — here's everything you need to know about the controversy

Since Ariana Grande filed a $10 million lawsuit against Forever 21 on Monday, she has been hit with accusations of hypocrisy and cultural appropriation. The "RuPaul's Drag Race" star Farrah Moan and..




WorldNews - Published