Kimberly Guilfoyle
American journalist and attorney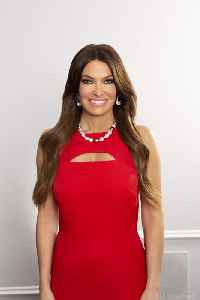 Kimberly Ann Guilfoyle is an American attorney and television news personality who co-hosted The Five on Fox News. She left the Fox News network on July 20, 2018.


You Might Like
Kimberly Guilfoyle's Fund-Raising for Trump Draws Scrutiny
Ms. Guilfoyle has raised money from donors and has made inroads with some who have rejected calls from others. Yet Trump supporters inside and outside the campaign say the operation she's built..
NYTimes.com - Published
Trump campaign raises $20 million during the president's first virtual re-election fundraiser
Trump Victory national chair Kimberly Guilfoyle said the event proved "the enthusiasm from President Trump's supporters cannot be matched."
USATODAY.com - Published
Kimberly Guilfoyle, Donald Trump Jr.'s girlfriend, tests positive for coronavirus
More Trump Jr., 42, and Guilfoyle, 51, will be driving home rather than getting on a flight, a source said. Guilfoyle, a former Fox News host, serves as the national chair of...
WorldNews - Published
Also reported by •USATODAY.com
At Party for Donald Trump Jr.'s Girlfriend, Donors Helped Pick Up the Tab
Attendees of the bash for Kimberly Guilfoyle at the president's private club chipped in — including financial backers of the Trump re-election campaign.
NYTimes.com - Published
Florida student body president faces impeachment for Donald Trump Jr.'s $50K campus visit
Trump, Jr. and his girlfriend Kimberly Guilfoyle spoke at the University of Florida campus Oct. 10 for $50,000.
USATODAY.com - Published
Trump Jr. heckled during UCLA appearance
Trump supporters also protested, demanding Q & A from Donald Trump Jr. and Kimberly Guilfoyle, according to reports
CBS News - Published
Donald Trump Jr walks out of Triggered book launch after heckling – from supporters
Donald Trump Jr ventured on to the University of California's overwhelmingly liberal Los Angeles campus on Sunday, hoping to prove what he had just argued in his book – that a hate-filled American..
WorldNews - Published