Oakland, California
City in California, United States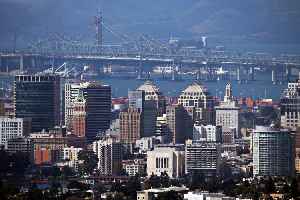 Oakland is the largest city and the county seat of Alameda County, California, United States. A major West Coast port city, Oakland is the largest city in the East Bay region of the San Francisco Bay Area, the third largest city overall in the San Francisco Bay Area, the eighth most populated city in California, and the 45th largest city in the United States. With a population of 432,897 as of 2019, it serves as a trade center for the San Francisco Bay Area; its Port of Oakland is the busiest port in the San Francisco Bay, the entirety of Northern California, and the fifth busiest in the United States of America. An act to incorporate the city was passed on May 4, 1852, and incorporation was later approved on March 25, 1854, which officially made Oakland a city. Oakland is a charter city.


Court weighs Trump plan to fund border wall build
A federal judge in Oakland heard arguments Friday in two lawsuits seeking to block the White House from building a wall on the Mexico border with billions of dollars secured under President Trump's..
USATODAY.com - Published
Curry brothers headline Game 2 of Western Conference Finals
OAKLAND — With two minutes to play in the fourth quarter of Thursday's Game 2 of the Western Conference Finals, Warriors point guard Stephen Curry stood at the free throw line with a chance to give..
WorldNews - Published
Southwest Airlines Launches Affordable Flights To Hawaii
Business Insider reports that Southwest Airlines has received permission from the FAA and have launched flight service to Hawaii. The inaugural flight is scheduled to depart from Oakland, California,..
Credit: Wochit News Duration: 00:37Published
Lawsuit Alleges Apple Covered Up Slow iPhone Sales
The suit alleges hundreds of thousands of Apple's investors suffered losses due to the company's actions.
Credit: Newsy Studio Duration: 01:09Published
Cory Booker's 2020 Kickoff Doesn't Receive Big Turnout
Democratic Sen. Cory Booker held his 2020 kickoff rally in Newark, New Jersey, where he use to be mayor. According to Business Insider, despite good weather, Booker had a low turnout for his kickoff...
Credit: Wochit News Duration: 00:32Published
Antonio Brown is Turning Into a Diva WR in Oakland
Raiders WR Antonio Brown drew attention on Sunday afternoon when he tweeted criticism of former Steelers teammate JuJu Smith-Schuster. SI Now reacts to Brown's continued antics and wonders if he's..
Credit: Sports Illustrated Duration: 01:09Published
The not-so transparent world of Google Assistant
Google's voice assistant is increasingly recommending trusted help including electricians and plumbers, but legal experts say there may be a key disclaimer missing. Jane Lanhee Lee reports
Credit: Reuters Studio Duration: 01:58Published
Griese, Riddick to serve as analysts on ESPN's late opener
ESPN's broadcast crew for the season-opening "Monday Night Football" doubleheader between Denver and Oakland will feature analysts who played for the Broncos and Raiders
USATODAY.com - Published
Chiefs backup quarterback EJ Manuel retires from NFL
Chiefs quarterback EJ Manuel, who was signed this offseason to compete for a backup job, has decided to retire after four seasons with Buffalo and one season with Oakland
USATODAY.com - Published
Journeyman pitcher Edwin Jackson on the verge of history
Edwin Jackson is on the verge of making history after the right-hander was traded from Oakland to Toronto
USATODAY.com - Published
LEADING OFF: Altuve likely to IL, Cubs-Brewers in prime time
LEADING OFF: Altuve likely to IL with hamstring issue, Cubs-Brewers settle series in prime time, Oakland closes out wild homestand, Tanaka split out of luck
USATODAY.com - Published
Jays acquire RHP Edwin Jackson, who joins record 14th team
RHP Edwin Jackson traded from Oakland to Toronto, joins major league-record 14th team
USATODAY.com - Published
You Might Like