Stephen Colbert
American comedian and writer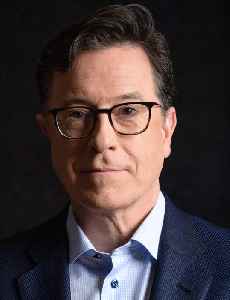 Stephen Tyrone Colbert is an American comedian, writer, producer, political commentator, actor, and television host. He is best known for hosting the satirical Comedy Central program The Colbert Report from 2005 to 2014 and the CBS talk program The Late Show with Stephen Colbert beginning in September 2015.


Kirsten Gillibrand announces 2020 presidential bid
Senator holds first press conference after announcing on Colbert's "Late Show" that she is forming an exploratory committee to run for president
CBS News - Published
5/11/17: Red and Blue
President Trump contradicted key aides -- and Vice President Mike Pence -- with his explanation of why he fired FBI Director James Comey; "Late Show" host Stephen Colbert says James Comey's firing..
CBS News - Published
Michelle Obama charms British crowd with praise for Queen Elizabeth
Former U.S. first lady Michelle Obama charmed thousands of Britons on Sunday (April 19), telling anecdotes about meeting the "wonderfully warm and funny" Queen Elizabeth and praising London's diversity..
Credit: Reuters Studio Duration: 01:56Published
Rep. Eric Swalwell Announces 2020 Presidential Run
Rep. Eric Swalwell said Americans feel like they are "running in place and it is not adding up to anything."
Credit: Newsy Studio Duration: 00:47Published
Stephen Colbert: 'I know You're Not Meant To Judge A Book By Its Orange Leathery Cover'
Chat show host, Stephen Colbert discussed his frustration with Attorney General William Barr's summary of the two year Mueller investigation. He joked 'I know you're not meant to judge a book by its..
Credit: Newsweek Duration: 01:02Published
Howard Stern talks about "wild" Trump on Colbert
Stern said things would be different if Hillary Clinton had come on his show – and he explained why Bernie Sanders is his "hero"
CBS News - Published
Colbert examines Trump's narcissism in Best of Late Night
From Trump to Clinton to Kushner, the comics take a look at all things politics.
USATODAY.com - Published
Search this site and the web:
You Might Like