Kenya
Equatorial country in East Africa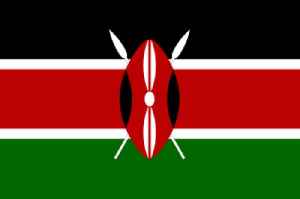 Kenya, officially the Republic of Kenya, is a country in Eastern Africa. At 580,367 square kilometres (224,081 sq mi), Kenya is the world's 48th largest country by total area. With a population of more than 47.6 million people, Kenya is the 29th most populous country. Kenya's capital and largest city is Nairobi, while its oldest city and first capital is the coastal city of Mombasa. Kisumu City is the third largest city and also an inland port on Lake Victoria. Other important urban centres include Nakuru and Eldoret. As of 2020, Kenya is the third largest economy in sub-Saharan Africa after Nigeria and South Africa. Kenya is bordered by South Sudan to the northwest, Ethiopia to the north, Somalia to the east, Uganda to the west, Tanzania to the south, and the Indian Ocean to the southeast.


Kenya drivers struggle to make ends meet during lockdown

Demand for home deliveries is up, but why are some Kenyan drivers unhappy about the extra business?
Credit: Al Jazeera STUDIO Duration: 02:27
Published
Kenya: Lack of funds puts conservation projects at risk

Conservationists say if tourism fails reserve land will be used for farming or property development instead.
Credit: Al Jazeera STUDIO Duration: 02:42
Published
Kenya camps: 500,000 people at risk of contracting COVID-19

Poor healthcare and sanitation mean that coronavirus could quickly spread through Kenya's refugee camps.
Credit: Al Jazeera STUDIO Duration: 02:21
Published
Stigma, fears of quarantine hinder Kenya's COVID-19 fight

COVID-19 testing ramps up across worst-affected parts of Kenya, but many are worried they will be forced into quarantine.
Credit: Al Jazeera STUDIO Duration: 02:44
Published
Locusts in Kenya threaten to cut off food supplies

Some experts are searching the most remote corners of Kenya for desert locusts to contain them before the wreak havoc on crops.View on euronews
Credit: euronews (in English) Duration: 00:50
Published
Locust kebab anyone? New ways to tackle swarms

Scientists in Kenya are exploring new ways to tackle plagues of locusts that are destroying crops in East Africa - including eating them, poisoning them and driving them to cannibalism. Nneka Chile..
Credit: Reuters Studio Duration: 01:55
Published
New swarm of locusts brings devastation in Kenya

Kenya's poorest region is buckling under the strain of a new generation of locusts that is destroying crops and threatens to spread to neighboring countries imminently. Nazanine Moshiri reports.
Credit: Reuters Studio Duration: 01:44
Published
Kenya funeral chaos: Fans flee with pop star's body to mourn death

Fans mourning Abenny Jachiga's death in his hometown blocked the lowering of his body into the ground.
Credit: Al Jazeera STUDIO Duration: 02:12
Published
'Never again': Protesters march against Kenyan police brutality

Rally in Nairobi comes after watchdog said officers were involved in killing of 15 since coronavirus curfew in March.
Credit: Al Jazeera STUDIO Duration: 01:55
Published
Refugee numbers have doubled in last decade - U.N.

Nearly 80 million people, half of them children, were displaced from their homes at the end of 2019, according to a new report by the United Nations refugee agency, released to coincide with World..
Credit: Reuters Studio Duration: 01:27
Published
Kenya lockdown measures taking toll on Eid festivities

Businesses in Kenya suffer, as coronavirus lockdowns hit the normally busy Eid al-Fitr holiday trade.
Credit: Al Jazeera STUDIO Duration: 02:15
Published
Microbe that could control malaria found in Kenya

It's a disease that kills hundreds of thousands of people around the world every year. A team of scientists discovered that this microbe called Microsporidia can prevent mosquitoes from being infected..
Credit: Reuters Studio Duration: 02:03
Published
You Might Like



Locusts threaten Kenya's food supply chain

A team has travelled by helicopter to one of Kenya's most remote corners to search for desert locusts, which threaten to cut off the nation's food supply if not controlled quickly. (July 4)  




USATODAY.com - Published





Kenyan athlete faces jail for forging medical documents

Kenyan marathon runner Florence Jepkosgei Chepsoi is facing a jail term for presenting false medical documents to support her case against doping, the Anti-Doping Agency of Kenya (ADAK) said on..




WorldNews - Published





Mobile money is booming in Africa as countries shun cash amid the pandemic

Africa's burgeoning mobile banking industry has gained fresh momentum with governments boosting payments through phones, a measure aimed at curbing the coronavirus by reducing the physical exchange..




WorldNews - Published





'It feels like me winning the Premier League' - Mike Origi on son Divock

Former Kenya international Mike Origi talks about his pride as his son Divock's Liverpool team secures the Premier League title.




BBC News - Published





Coronavirus in Kenya: Police kill three in motorcycle taxi protest

The police order the arrest of the officers involved, as they come under scrutiny for excessive force.




BBC News - Published





Preventing a plague: fighting Kenya's locusts

Locust-trackers in Kenya are fighting to control the country's worst invasion of locusts for more than 70 years.




BBC News - Published





After second round of voting, Kenya wins spot on U.N. Security Council

Kenya was elected to the U.N. Security Council on Thursday, defeating Djibouti in a second-round of voting by the 193-member General Assembly after an initial ballot failed to produce a clear winner.




Reuters - Published





India, Mexico, Norway, Ireland elected to UN Security Council

The UN General Assembly elected on Wednesday four new members of the Security Council for 2021 and 2022, with Canada losing out again and the battle for the African seat going to a second round. India,..




WorldNews - Published





Kenya: Police brutality in the battle against coronavirus in Mathare

In one of Kenya's poorest settlements, brutal policing of a curfew is causing more problems than Covid-19.




BBC News - Published





How the search for an out-of-print book led a refugee to build a hit publishing company

Peter Deng came to Australia as a refugee from South Sudan after spending a decade in a Kenyan refugee camp. He has now established an independent book publishing company at the centre of a worldwide..




SBS - Published





John Nzenze: The founder of 'Africa's best band'

Kenyan John Nzenze, famous for love songs going back to the 1960s, has died aged 80.




BBC News - Published





Tear gas fired as crowd seizes Kenya pop star's body to halt hasty COVID funeral

Hundreds of Kenyans defied tear gas and riot police on Friday to carry off the body of a popular singer, trying to prevent a swift burial under rules for suspected coronavirus cases which the crowd..




Reuters - Published





Kenya arrests three policemen for dragging woman behind motorbike

Kenyan detectives have arrested three police officers for allegedly whipping a woman and dragging her along behind a motorbike, the Directorate of Criminal Investigations said on Thursday, after..




Reuters - Published





Kenyan police arrested after dragging suspect by motorbike

They accused the Kenyan woman of involvement in a robbery, as another man whipped her.




BBC News - Published





Why Kenyans are begging their president for freedom

About 1.2 million people have lost their jobs since coronavirus hit the East African state in March.




BBC News - Published





Burundi says president Nkurunziza has died of heart attack

NAIROBI, Kenya (AP) — Burundi's government says President Pierre Nkurunziza has died of a heart attack at age 56. A statement says the president was admitted to a hospital...




WorldNews - Published





'They have killed us more than corona': Kenyans protest against police brutality

Peaceful demonstration in Nairobi a response to increase in violence and killings during the coronavirus curfew Photographs by Ed Ram Coronavirus – latest updates See all our coronavirus coverage A..




WorldNews - Published





On patrol with Kenya's locust hunters

Kenya faces a race against time to tackle the swarms as the end of the insects' breeding season clashes with harvests.




BBC News - Published





Viewpoint: What it's like to be an African in the US

Kenyan journalist Larry Madowo writes about the racism he has experienced in the US.




BBC News - Published





Coronavirus: Kenyan boy who made hand-washing machine awarded

Stephen Wamukota came up with a hand-washing machine that helps prevent the spread of Covid-19.




BBC News - Published





Bill Gates conspiracy theories viral in Africa

Johannesburg: As the novel coronavirus wreaks global havoc, Bill Gates is the new bete noire for conspiracy theorists worldwide including in Africa where a Kenyan politician's false online post has..




WorldNews - Published





'No masks, no gloves': Kenyan government under fire over quarantine centres

Kenya's government is facing growing criticism over quarantine centres it set up to curb the spread of the coronavirus, with witnesses saying some are squalid and expose residents to the risk of..




Reuters - Published





Kenya rolls out testing in Nairobi slums, but some fear stigma

Kenya is rolling out voluntary public testing for the novel coronavirus in its biggest slum, where some residents say being declared virus-free boosts their chances of getting a job.




Reuters - Published





Hit by coronavirus, Kenyans turn to car boot commerce

More Kenyans are starting to operate small businesses out of the boots of their cars to make ends meet as the coronavirus crisis has hit jobs and the economy.




Reuters India - Published





Gym closures force Kenyan sports champions to train by roadside

Kenya taekwondo champion Vincent Ochieng usually trains in school sports halls in Kisumu, but now he is working out with hundreds of other people on the gritty surface of the western city's biggest..




Reuters - Published





Coronavirus in Kenya: 'I buried my cousin on Facebook Live'

The BBC's Mercy Juma had to watch her cousin's burial online - until her internet connection failed.




BBC News - Published





U.S. reaches consensus with Sudan on 'contours' of future claims deal

The United States and Sudan have reached a common understanding on the "contours" of a future bilateral claims agreement linked to the 1998 al Qaeda bombings of U.S. embassies in Kenya and Tanzania,..




Reuters - Published




Kenya floods uproot families, disrupt fishing, farming communities

Grandmother Millicent Agata's small farm has disappeared entirely under the floodwaters of a swollen Lake Victoria, forcing her family to join tens of thousands of other Kenyans seeking shelter from..




Reuters - Published





Sudan 'must pay' US East African embassy attack victims

The US Supreme Court rules in favour of damages over the 1998 bombings in Kenya and Tanzania.




BBC News - Published





Sudan Must Pay Billions to Terrorism Victims, Supreme Court Rules

In a unanimous ruling, the court said a 2008 law allowing punitive damages applied retroactively to 1998 bombings in Kenya and Tanzania.




NYTimes.com - Published





U.S. Supreme Court heaps more damages on Sudan in embassy bombing cases

The U.S. Supreme Court dealt a legal setback to Sudan on Monday, ruling that the African nation cannot avoid punitive damages it was ordered to pay in lawsuits accusing it of complicity in the 1998 al..




Reuters - Published





Kenya closes borders to Tanzania and Somalia over coronavirus

Kenya's President Uhuru Kenyatta on Saturday banned movement across the country's borders with Tanzania and Somalia to help curb the spread of the coronavirus.




Reuters - Published





Kenya's president Uhuru Kenyatta bans movement to Tanzania and Somalia over COVID-19

Kenya's President Uhuru Kenyatta on Saturday ordered a cessation of movement between the country and neighbouring Tanzania and Somalia to help curb the spread of the novel coronavirus.




Reuters - Published





Taps run dry in Kenya's capital as coronavirus spreads

Rachel Wanjiru was already struggling to get enough water to wash her children's hands during the coronavirus lockdown - then a landslide knocked out the supply near her home in Nairobi's Kangemi slum.




Reuters - Published





This woman can be Joe Biden's Vice President

Joe Biden is getting a lot of unsolicited advice about a running mate. Here's mine: Find yourself another Joe Biden. When Barack Obama was cruising to the Democratic Party's presidential nomination..




WorldNews - Published





Malaria-Blocking Microbe Discovered Living In Some African Mosquitoes

A microbe present in wild populations of Kenya's Anopheles mosquito – a key vector of malaria – has been shown to block the transmission of malaria from insects to human, suggesting it may be a..




WorldNews - Published





Italian aid worker kidnapped in Kenya in 2018 returns home

Silvia Romano, 25, was freed on Saturday in Somalia, in an operation by Italy's secret services.




BBC News - Published

Also reported by •Reuters


AP Top Stories 5P

Thousands attend anti-lockdown protest in Germany; Gunfire kills 6 at Afghan protest calling for aid; House demolitions leave thousands homeless in Kenya; Little Richard, rock 'n' roll pioneer, dead at..




USATODAY.com - Published





Kenya and Uganda hit by power blackout, electricity back in most of Kenya

Kenya and Uganda were hit by power blackouts on Saturday, and Kenya Power said the outage on its grid was caused by a fault on a high voltage line but that it had restored supply to most parts of the..




Reuters - Published





Kenya and Uganda hit by power blackout

Kenya and Uganda were hit by a power blackout on Saturday, and Kenya Power said the outage on Kenya's grid was caused by a fault on a high voltage line.




Reuters - Published





Kenya and Uganda hit by deadly flooding

Heavy rains across the region have also destroyed homes, crops and some infrastructure.




BBC News - Published





Coronavirus in Kenya: Fearing 'money heists' amid pandemic

Kenyans are afraid that money set aside to tackle the virus is being misspent, writes Waihiga Mwaura.




BBC News - Published





Kenya urges Somalia to speedily investigate fatal plane crash

Kenya on Tuesday called for an urgent investigation into the fatal crash of a private cargo plane in Somalia amid unconfirmed reports it may have been shot down.




Reuters - Published





Conservation in crisis: ecotourism collapse threatens communities and wildlife

From Kenya to the Seychelles, coronavirus has dealt a devastating blow to efforts to protect endangered wildlife How Covid-19 could push mountain gorillas back to the brink From the vast plains of the..




WorldNews - Published





Coronavirus: Kenyans moved by widow cooking stones for children

Jobless because of coronavirus restrictions, she hoped they would fall asleep waiting for their meal.




BBC News - Published





Most Kenyan regions ill-prepared to tackle COVID-19 pandemic, senate warns

Most of Kenya's 47 local authorities are not properly equipped to deal with the coronavirus health crisis, which weakens the country's fight against the pandemic, a senate committee warned.




Reuters - Published





Lesbians, gays live in fear of attacks in Kenyan refugee camp

Eva Nabagala hoped she and her young son would be safe from her family when they fled Uganda for a Kenyan refugee camp - but instead, the 28-year-old says she was attacked and raped there as punishment..




Reuters - Published





Ken Walibora: How Kenya's 'king' of Swahili writing inspired me

Ken Walibora died on 10 April and left behind a generation of Kenyans who grew up on his books.




BBC News - Published





Spray it, don't say it: Kenya graffiti artists spread health message

A six-foot image of a sad-eyed man, baseball cap askew and mask covering his nose and mouth is spray painted on a building in a Nairobi slum. Next to it are the words "Corona is real".




Reuters - Published





Coronavirus: Kenya quarantine escapees arrested while drinking at bar

The pair were found drinking in a bar which had defied orders to close to halt the spread of Covid-19.




BBC News - Published