Phoenix Suns
American professional basketball team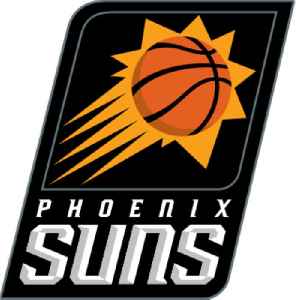 The Phoenix Suns are an American professional basketball team based in Phoenix, Arizona. The Suns compete in the National Basketball Association (NBA), as a member of the league's Western Conference Pacific Division, and are the only team in their division not based in California. The Suns play their home games at the Talking Stick Resort Arena.


You Might Like
Denver Nuggets star Nikola Jokic among NBA players to test positive for COVID-19
Denver Nuggets' Nikola Jokic has tested positive for COVID-19, as have two Phoenix Suns players and four players from Western Conference playoff team.
USATODAY.com - Published
Former Phoenix Suns star Dan Majerle files lawsuit against Grand Canyon University over firing
Former Grand Canyon basketball coach Dan Majerle is seeking salary and benefits as severance pay after being fired.
USATODAY.com - Published
Devin Booker beats Deandre Ayton in all-Phoenix Suns final of NBA 2K Players Tournament
Devin Booker defeated Phoenix Suns teammate Deandre Ayton in the final of the NBA 2K Players Tournament.
USATODAY.com - Published
The Phoenix Suns are playing out the rest of their season on 'NBA 2K' video game
The Phoenix Suns revealed Thursday the team plans to play out the rest of its schedule using the video game "NBA 2K."
USATODAY.com - Published
Center Aron Baynes discusses Sun's 5-2 start
Phoenix center Aron Baynes discusses the Suns' surprising 5-2 start after 19-63 record last season. (Nov. 4)  
USATODAY.com - Published
Steph Curry out for at least three months after surgery
The six-time NBA All-Star broke his hand while facing off against the Phoenix Suns Wednesday night.
CBS News - Published
NBA: Stephen Curry breaks left hand in another embarrassing defeat for Golden State Warriors
San Francisco: In what has already been a rough start to the season for the Warriors, now Stephen Curry is down. A two-time MVP, Golden State's longest-tenured player and its oldest at age 31. The..
WorldNews - Published
Warriors star Steph Curry suffers broken left hand against Suns
The Warriors' rough start to the season got worse when Steph Curry suffered a broken left hand in a collision with Suns center Aron Baynes.
USATODAY.com - Published
Suns' Deandre Ayton suspended 25 games for violating NBA anti-drug policy
The league informed the Suns that Ayton, the top pick in the 2018 draft, tested positive for a diuretic. His suspension begins Friday.
USATODAY.com - Published
He was a college star, an NBA player, then a federal prisoner. Now, he wants to help others
William Bedford, who played for the Suns and Pistons, graduated from Memphis' Manhood University after his prison term. Now, he wants to help others.
USATODAY.com - Published
Suns re-sign forward Kelly Oubre Jr.
Forward Kelly Oubre Jr. re-signed with the Phoenix Suns. Oubre was acquired in a trade with the Washington Wizards for veteran Trevor Ariza last December. He averaged 16.9 points and 4.9 rebounds in 40..
USATODAY.com - Published
Josh Jackson of Phoenix Suns accused of getting infant high, court records show
A mother is accusing a Phoenix Suns player of making their infant high because of the presence of marijuana, according to Family Court records.
USATODAY.com - Published
Wolves pick Johnson in proposed swap with Suns for Culver
Timberwolves draft Johnson at No. 11 in proposed deal with Saric for No. 6 pick Culver
USATODAY.com - Published