Xinjiang
Autonomous region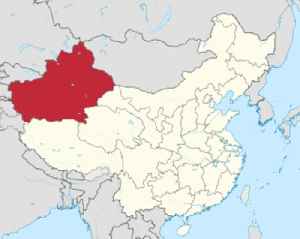 Xinjiang, officially the Xinjiang Uygur Autonomous Region (XUAR), is a provincial-level autonomous region of China in the northwest of the country. It is the largest Chinese administrative division and the eighth largest country subdivision in the world, spanning over 1.6 million km2. Xinjiang contains the disputed territory of Aksai Chin, which is administered by China and claimed by India. Xinjiang borders the countries of Mongolia, Russia, Kazakhstan, Kyrgyzstan, Tajikistan, Afghanistan, Pakistan (Gilgit-Baltistan), and India. The rugged Karakoram, Kunlun, and Tian Shan mountain ranges occupy much of Xinjiang's borders, as well as its western and southern regions. Xinjiang also borders Tibet Autonomous Region and the provinces of Gansu and Qinghai. The most well-known route of the historical Silk Road ran through the territory from the east to its northwestern border. In recent decades, abundant oil and mineral reserves have been found in Xinjiang, and it is currently China's largest natural gas-producing region.


U.S. official denounces 'choreographed' visits to China's Xinjiang
"Highly choreographed" tours to Xinjiang organized by the Chinese government are misleading and propagate false narratives about the troubled region, a U.S. official said, after China announced plans..
Reuters - Published
Former Muslim detainee recalls horror at Chinese 're-education camp', talks about self-criticism sessions, pork meal
UN experts say China holds one million Muslims in camps in the heavily policed Xinjiang region where most of the country's ethnic Uyghur, the largest Muslim minority, live
Firstpost - Published
China Surveillance Firm Tracking Millions In Xinjiang
According to Reuters, a data leak flagged by a Dutch internet expert showed that a Chinese surveillance firm is tracking the movements of more than 2.5 million people in the far-western Xinjiang..
Credit: Wochit News Duration: 00:33Published
Exclusive: China to invite European diplomats to Xinjiang in new diplomatic push
China will invite Beijing-based European diplomats to visit its far western region of Xinjiang, the foreign ministry told Reuters, furthering its outreach to fend off criticism about a..
Reuters - Published
China calls 26/11 Mumbai attacks one of the 'most notorious', opposes linking terrorism 'with specific countries
China made the remark t on the 26/11 Mumbai terrorist attacks, blamed on Pakistan-based Hafiz Saeed, in a white paper on its crackdown on militants in Xianjiang.
Firstpost - Published
Amid criticism over detention of Uyghur Muslims, China says around 13,000 'terrorists' have been arrested in Xinjiang
China said on Monday it had arrested about 13,000 'terrorists' in a massive crackdown against militants in the volatile Uyghur Muslim-majority Xinjiang region since 2014, denying criticism that Beijing..
Firstpost - Published
China says 13,000 Xinjiang 'terrorists' arrested since 2014
BEIJING (AP) — China has arrested nearly 13,000 people it describes as terrorists and has broken up hundreds of "terrorist gangs" in Xinjiang since 2014, the government said in a report Monday issued..
WorldNews - Published
Also reported by •Reuters
China to prosecute top-ranking Uighur official for corruption
China's anti-corruption watchdog said on Saturday it would prosecute Nur Bekri, one of the highest-ranking Uighur officials in the country, over allegations of graft and corruption during his time as..
Reuters - Published
China Says Camps In Xinjiang Will 'Gradually Disappear'
China's vice foreign minister addressed the United Nations Human Rights Council on Friday to defend what Beijing claims are only vocational training centers in the autonomous region of Xinjiang for..
WorldNews - Published
China rejects criticism of mass detainment of Muslim minorities in Xinjiang at UN, says it set up 'campuses'
China on Friday flatly rejected criticism of mass detainment of Muslim minorities in its restive Xinjiang region.
Firstpost - Published
China defends Xinjiang centers for Muslims, but aims to 'downsize'
Chinese vice foreign minister Le Yucheng on Friday defended what China calls its "vocational training centers" in Xinjiang for Muslims and rejected interference in domestic affairs.
Reuters - Published
You Might Like