Mae Jemison
American doctor and NASA astronaut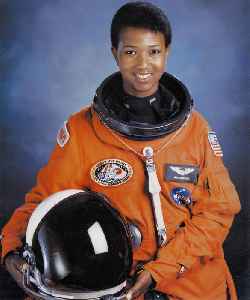 Mae Carol Jemison is an American engineer, physician and NASA astronaut. She became the first black woman to travel in space when she served as an astronaut aboard the Space Shuttle Endeavour. After graduating medical school and a brief general practice, Jemison served in the Peace Corps from 1985 until 1987. In 1987 her application to become an astronaut was accepted by NASA and on September 12, 1992 she was a mission specialist aboard STS-47. In 1993 she resigned from NASA and founded a company researching the application of technology to daily life. She has appeared on television several times, including as an actress in an episode of Star Trek: The Next Generation. She is a dancer and holds nine honorary doctorates in science, engineering, letters, and the humanities. She is the current principal of the 100 Year Starship organization.


Mae Jemison, an astronaut with down to Earth wisdom on climate change
In the manner of a droid desperately seeking a docking station, I am constantly searching for a leader who can offer me some direction and energy in the battle for the biosphere. Until now, there's..
WorldNews - Published
Search this site and the web:
You Might Like