Maui
Island of the Hawaiian Islands in the Pacific Ocean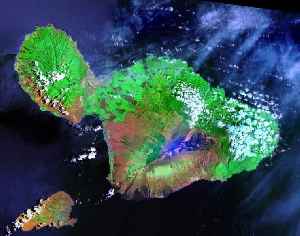 The island of Maui is the second-largest of the Hawaiian Islands at 727.2 square miles (1,883 km2) and is the 17th largest island in the United States. Maui is part of the State of Hawaii and is the largest of Maui County's four islands, which include Molokaʻi, Lānaʻi, and unpopulated Kahoʻolawe. In 2010, Maui had a population of 144,444, third-highest of the Hawaiian Islands, behind that of Oʻahu and Hawaiʻi Island. Kahului is the largest census-designated place (CDP) on the island with a population of 26,337 as of 2010 and is the commercial and financial hub of the island. Wailuku is the seat of Maui County and is the third-largest CDP as of 2010. Other significant places include Kīhei, Lahaina, Makawao, Pukalani, Pāʻia, Kula, Haʻikū, and Hāna.


Hawaii governor declares emergency for Maui wildfires
Hawaii's governor on Friday declared an emergency on the island of Maui, where firefighters were battling a blaze that forced the evacuations of thousands of people and sent huge clouds of smoke..
Reuters - Published
Thousands Evacuated From Maui Towns Over Hawaii Wildfire
Thousands of residents and tourists on Hawaii's Maui island were evacuated on Thursday night after a brushfire continued to grow, according to National Public Radio. By Friday morning, some residents..
WorldNews - Published
Evacuations ordered as blaze tears through Hawaii
Thousands of residents were ordered to evacuate on Thursday (July 11) in central Maui as firefighters battled an aggressive brush fire. Rough cut, no reporter narration.
Credit: Reuters Studio Duration: 00:49Published
Snake 'Hitchhikes' From Florida to Hawaii In A Backpack
Geek.com reports a snake "hitchhiked" from Florida to Hawaii in a man's backpack. Amazingly, the snake remained unnoticed until it arrived at its final destination in Maui. The small black racer..
Credit: Wochit News Duration: 00:45Published
Hiker recounts 'spiritual' ordeal while lost
The yoga instructor rescued after 17 days lost in a Hawaii forest reserve recounted on Tuesday sleeping in wild boar dens, trudging shoeless through a rocky stream and dining on plants to survive a..
Credit: Reuters Studio Duration: 01:15Published
Maui hiker recounts 'spiritual' journey and rescue
Amanda Eller, the yoga instructor who was rescued after missing for more than two weeks in a Maui forest, said on Tuesday that it was a 'miracle' that rescuers spotted her last week. Rough Cut (no..
Credit: Reuters Studio Duration: 02:02Published
Shark Kills 65 Year Old Man Swimming In Maui
A shark attack killed a 65-year-old man as he was swimming off the coast of Maui Saturday morning. The man, who was from California, encountered the shark about 60 yards off of Kaanapali Beach. A close..
Credit: Wochit News Duration: 00:48Published
Man Dies After Shark Attack In Hawaii
A 65-year-old California man was killed in an apparent shark attack while swimming off the coast of Maui on Saturday morning.
Credit: Wochit News Duration: 00:32Published
Oprah Winfrey praised for opening her private road during Maui fire to help evacuations
Oprah Winfrey is being praised after opening up her private road on Maui to help people escape a brush fire that broke out on the Hawaii island Thursday.
USATODAY.com - Published
Brush fire on Hawaiian island of Maui prompts evacuations, flight diversions
Some flights to the island's main airport in Kahului were diverted because the fire was affecting access to the facility, the state Department of Transportation said.
USATODAY.com - Published
Hawaii's Maui Island wildfire forces evacuations
Thousands of residents and visitors on Hawaii's Maui Island were ordered to evacuate two communities on Thursday as a spreading wildfire sent smoke billowing high into the sky, officials and local..
Reuters - Published
Brush fire on Maui, Hawaii, evacuations ordered
A brush fire has prompted evacuations and diverted some flights on the Hawaii island of Maui, officials said Thursday. People in at least two towns were told to leave. (July 12)
USATODAY.com - Published
You Might Like