Manfred Weber
German politician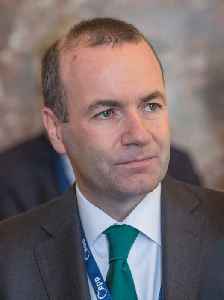 Manfred Weber is a German politician who has served as Leader of the European People's Party in the European Parliament since 2014. He has been a Member of the European Parliament (MEP) from Germany since 2004. He is a member of the Christian Social Union in Bavaria, part of the European People's Party.


EU elections: Weber, in Bulgaria, vows tough migration laws
SOFIA, Bulgaria (AP) — A leading conservative candidate in next week's European Parliament elections has promised Bulgarians tight measures against illegal migration. Manfred Weber said in Sofia that..
WorldNews - Published
Pumping up the volume, conservative runs glitzy EU campaign
If top conservative candidate Manfred Weber has achieved one thing in his campaign for EU parliamentary elections that by tradition feel too irrelevant to set pulses racing, it is to introduce power..
Reuters - Published
Hungarian PM withdraws support from Weber for EU's top job
Hungarian Prime Minister Viktor Orbán withdrew his support from Manfred Weber Monday at a press conference with Austrian far-right politician Heinz-Christian Strache.
Credit: euronews (in English) Duration: 04:37Published
European elections 2019: Weber and Timmermans in TV debate as the race for EU's top job heats up
The two main candidates to replace Jean-Claude Juncker as president of the European Commission, Manfred Weber and Frans Timmermans, said how they felt about Brexit in a France 24 TV debate.
Credit: euronews (in English) Duration: 01:31Published
Search this site and the web:
You Might Like