Boeing B-52 Stratofortress
Strategic bomber in service with US Air Force since 1955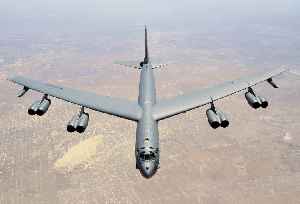 The Boeing B-52 Stratofortress is an American long-range, subsonic, jet-powered strategic bomber. The B-52 was designed and built by Boeing, which has continued to provide support and upgrades. It has been operated by the United States Air Force (USAF) since the 1950s. The bomber is capable of carrying up to 70,000 pounds (32,000 kg) of weapons, and has a typical combat range of more than 8,800 miles (14,080 km) without aerial refueling.


Video: Iranians fear country on brink of war
Relations between Washington and Tehran continue to deteriorate as President Donald Trump's decision to deploy aircraft carriers and B-52 bombers to the Persian Gulf have led to growing fears of a..
France 24 - Published
Tension flares up in Gulf after 4 Saudi ships are mysteriously 'sabotaged'; US warns Iran against any misadventures
Turning up the pressure on Tehran after the United States deployed B-52 bombers, President Donald Trump warned that Iran would 'suffer greatly' was it to 'do anything' to threaten US interests
Firstpost - Published
John Bolton Says US 'Not Seeking War' But Prepares To Respond To Attacks
The White House announced the deployment of an aircraft carrier strike group and B-52 bombers to the Middle East. Democratic lawmakers are now warning that President Donald Trump is "inching"..
Credit: Wochit News Duration: 00:32Published
Iran commander: U.S. forces a target, not a threat
A senior Iranian Revolutionary Guards commander said on Sunday the U.S. military presence in the Gulf used to be a serious threat but now represented a target, the Iranian Students' News Agency (ISNA)..
Credit: Reuters Studio Duration: 01:39Published
U.S. B-52 bombers reach Middle East in message to Iran
American B-52 Stratofortress bombers sent to the Middle East over what Washington describes as threats from Iran have arrived at a U.S. base in Qatar, U.S. Central Command said. Yahaira Jacquez..
Credit: Reuters Studio Duration: 01:41Published
US War Against Iran Is Impossible: Iranian General
Reuters reported a senior Iranian Revolutionary Guard commander derisively categorized the U.S. military presence in the Persian Gulf as a serious threat previously, but now says the presence..
WorldNews - Published
Search this site and the web:
You Might Like