Chengdu
Prefecture-level & Sub-provincial city in Sichuan, People's Republic of China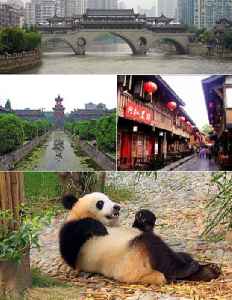 Chengdu, alternatively romanized as Chengtu, is a sub-provincial city which serves as the capital of the Chinese province of Sichuan. It is one of the three most-populous cities in Western China, the other two being Chongqing and Xi'an. As of 2014, the administrative area housed 14,427,500 inhabitants, the largest in Sichuan, with an urban population of 10,152,632. At the time of the 2010 census, Chengdu was the fifth-most populous agglomeration in China, with 10,484,996 inhabitants in the built-up area including Xinjin County and Deyang's Guanghan City. Chengdu is considered a World City with a "Beta +" classification, according to the Globalization and World Cities Research Network.


China Closes US Consulate in Chengdu Amidst Escalating Tensions

The American flag over the consulate was lowered on Monday morning in Chengdu.
Credit: Cover Video STUDIO Duration: 01:03
Published
US flag lowered as consulate in Chengdu forced to close

The closure follows US order for China to shut Houston consulate in sharp escalation of two countries' ongoing disputes.
Credit: Al Jazeera STUDIO Duration: 02:27
Published
China seizes U.S. consulate in Chengdu

Beijing announced the U.S. consulate in the southwestern city of Chengdu was closed as of 10 a.m. on Monday, after it ordered the facility be shut in retaliation for China being ousted from its..
Credit: Reuters - Politics Duration: 01:40
Published
China orders closure of US consulate in Chengdu

Beijing says move is a 'legitimate and necessary response' to Washington's decision to shut China's Houston consulate.
Credit: Al Jazeera STUDIO Duration: 02:30
Published
U.S. Chengdu consulate prepares to close

Security was tight outside the U.S. consulate in the Chinese city of Chengdu on Saturday as staff inside prepared to leave, while U.S. officials took over the closed Chinese consulate in Houston. Lucy..
Credit: Reuters Studio Duration: 01:35
Published
China orders U.S. to shut Chengdu consulate

China ordered the United States to close its consulate in the city of Chengdu on Friday, responding to a U.S. demand this week that China close its Houston consulate. Francis Maguire reports.
Credit: Reuters Studio Duration: 01:44
Published
You Might Like



'China is powerful now': Beijing's aggressive global stance sparks wave of nationalism

As China comes under attack abroad, nationalist sentiment at home is being stoked – at the expense of other voices For days, the US consulate in the Chinese city of Chengdu was not just a site for..




WorldNews - Published





Competing with China? The United States has disarmed itself

(CNN)The Trump administration's decision to eject China from its Houston consulate on a spying accusation is the latest move in a spate of US policies and actions that target Beijing. In recent weeks,..




WorldNews - Published





Chinese authorities take control of US consulate in Chengdu

Chinese authorities took control of the former U.S. consulate in Chengdu on Monday amid rising tensions between the global powers.




USATODAY.com - Published

Also reported by •BBC News


Flag lowered as US departs Chengdu consulate in China

The American flag has been taken down at a US consulate in southwestern China, according to state media, as officials vacate the premises under order of the Chinese government. State broadcaster CCTV..




WorldNews - Published





US diplomats to leave consulate in Chengdu in tit-for-tat closures

China's decision to close the US mission came after the US shut China's consulate in Houston.




BBC News - Published





Tight security outside US Chengdu consulate after China orders closure

CHENGDU: Security was tight outside the US consulate in the Chinese city of Chengdu on Saturday as staff inside prepared to leave, a day after China ordered it to close in response to a US order for..




WorldNews - Published





US-Sino relations: 'Trade war, cold war, maybe real war?'

For a brief moment screams and panic punctuated the carnival atmosphere outside the shuttered US consulate in Chengdu. With hundreds of police and military surrounding the diplomatic mission, and the..




WorldNews - Published





China orders US to close consulate in Chengdu in retaliation for Houston outpost closure

The move was a response to the Trump administration's order this week for Beijing to close its consulate in Houston.




USATODAY.com - Published

Also reported by •NYTimes.com


Can millions more street vendors save China from a jobs crisis? Beijing appears divided

(CNN Business)For years, China staked its future on world class manufacturing and new technology. Now, it's having to contemplate a simpler, and older, solution to its looming jobs crisis involving..




WorldNews - Published





Coronavirus patient re-hospitalized in China's Chengdu after testing positive again

A coronavirus patient initially discharged following recovery in southwestern Sichuan province's Chengdu city has been readmitted after testing positive again during a quarantine period at home, the..




Reuters - Published




Taiwan to suspend most flights to mainland China to control coronavirus

Taiwan will suspend flights to most cities in mainland China from Monday due to the coronavirus epidemic but those to the capital Beijing, Shanghai, Xiamen and Chengdu will continue, the government..




Reuters - Published




China Focus: International volunteers join fight against epidemic

CHENGDU, Feb. 1 (Xinhua) -- Thomas Deshors started his "drop-in" visits to a residential community in Chengdu, capital of southwest China's Sichuan Province Friday after spending the Christmas vacation..




WorldNews - Published





U.S. authorizes departure of some employees from diplomatic facilities in China

The U.S. State Department has authorized the departure of family members and all non-emergency U.S. government employees at the American embassy in Beijing and consulates in Chengdu, Guangzhou,..




Reuters - Published




South Korea, Japan, China leaders to promote North Korea-U.S. dialogue

South Korean President Moon Jae-in said on Tuesday that South Korea, China, and Japan agreed to help promote North Korea-U.S. dialogue to end North Korea's nuclear program, during their trilateral..




Reuters - Published




Korean President Moon Jae In heads to Chengdu for Pyongyang talks

South Korean President Moon Jae In waves at Seoul Air Base in Seongnam, just south of Seoul, today before leaving for China to attend a trilateral summit with Chinese and Japanese leaders. South Korean..




WorldNews - Published





North Korea threat looms as China, Japan, South Korea leaders meet

The spectre of a new confrontation between Pyongyang and Washington hangs over meetings between China, Japan and South Korea this week, with growing risks North Korean actions could end an uneasy..




WorldNews - Published





Abe meets with China's Li, focuses on Xi's planned trip to Japan

NEWS ALERT: Abe urges China's Li to solve Hong Kong unrest through talks: gov't NEWS ALERT: China plans to hold summit with Japan, S. Korea in Chengdu in Dec. BANGKOK - Japanese Prime Minister Shinzo..




WorldNews - Published





Chinese 'panda' pet cafe raises eyebrows

An animal cafe has opened in Chengdu that lets people play with "pandas" that are actually dogs.




BBC News - Published





Kyle Edmund loses in Chengdu but Cameron Norrie wins in Zhuhai

British number one Kyle Edmund is beaten 6-3 6-2 by Chile's Cristian Garin in the first round of the Chengdu Open in China.




BBC News - Published





Ethiopian Airlines to add flight frequencies to Chinese cities of Chengdu, Guangzhou

ADDIS ABABA, Sept. 5 (Xinhua) -- Ethiopia's national air carrier, Ethiopian Airlines is to increase its flight frequencies to the Chinese cities of Chengdu and Guangzhou, an Ethiopian official said on..




WorldNews - Published





Floyd Mayweather vows to go 'all-out' to help China win medals at the Tokyo Olympics

US boxing superstar Floyd Mayweather Jnr has been named a special adviser to the Chinese Boxing Federation as the country looks to improve on their medal count at next year's Tokyo..




WorldNews - Published





At Least 11 Dead In Sichuan Earthquakes In China

A string of strong earthquakes hit the southwestern province of Sichuan late on Monday, killing at least 11 with more than 120 people injured, according to state media Xinhua. Rescuers were quickly..




WorldNews - Published





IndiGo enters China, to start flights on Delhi-Chengdu route from September 15 onwards

Announcing its entry into the Chinese market, low-cost carrier IndiGo on Wednesday said it will start its daily non-stop flight on the Delhi-Chengdu route from September 15 onwards.




DNA - Published