Brown v. Board of Education
United States Supreme Court case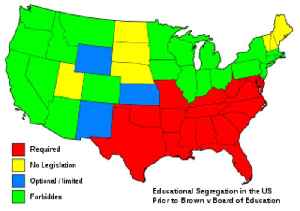 Brown v. Board of Education of Topeka, 347 U.S. 483 (1954), was a landmark decision of the U.S. Supreme Court in which the Court ruled that American state laws establishing racial segregation in public schools are unconstitutional, even if the segregated schools are otherwise equal in quality. Handed down on May 17, 1954, the Court's unanimous (9–0) decision stated that "separate educational facilities are inherently unequal," and therefore violate the Equal Protection Clause of the Fourteenth Amendment of the U.S. Constitution. However, the decision's 14 pages did not spell out any sort of method for ending racial segregation in schools, and the Court's second decision in Brown II only ordered states to desegregate "with all deliberate speed".


School segregation on the rise 65 years after Brown v. Board
Although white students are becoming a minority in the public school system, they are seeing increasingly fewer students of color in their classrooms
CBS News - Published
On Brown V. Board of Education, Trump judicial nominees take the 5th on law and values
Brown is more than a historic ruling. It paved the way for civil rights progress and laid the very foundation for equal protection under the law.
USATODAY.com - Published
65 Years After Brown V. Board Of Education, Kamala Harris Reflects On Its Affect
65 Years After Brown V. Board Of Education, Kamala Harris Reflects On Its Affect
Credit: Wochit News Duration: 00:36Published
Search this site and the web:
You Might Like