Downey, California
City in California, United States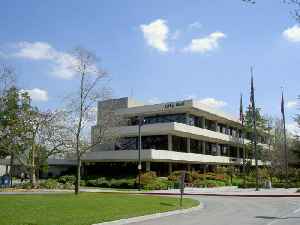 Downey is a city located in southeast Los Angeles County, California, United States, 13 mi (21 km) southeast of downtown Los Angeles. It is considered part of the Gateway Cities. The city is the birthplace of the Apollo space program. It is also the home of the oldest still operational McDonald's restaurant in the world. As of the 2010 census, the city had a total population of 111,779.


You Might Like
Travis Scott Fined by City of Downey for McDonald's Fan Event
Travis Scott's getting dinged for the rowdy gathering at a Mickey D's over his new $6 meal ... but he won't have to pay much more than that to get out of trouble. Both the rapper and the McDonald's..
TMZ.com - Published
Travis Scott Mobbed By Fans at McDonald's
Travis Scott made a McDonald's look like one of his concerts ... he got mobbed by a huge throng of fans waiting in line to get his new fast food combo meal. The rapper stopped by a Mickey D's in..
TMZ.com - Published
Search this site and the web: