Guinea
Country on the west coast of Africa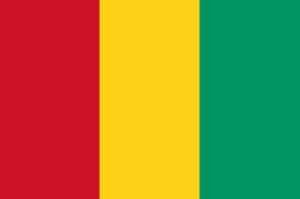 Guinea, officially the Republic of Guinea, is a west-coastal country in West Africa. Formerly known as French Guinea, the modern country is sometimes referred to as Guinea-Conakry to distinguish it from other countries with "Guinea" in the name and the eponymous region, such as Guinea-Bissau and Equatorial Guinea. Guinea has a population of 12.4 million and an area of 245,857 square kilometres (94,926 sq mi).


Presidents of Guinea, Ivory Coast seeking third term

The governing party in Guinea has asked President Alpha Conde to seek a controversial third term in office and after weeks of speculation, Ivory Coast President Alassane Ouattara has announced that he..
Credit: Al Jazeera STUDIO Duration: 02:51
Published
Guinea protests: Demands for justice and accountability

Nearly 80 protesters have been killed in Guinea since last year. But, there have been no arrests or accountability for those involved.
Credit: Al Jazeera STUDIO Duration: 01:51
Published
You Might Like



We are entering an era of pandemics – it will only end when we protect ...

Reducing deforestation and the exploitation of wildlife are the first steps in breaking the chain of disease emergence Coronavirus – latest updates See all our coronavirus coverage In late 2013, in..




WorldNews - Published





App will track harmful dust from bauxite mining in Guinea

In western Guinea, near where the Tinguilinta River meets the Atlantic Ocean, a concrete jetty extends about 275 meters into the river's channel. The jetty is equipped with a conveyor...




WorldNews - Published





Medical oxygen a luxury in much of the world

When an Atlanta resident died from the coronavirus in his West African homeland of Guinea, many wondered if a lack of medical-grade oxygen was to blame. What's taken for granted in wealthy countries is..




USATODAY.com - Published





Mory Kanté: African music star dies aged 70

The singer, who helped bring African music to world audiences with hits like Yéké Yéké, dies in Guinea.




BBC News - Published





Guinea president's party wins majority in disputed polls

Guinean President Alpha Conde's party won more than two-thirds of the seats in legislative elections held last month that were boycotted by the main opposition, the country's electoral commission said...




WorldNews - Published





Guinea voters back change that could extend president's rule

CONAKRY, Guinea (AP) — Guinea has voted to change its constitution, according to provisional results from a referendum that could see the West African country's president remain in...




WorldNews - Published

Also reported by •Reuters


Guinea holds contentious referendum despite coronavirus outbreak

Despite the threat of coronavirus and an opposition boycott, a constitutional referendum was held in Guinea on Sunday that opponents of President Alpha Conde fear could allow him to govern for 12 more..




Reuters - Published





Violence flares in Guinea as voters cast ballots in contentious referendum

Voters in the West African state of Guinea began casting their ballots on Sunday in a bitterly-disputed referendum that critics say is a ploy by President Alpha Conde to stay in power, and that was..




WorldNews - Published





Guineans heading to polls in historic constitution vote

Conakry (AFP) - Voters in the West African state Guinea were being called to the polls on Sunday for a bitterly-disputed referendum that critics say is a ploy by President Alpha Conde to stay in power...




WorldNews - Published





West African Leaders Are Rolling Back Democratic Gains

Taking a page from Vladimir Putin's playbook, undemocratic leaders in Guinea and Togo are seeking to extend their rule through ostensibly democratic means. ......




WorldNews - Published





Kenya, Ethiopia join expanding list of African states with coronavirus

Kenya, Ethiopia, Sudan and Guinea all confirmed their first cases of the new coronavirus on Friday, giving the disease a foothold in 18 countries on the African continent.




Reuters - Published





Nine footballers die in Guinea bus crash

The Professional Football League in Guinea (LGFP) has...




WorldNews - Published





Guinea referendum delayed for two weeks amid protests

Guinea's opposition on Saturday called for the cancellation of a referendum on changing the constitution, as fresh protests against President Alpha Conde's government broke out in the capital Conakry.




France 24 - Published





Guinea's President Condé postpones controversial referendum

Protesters have been angered that a new constitution would allow the president to seek a third term.




BBC News - Published

Also reported by •France 24


Guinea delays constitutional referendum after criticism

Guinea's President Alpha Conde announced a slight postponement of Sunday's...




WorldNews - Published

Also reported by •Reuters


Guinea delays disputed referendum that could extend veteran Conde's rule

Guinea's President Alpha Conde has delayed Sunday's constitutional referendum and legislative polls for two weeks because of concerns raised by international observers about the electoral roll, he told..




Reuters - Published




Guinea to vote on new constitution after months of unrest

Guineans will be called to vote Sunday on whether to adopt a new...




WorldNews - Published





Guinea's Conde hints at running for third term, brushing aside protests

Guinea's President Alpha Conde has suggested publicly for the first time that he could run for a third term if the national constitution is changed, a move likely to fuel unrest as the country tries to..




Reuters - Published





'Fragile' Africa prepares for high risk of coronavirus spread

An isolation ward stands ready at a hospital in Khartoum, Sudan. Laboratories in Senegal and Madagascar have the testing equipment they need. Passengers arriving at airports in Gambia, Cameroon and..




Reuters - Published




Video shows police in Guinea using a woman as a human shield

A concerned citizen filmed police using a woman as a human shield in Conakry, Guinea on January 29. The FRANCE 24 Observers team spoke with a man who cared for the woman after the incident, to find out..




France 24 - Published





Portugal minister condemns far-right MP's attack on black colleague

Portugal's justice minister condemned parliament's sole far-right lawmaker on Wednesday for a social media post in which he called for a black fellow MP with dual Portuguese-Guinean citizenship to be..




Reuters - Published





Did police in Guinea fire on protesters?

Thousands of people took to the streets in cities across the west African nation of Guinea on January 13. A deadly crackdown ensued – two people were killed, including one 21-year-old student, and..




France 24 - Published





Pope Benedict XVI breaks silence to reaffirm priest celibacy

Retired Pope Benedict XVI has broken his silence to reaffirm the "necessity" of priestly celibacy, co-authoring a bombshell book at the precise moment that Pope Francis is weighing whether to allow..




WorldNews - Published





Guinean opposition announces election boycott

The opposition in the West African state of Guinea vowed Monday to boycott legislative elections set for February 16 and "prevent" them from taking place, in a dispute focussed on the country's..




France 24 - Published





Fresh Tensions in Guinea as Opposition Cries 'Constitutional Coup'

Guinea's political opposition accused the president on Friday of staging a "constitutional coup," prompting fresh tensions in a country wracked by rolling anti-government protests.� President Alpha..




WorldNews - Published





Guinea president announces constitutional referendum that could keep him in power

Guinea President Alpha Conde said on Thursday that he would seek a public referendum on a new constitution, a move his opponents fear he will use as a pretext to hang onto power beyond the end of his..




Reuters - Published





"Europe has developed thanks to Africa's wealth" …

"You must know a great fighter, he is a personality in his country" – the French worker of North African origin who introduced him to me told me. It was rigorously true. For many years Mamadou..




WorldNews - Published





Demonstrator dies in protests against Guinea president

A young demonstrator was killed in Guinea on Thursday during protests against President Alpha Conde's perceived attempt to extend his mandate, the security minister told Reuters.




Reuters - Published





Guinea president replaces security minister following deadly protests

Guinea President Alpha Conde announced on Monday that he was replacing his security minister following deadly protests against suspected efforts by Conde to extend his mandate.




Reuters - Published





In Guinea, two more killed in clashes between police and protesters

Two people were killed in Guinea on Monday, authorities said, as protesters and police clashed during a funeral procession for those killed in earlier protests over a suspected effort by President..




Reuters - Published





Guinea protesters wounded by gunfire in clashes with police

At least two people were shot and wounded in Guinea's capital on Monday during clashes between police and protesters attending the funerals of victims of violence in recent demonstrations, an AFP..




France 24 - Published





Thousands in Guinea march against president's possible third term bid

Thousands took to the streets of Guinea on Thursday in the largest protest yet over a suspected effort by President Alpha Conde to seek a third term.




Reuters - Published





Guinea protest leaders sentenced to jail for organizing against president

Five opposition and civil society leaders in Guinea were convicted and sentenced to prison on Monday for organizing protests against a possible change to the constitution that could let President Alpha..




WorldNews - Published

Also reported by •Reuters


'The Immigrant' tells story of Guinean writer-director's Libyan inferno




France 24 - Published





What limits? How African leaders cling to power for decades

Guinea erupted in protest this week over proposals to draft a new constitution that could allow President Alpha Conde to extend his legal mandate and run for a third term in 2020. ......




WorldNews - Published

Also reported by •Reuters


Guinea government confirms nine people killed in political protests this week

Nine protesters were killed this week in Guinea during demonstrations against a possible change to the constitution that could let President Alpha Conde seek a third term, the government said on..




Reuters - Published





At least seven killed in Guinea protests this week: hospital staff

Guinea security forces killed at least seven protesters this week during demonstrations against a possible change to the constitution that could let President Alpha Conde seek a third term, hospital..




Reuters - Published




Guinea: Several killed in protests against new constitution

Guinea's continued crackdown on opposition protests lead to several deaths on Monday. Police opened fire on demonstrators opposing a new constitution that could allow President Alpha Conde to run for a..




WorldNews - Published





Massive vine ladder connects Guinean mountain villages




France 24 - Published





At least two dead in Guinea protests against change to constitution

At least one policeman and a protester were killed on Monday during demonstrations in Guinea against a possible change to the constitution that could let President Alpha Conde seek a third term,..




Reuters - Published





Tear gas as Guineans protest president's bid to extend power

CONAKRY: Police in Guinea fired tear gas and bullets Monday to disperse thousands of opposition supporters, civil society groups and trade unionists gathering in the capital to protest the president's..




WorldNews - Published





Police in Guinea crack down on protest against constitutional change

Protesters burned tires and threw stones at police in Guinea's capital Conakry on Monday in the first of a series of planned demonstrations against a possible change to the constitution that could let..




Reuters - Published





Ebola survivors at higher risk of dying, even after recovery

A study that tracked over 1,000 Ebola survivors found they had a higher than usual chance of dying in the year after their recovery. Some health officials said the results suggest more should be done..




WorldNews - Published





Steinmetz will fight corruption charges in Geneva court: lawyer

Israeli billionaire Beny Steinmetz rejects Swiss corruption charges against him in connection with winning mining contracts in Guinea and will appear in court to fight them, his Geneva lawyer told..




Reuters - Published





Israeli billionaire Beny Steinmetz to be tried over 'Guinea bribes'

Swiss prosecutors are seeking a prison term for Beny Steinmetz for alleged bribery, which he denies.




BBC News - Published





French-Israeli diamond magnate to face trial in Geneva

French-Israeli diamond magnate Beny Steinmetz will go on trial in Geneva over his alleged role in a corruption scandal involving mining deals in Guinea, Swiss prosecutors said Monday. Geneva prosecutor..




WorldNews - Published





Geneva prosecutors indict billionaire Steinmetz in Guinea corruption case

A Swiss prosecutor said on Monday he was seeking prison terms for Israeli billionaire Beny Steinmetz and two associates over the alleged payment of bribes linked to the allocation of mining licences in..




Reuters - Published