Denny Hamlin
American racecar driver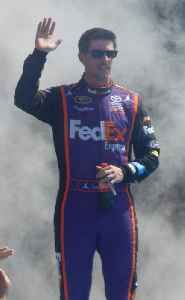 James Dennis Alan "Denny" Hamlin is an American professional stock car racing driver. He currently competes full-time in the NASCAR Cup Series, driving the No. 11 Toyota Camry and part-time in the NASCAR Xfinity Series, driving the No. 18 Toyota Supra, both for Joe Gibbs Racing. He has won over 30 NASCAR Cup Series races, including the Daytona 500 in 2016, 2019, and 2020.


You Might Like
Joe Gibbs apologizes for team's Daytona celebration: 'We really didn't know' how serious Ryan Newman crash was
Joe Gibbs apologized for team celebrating Denny Hamlin's Daytona 500 victory, saying they were unaware of the seriousness of Ryan Newman's late crash.
USATODAY.com - Published
Ryan Newman taken to hospital after violent crash in last lap of Daytona 500
Ryan Newman was involved in a horrific crash just as Denny Hamlin won the Daytona 500 Monday at Daytona International Speedway.
USATODAY.com - Published
In photo finish, Denny Hamlin wins second straight Daytona 500 as Ryan Newman injured in scary crash
Denny Hamlin held off Ryan Blaney in a in the second overtime at Daytona International Speedway after multiple wrecks decimated the field.
USATODAY.com - Published
Kyle Busch snaps long winless streak to claim second NASCAR Cup championship
Kyle Busch outdueled Martin Truex Jr., Kevin Harvick and Denny Hamlin, pulling away at the season finale to win the Homestead race and the title.
USATODAY.com - Published
Denny Hamlin edges Chase Elliott as Brad Keselowski eliminated from NASCAR playoffs
The elimination race, which saw four drivers knocked out of championship contention, was won by Hamlin in double overtime.
USATODAY.com - Published
Dale Earnhardt Jr. puts aside recent plane crash, finishes fifth in NASCAR Xfinity race
A joyful Dale Earnhardt Jr. returned the track, finishing fifth in the NASCAR Xfinity race at Darlington after Denny Hamlin was stripped of the win.
USATODAY.com - Published
Denny Hamlin chases down Matt DiBenedetto at Bristol, apologizes to soon-to-be-rideless driver
Pole-sitter Denny Hamlin halts upset bid of Matt DiBenedetto, who was told this week that Leavine Family Racing won't bring him back next season.
USATODAY.com - Published
Hamlin pull away late to win NASCAR race at Pocono Raceway
Denny Hamlin had enough fuel in the No. 11 Toyota to pull away off the final restart in an overtime finish for his fifth victory at Pocono Raceway
USATODAY.com - Published