Arm Holdings
British global semiconductor and software design company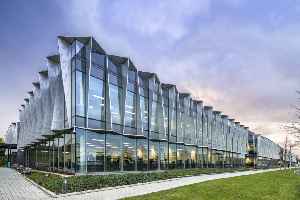 Arm Holdings is a British semiconductor and software design company owned by Japanese conglomerate SoftBank Group. With its global headquarters in Cambridge in the United Kingdom, and its US headquarters in San Jose, California, its primary business is in the design of ARM processors (CPUs), although it also designs other chips; and software development tools under the DS-5, RealView and Keil brands, as well as systems and platforms, system-on-a-chip (SoC) infrastructure and software. As a "holding" company, it also holds shares of other companies. It is considered to be market dominant for processors in mobile phones, tablet computers and for chips in smart TVs and in total over 160 billion chips have been made for all kinds of devices based on designs from Arm. The company is one of the best-known "Silicon Fen" companies.


American firm offers billions for UK computer chip giant ARM

UK-based computer chip designer ARM Holdings is being sold to the American graphics chip company Nvidia for 33 billion euros. Arm is responsible for developing the processors in most of the world's..
Credit: euronews (in English) Duration: 02:24
Published
You Might Like
Search this site and the web: