Tim Scott
United States Senator from South Carolina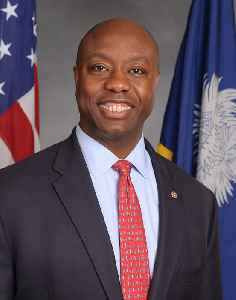 Timothy Eugene Scott is an American politician and businessman serving as the junior United States Senator for South Carolina since 2013. A Republican, Scott was appointed to the U.S. Senate by Governor Nikki Haley in 2013. He retained his seat after winning a special election in 2014 and was elected to a full term in 2016.


WH defends Trump's white supremacy response

[NFA] Days after the first presidential debate, and the White House is still on the defensive about the president's comments, or the lack thereof, over white supremacy. This report produced by Jonah..
Credit: Reuters - Politics Duration: 02:46
Published
Sen. Scott tells 'cotton to Congress' story at RNC

Speaking at the RNC, Senator Tim Scott, the lone Black Republican in the Senate, said his family went from "cotton to Congress" in one lifetime.
Credit: Reuters Studio Duration: 01:17
Published
You Might Like



Tim Scott defends Trump's 'stand by' comments: 'He misspoke'

'If he doesn't correct it,' he added about Trump's edict to the white-supremacist Proud Boys, 'I guess he didn't misspeak.' Republican Senator Tim Scott of South Carolina defended..




WorldNews - Published





Sen. Scott comments on Trump and white supremacy

Sen. Tim Scott, the chamber's only Black Republican, told reporters he thinks President Donald Trump "should correct" his remarks when he refused to condemn white supremacist groups during Tuesday's..




USATODAY.com - Published





GOP senator saw "no justification" for Kenosha cops to shoot Blake

"We need to get to the root of the issue," said Senator Tim Scott.




CBS News - Published





South Carolina Sen. Tim Scott on final night of RNC, reform after Kenosha shooting

Republican Senator Tim Scott joins "CBS This Morning" to look ahead at President Trump's convention speech on the final night of the RNC. He also weighs in on what must be done to stop police violence..




CBS News - Published





Senator Tim Scott says in RNC speech: Family "went from cotton to Congress in one lifetime"

As the last speaker on the first of the Republican National Convention, Senator Tim Scott of South Carolina painted a picture of American promise under President Trump. "There are millions of families..




CBS News - Published





At RNC, Scott hits Biden history, actions on race

The Republican Party's only Black senator, Senator Tim Scott, leveled the kind of personal attack against Democratic presidential nominee Joe Biden's history and actions on race that Donald Trump and..




USATODAY.com - Published





Donald Trump Jr. blasts 'rioting, looting and vandalism,' Tim Scott offers optimistic speech on race: Takeaways from the RNC

Sen. Tim Scott, the GOP's sole Black senator, spoke of race and the American dream, saying his family went from "Cotton to Congress" in one lifetime.




USATODAY.com - Published





How to Watch the Republican National Convention

Speakers on Night 1 include Nikki Haley, Senator Tim Scott and Donald Trump Jr., as well as President Trump, who is expected to appear four nights in a row.




NYTimes.com - Published





Trump deletes tweet of supporter shouting 'white power' after outrage

Donald Trump has deleted a tweet he sent featuring video of a Trump supporter shouting, "White power, White power" after an outpouring of grief and outrage at racist language flowing directly from..




WorldNews - Published





When Black lives matter to Democrats, and when they don't

If Democrats cared about police reform, they would have advanced Reublican Sen. Tim Scott's justice reform bill.




USATODAY.com - Published





Seeking reform, Black GOP Senator weighs racism

As a senator who has been stopped more than a dozen times for what he says was "driving while Black," South Carolina Republican Senator Tim Scott says the change in policing should happen swiftly...




USATODAY.com - Published





GOP Sen. Tim Scott: I've choked on fear when stopped by police. We need the JUSTICE Act.

We must offer more than words and social media posts. The JUSTICE Act will help us balance the scales of justice. It will help us breathe again.




USATODAY.com - Published





Senate GOP offer policing changes in 'Justice Act'

Senate Republicans, led by Sen. Tim Scott, unveiled proposed changes to policing. Its the most ambitious GOP policing proposal in years, a direct response to the massive public protests over the death..




USATODAY.com - Published





Tim Scott, Once Quiet on Matters of Race, Embraces Key Role on Police Reform

The sole black Republican senator cited his personal experiences with racism as a vital perspective to his party's approach to a law enforcement overhaul.




NYTimes.com - Published





Sen. Tim Scott says Trump didn't know the significance of Tulsa and Juneteenth when rally was scheduled

"The president moving the date by a day once he was informed on what Juneteenth was, that was a good decision on his part," Scott said.




USATODAY.com - Published





Lone black Republican Senator says he is open to 'decertification' of bad police

Tim Scott, the only black Republican member of the U.S. Senate, said on Sunday he is open to exploring whether to enact a new law that would decertify bad police officers as part of a larger law..




Reuters - Published





Sen. Tim Scott rejects key criminal justice proposals by Democrats, setting up Capitol Hill showdown on police conduct

Sen. Tim Scott, R-S.C., is crafting the GOP response to the Justice in Policing Act Democrats proposed following protests over George Floyd's death.




USATODAY.com - Published





Senate's only black Republican blasts critics of his police reform plan

U.S. Senator Tim Scott, the chamber's only black Republican, was thrust into the center of the national debate on policing when Majority Leader Mitch McConnell put him in charge Tuesday of the caucus's..




Reuters - Published





Tim Scott, the U.S. Senate's only black Republican, leads police reform push

South Carolina's U.S. Senator Tim Scott, the chamber's only black Republican, was thrust into the center of the national debate on policing when Majority Leader Mitch McConnell put him in charge of the..




Reuters - Published





Inside an Extraordinary G.O.P. Event: 'Pressing Flesh and Kissing Babies' Again

At the South Carolina event, attended by Senators Lindsey Graham and Tim Scott, there were few masks and no social distancing — and that was the point.




NYTimes.com - Published





Senator Tim Scott on "The Takeout" - 11/8/19

South Carolina Republican Senator Tim Scott joins Major to talk about the recent elections in Kentucky and the impeachment hearings against President Trump, on this week's episode of "The Takeout..




CBS News - Published





Tim Scott doesn't believe Trump committed an "impeachable offense"

On "The Takeout" this week, the South Carolina GOP senator took issue with the House impeachment inquiry




CBS News - Published





Tim Scott on Republican held legislative and executive branches

Tim Scott discusses why he expects a long legislative process with the new congress and president




CBS News - Published





Extended interview: Tim Scott, December 11

Sen. Tim Scott, a Republican from South Carolina, reflects on the ongoing conversation about race, law enforcement and justice in America. The original interview aired on the December 11, 2016..




CBS News - Published




Sen. Tim Scott: "It's not what the president says next, it's what he does"

Senator Tim Scott, R-South Carolina, joins Face the Nation Moderator John Dickerson to discuss the fallout from within the Republican Party over President Trump's response to Charlottesville.




CBS News - Published





Open: This is Face the Nation, August 20

This week on "Face the Nation," host John Dickerson interviews Senators Tim Scott and Tim Kaine to discuss presidential leadership and the push to remove confederate monuments. Two panels share..




CBS News - Published





Extended interview: Sen. Tim Scott and Rep. Trey Gowdy

Republicans Sen. Tim Scott and Rep. Trey Gowdy joined Face the Nation's Margaret Brennan to discuss special counsel Robert Mueller's Russia investigation, President Trump's border wall, the Stephon..




CBS News - Published





Face the Nation - Tim Kaine, Tim Scott, Nicuyah Walker

Missed the second half of the show? A year after the attack at the protest in Charlottesville.




CBS News - Published





Tim Scott, sole black GOP senator, warns against "politicizing" mass shootings

South Carolina Republican Sen. Tim Scott joins Major Garrett from Mount Pleasant to discuss how the U.S. should respond to the mass shootings in Ohio and Texas.




CBS News - Published




Sen. Tim Scott on politics, race and Trump

Fifty-two-year-old South Carolina Senator Tim Scott is the only African-American elected to the U.S. Senate from the Deep South in more than a century, and the only African-American Senator who is a..




CBS News - Published





Trump calls impeachment inquiry a "lynching"

Several lawmakers have spoken out against the president's use of the word – including Sen. Tim Scott, the only black Republican in the Senate




CBS News - Published





8/4: Page, Goldberg, Nakamura

Missed the second half of the show? Sen. Tim Scott joins Major Garrett to discuss how the U.S. should respond to the mass shootings in Ohio and Texas. Our panel of experts discuss what action will..




CBS News - Published





Full transcript of "Face the Nation" on August 4, 2019

Sen. Sherrod Brown, Beto O'Rourke, Rep. Will Hurd, Sen. Tim Scott, CBS News Correspondents Janet Shamlian and Dean Reynolds, Susan Page, Amy Walter, Jeffrey Goldberg and David Nakamura appeared on this..




CBS News - Published





Transcript: Sen. Tim Scott on "Face the Nation"

The following is a transcript of the interview with Republican Sen. Tim Scott of South Carolina that aired Sunday, August 4, 2019, on "Face the Nation"




CBS News - Published





Sunday: Hurd, Scott, Sanders, Bennet

Rep. Will Hurd, Sen. Tim Scott, and 2020 Democratic Presidential Candidates Sens. Bernie Sanders and Michael Bennet will appear on "Face the Nation" this Sunday




CBS News - Published





8/12: Face The Nation

This week's "Face the Nation" takes a special look at race in America one year after Charlottesville. Moderator Margaret Brennan interviews Sen. Tim Kaine, Sen. Tim Scott and Charlottesville Mayor..




CBS News - Published