Bill Weld
American politician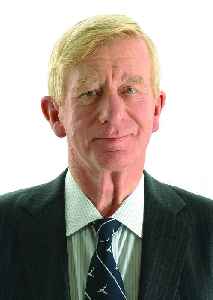 William Floyd Weld is an American attorney, businessman, and Republican politician who served as the 68th Governor of Massachusetts from 1991 to 1997 and the Libertarian Party's nominee for Vice President of the United States in the 2016 election, sharing the ticket with Gary Johnson. He is formally running to seek the Republican nomination for President of the United States in 2020.


Bill Weld: Meet the 2020 candidate
He's challenging Donald Trump to win the Republican nomination.
USATODAY.com - Published
Trump campaign: We are "unconcerned" about challenger Weld
Kayleigh McEnany​, the national press secretary for the Trump 2020 campaign, said they are taking former Massachusetts Gov. William Weld​ "not seriously at all"
CBS News - Published
Republican Bill Weld Running Against Trump
Bill Weld is the first candidate to challenge President Trump for the GOP's presidential nomination.
Credit: Newsy Studio Duration: 01:38Published
Trump challengers would 'lose horribly': RNC chair
Ronna McDaniel, the chairwoman of the Republican National Committee, said on Thursday that any Republican primary challenge to President Donald Trump in next year's presidential election is doomed to..
Credit: Reuters Studio Duration: 00:48Published
Trump Faces Challenge For His Party's Presidential Nomination
Former Massachusetts Gov. Bill Weld announced Monday he is officially entering the race for president, becoming the first Republican to challenge President Donald Trump in the 2020 race, CNN reports...
WorldNews - Published
Bill Weld: Trump to face 2020 Republican challenge
Former Massachusetts Governor Bill Weld is the first Republican to challenge Mr Trump in 2020.
BBC News - Published
Bill Weld launches GOP primary bid against Trump
Weld's long-shot campaign represents the only Republican primary challenge against the president's reelection bid in 2020 so far
CBS News - Published
Search this site and the web:
You Might Like